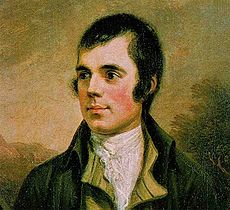 Robert Burns is a celebrated Scottish poet and songwriter. He is widely considered the national poet of Scotland and was an important influence on the early Romantic movement.
Robert Burns was born at Alloway, near Ayr, on January 25, 1759. Robert was educated briefly in Alloway before going to Ayr. However, whilst studying his family were beset by financial concerns and Burns was forced to work as a farm labourer. Burns had to work at a variety of labouring jobs, but, in his spare time, began to compose poetry and songs.
"But to see her was to love her,
Love but her, and love forever.
Had we never lou'd sae kindly,
Had we never lou'd sae blindly,
Never met – or never parted –
We had ne'er been broken hearted"
– Robert Burns
When his father died in 1784, with his brother Gilbert, he rented a farm near Mauchline; but this was never a great financial success, and he toyed with the idea of moving to Jamaica in the West Indies. However, in 1786, his first works were published under the title "Poems, Chiefly in the Scottish Dialect". These included works such as 'To a Mouse' and 'The Holy Fair'. The critical reception and relative success of this publication encouraged Burns to remain in Scotland and he moved to Edinburgh where he became involved in the thriving cultural scene. He was also initiated into the Masons and became the poet laureate of the Edinburgh Freemasons.
His reputation led to a commission to work on a collection of Scottish folk songs. Burns collected a rich diversity of Scottish folk songs, sometimes improving upon them and also including his own. These were published as 'The Scots Musical Museum' in five volumes over a period of sixteen years.
This compilation included a reworking of 'Auld Lang Syne' which later became a famous global song, usually sung on New Year's Eve.
"Should auld acquaintance be forgot
and never brought to mind?
Should auld acquaintance be forgot
and days of auld lang syne?
For auld lang syne, my dear,
for auld lang syne,
we'll take a cup of kindness yet,
for auld lang syne."
— Robert Burns
Guinness World Records accepts it is the third most popular song in the world (after "Happy Birthday" and "For he's a jolly good fellow"
In 1788, Burns married Jean Armour and together they had nine children. However, he also had a string of affairs and lovers, such as Mary Campbell.
Burns was also a political writer and was considered a radical for his forthright views on republicanism. In 1795, he was moved by the events of the French revolution and its clarion call for equality. He died one year later on July 21, 1796, of rheumatic fever. He was buried in St Michael's Dumfries.
During his lifetime, he was well known but gained little financial compensation for his works. However, after his death, his reputation blossomed and he became an icon of Scottish culture. He was also celebrated in Russia as a poet of the people.
Burns Night, effectively a second national day is celebrated on 25 January with Burns suppers around the world and is still more widely observed than the official national day, St. Andrew's Day.
He wrote in a mixture of English, and a Scottish lowland dialect.
Death
Robert Burns died on 21 July 1796, aged just 31. He had been ill for several years prior, complaining of stiff joints and fever amongst other things. There is a dispute about the causes of his death. Burns had a reputation for being a heavy drinker and one of his early biographers, Dr. James Currie, assumed that his heavy drinking was the cause of his death. It was widely circulated Burns died from rheumatism after being found freezing cold in a street after a night's drinking. However, according to Stewart Cameron of the Halifax Burns Club, his death was attributed to terminal heart failure from bacterial endocarditis, as a complication of rheumatic fever. (Scotsman) Robert Burns died owing £14.
Related pages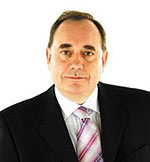 Famous Scottish people – Influential men and women including Robert the Bruce, Alexander Fleming, John Logie Baird and William Wallace.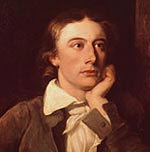 People of the Romantic Era (1790s to 1850s) Romantic poets (Blake, Keats, Coleridge, Wordsworth and Shelley) and Romantic artists, composers and writers.
Writers and authors

– Famous authors such as J.R.R. Tolkien, William Shakespeare, J.K. Rowling, Jane Austen, Leo Tolstoy, John Steinbeck and Ernest Hemingway.
Robert Burns