St Thomas à Becket (1118-1170) – English Churchman and martyr. Becket was a loyal friend and chancellor to Henry II. However, when Henry promoted him to Archbishop of Canterbury he became more inclined to prioritise the church over the king. This led to an increasing feud between the two. It culminated in the murder of Beckett in Canterbury Cathedral by friends of the king. After his death, he became venerated as a saint and martyr of the church.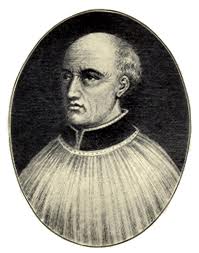 Early life
Thomas Becket was born to a wealthy London family around 1118. His father was a former Sheriff of London. He was given a good education in both London and Paris. On returning to England, his talents were noticed by the then Archbishop of Canterbury, Theobold. (At that time, the Archbishop of Canterbury was one of the most powerful men in England, after the King.) After successfully taking part in missions to Rome, he was noticed by King Henry II who appointed Thomas Becket to be his Chancellor. Becket quickly became a favourite of Henry II. Thomas was loyal, dedicated, charming and with a skill for diplomacy. He proved very talented in managing the nation's finances and enabling Henry II to achieve many of his wishes. The two also had a strong personal chemistry which gave them a strong bond and sense of understanding. As chancellor, Beckett always put the king's interests first and he became indispensable to Henry II.
Becket falls out with King Henry II
In 1162, Henry II had Becket appointed Archbishop of Canterbury. At the time Becket wasn't even a priest, so the king had him ordained a priest and the next day Archbishop of Canterbury. It was a very rapid promotion for Becket in both political and religious terms. The king fully expected Becket to continue in his loyalty to the King in the second most important job in the country. However, much to the annoyance of Henry II, Becket became very devoted to his religious position and frequently ruled on decisions which angered the King and asserted the importance of the Church.
It is said on becoming Archbishop of Canterbury, Thomas Becket became more religious and saw his role as head of the church as more important than as a servant of the King. As chancellor, he had led quite a worldly life, enjoying drink and company, but after becoming Archbishop he adopted an ascetic approach to life, giving up worldly comforts and spending more time in religious devotions. In his position as God's representative of the church, he felt his relationship with Henry II changed – no longer was he a loyal subject of the king, but the loyal servant of God. Becket no longer feared the power of the earthly king. An example of his new viewpoint was:
"Remember the sufferings of Christ, the storms that were weathered… the crown that came from those sufferings which gave new radiance to the faith… All saints give testimony to the truth that without real effort, no one ever wins the crown.
Thomas Becket.
It is interesting that Becket referred to the saintly crown of Christ – a deliberate play on the king's crown – showing Beckett valued the religious more than the earthly king.
In 1164, Henry II became frustrated at Becket's continued obstruction and hindrance; he summoned Beckett to Northampton Castle to answer charges of 'contempt of royal authority and malfeasance in the Chancellor's office'. Beckett was furious and fearing for his safety fled to France. In France, Beckett was offered protection by King Louis VII of France, who gave Beckett shelter in the Cistercian abbey of Pontigny.  From France, Beckett excomunicated the Bishops of London and Salisbury for their support of the king.
In reply, Henry issued edicts against Beckett and his friends, however, Henry II was also unhappy to lose his skilled administrator and former friend.  Henry II alternated between resentment at Becket's 'betrayal' but also hoped to restore friendship with his Becket who he truly valued. With the intervention of Pope Alexander III, Henry agreed to a reconciliation and compromise that would allow Beckett to return to England without facing charges.
In 1170, Thomas Becket returned to England. However, Becket was unabashed and on returning continued to pursue a policy of continuing to assert the rights of the Church and the papacy.  His perceived obstinancy continued to frustrate the king.
Murder of Becket
According to tradition, in late 1170 Henry II flew into a rage at the disloyalty of Becket and uttered 'Who will rid me of this meddlesome priest?" On hearing this, supporters loyal to the King travelled to Canterbury Cathedral to confront Becket on behalf of the king. Initially, the knights sought to get Becket to change his mind and absolve those who he had excommunicated from the church. But, Becket refused and issued sharp words against the king and the followers. This argument raised tensions and the soldiers responded by stabbing Becket with a sword as he stood in the church.
An eyewitness account of murder
A monk by the name of Edward Grim claimed to see and hear all events from behind the altar. After Beckett's canonisation, he wrote down this sequence of events after the knights had entered the church
"The murderers followed him (Becket); 'Absolve', they cried, 'and restore to communion those whom you have excommunicated, and restore their powers to those whom you have suspended.'

"He (Becket) answered, 'There has been no satisfaction, and I will not absolve them.'

'Then you shall die,' they cried, 'and receive what you deserve.'

'I am ready,' he replied, 'to die for my Lord, that in my blood the Church may obtain liberty and peace. But in the name of Almighty God, I forbid you to hurt my people whether clerk or lay.'

After the third and fatal blow, Becket said.

'For the Name of Jesus and the protection of the Church I am ready to embrace death.'
After his death, it was found that Becket was wearing an uncomfortable hair-shirt. This was taken as evidence of his genuine sanctity and holiness. The murder of the pious Archbishop within the confines of the Holy church sent shockwaves across Europe. People instinctively sided with Becket and Henry II was guilty by association with the murderers. Henry II responded by making a pilgrimage to Canterbury Cathedral and publically repenting his role in this crime. The king undertook the penance of being whipped at his shrine.
This only served to increase the reputation of Beckett as a martyr of the church. Miracles were soon reported at Becket's tomb and he was canonized by the Pope very quickly – three years after his death in 1173. His fame spread across Europe and his shrine became one of the most visited places of pilgrimage. The shrine stood until it was destroyed in 1538, during Henry VIII's dissolution of the monasteries.
Today in its place at Canterbury Cathedral stands a small memorial and candle.
His feast day is 29 December.
Citation  Pettinger, Tejvan. "Biography of Thomas Beckett", Oxford, UK – www.biographyonline.net. Last updated 5 March 2020
Thomas Becket: Warrior, Priest, Rebel
Thomas Becket: Warrior, Priest, Rebel at Amazon
Related pages
Famous

English people – Famous English men and women. From Anne Boleyn and Queen Elizabeth I to Henry VIII and Winston Churchill. Includes the great poets – William Shakespeare, William Blake and William Wordsworth.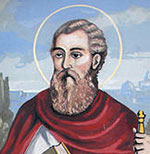 Christians – Famous Christians from Jesus Christ and the early Apostles to Catholic Popes and saints. Includes St Francis of Assisi, St Catherine of Sienna and St Teresa.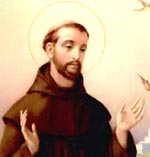 Famous saints – Famous saints from the main religious traditions of Christianity, Hinduism, Islam, Judaism and Buddhism. Includes St Francis of Assisi, Mirabai and Guru Nanak.

Great Briton list – Top 100 famous Britons as voted by a BBC poll. Including Winston Churchill, William Shakespeare, Thomas Cromwell and Queen Elizabeth I.