Marie Stopes (1880-1958)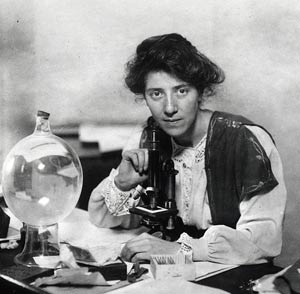 Marie Carmichael Stopes D.Sc, PhD was a Scottish author, palaeobotanist and campaigner for women's rights. She was an influential figure in the early family planning movement, helping to break down taboos on issues such as contraception.
Stopes attended University College London where she studied Botany and Geology and gained a first class degree in 1902. After her first degree, she made more studies in Palaeobotany, including a scientific mission to Japan in 1907. She was later made the first female academic at the University of Manchester.
In 1918, she published a book, Married Love, which argued for greater equality between men and women in marriage. It also provided tips for sex and contraception. Her views were radical for the time and generated great publicity.
"Far too often, marriage puts an end to woman's intellectual life. Marriage can never reach its full stature until women possess as much intellectual freedom and freedom of opportunity within it as do their partners."
– Marie Stopes, Married Love, 1918.
Marie Stopes books helped to change some of the old-fashioned Victorian attitudes and ignorance to marriage.
"That girls can reach a marriageable age without some knowledge of the realities of sex would seem incredible: but it is a fact. One highly educated lady whom I know intimately told me that when she was about eighteen she suffered many months of agonizing apprehension that she was about to have a baby, because a man had snatched a kiss from her lips at a dance."
– Marie Stopes, Married Love, 1918.
She also became very well known for her work in family planning which made her a national figure of some controversy. In 1921, she opened the UK's first family planning clinic in Holloway, London. The clinic which moved to Central London in 1925, is still in operation today. In 1930, she played a role in forming the National Birth Control Council and became a leading advocate for making contraception more freely available.
In 1922, a Roman Catholic doctor Halliday Sutherland wrote a book Birth Control attacking Stopes for her support of the cervical cap. Stopes sued for libel. Although she lost the case, she gained widespread support and won an appeal in the High Court – though this appeal was overturned.
Her advocacy of a more liberal approach to sex and family planning, pre-dated the 1960s sexual revolution and liberal attitudes which were later adopted. Her stance and willingness to protest at places of worship led her into conflict with the Church of England and the Catholic Church.
In the 1930s, she was also involved in the Eugenics movement arguing for the forcible sterilisation of those totally unfit for parenthood. This included attending a conference held in Nazi Germany in 1935. It is worth noting she was opposed to abortion. Her clinics only provided contraception.
During the pre-war years, many families were pushed into poverty because they struggled to feed and clothe their children. Desperate parents of large families often wrote to Stopes, hoping she could help to limit their family size. Her work went a long way to changing attitudes to contraception, and making it more freely available.
Marie Stopes married Humphrey Verdon Roe in 1918. They had one son born in 1924. She died in 1958 from breast cancer in her home in Dorking, Surrey.
Citation: Pettinger, Tejvan. "Biography of Marie Stopes", Oxford, UK – www.biographyonline.net. Published 12 Jan 2012. Last updated 18 September 2019.
Related pages
External links