U Thant (1909 – 1974) was a Burmese diplomat and the third United Nations Secretary-General. He was widely praised for his diplomacy and peace-keeping skills which were frequently needed during his turbulent period as UN Secretary-General from 30 Nov 1961 to 31 Dec 1971.
"Every human being, of whatever origin, of whatever station, deserves respect. We must each respect others even as we respect ourselves. This, as the sages of many lands have taught us, is a golden rule in individual and group, as well as international, relations."
– U Thant, Portfolio for Peace (1968), p. 92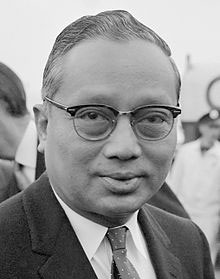 His quiet Buddhist faith was important for cultivating his detachment, compassion and calm demeanour which put others at ease and made him ideally suited the difficult job of conflict resolution.
Amongst many critical moments, during the Cuban Missile Crisis, U Thant facilitated a meeting between Soviet premier Nikita Khrushchev and John F. Kennedy, which helped to defuse the potential crisis of a nuclear war.
Early life U Thant
U Thant was born in Pantanaw, Burma on 22 January 1909. His father was an educated and relatively wealthy merchant. He encouraged his children to gain a good education. Thant was an avid reader and became known by his friends as 'The philosopher' for his knowledge and wide reading.
He also developed a talent for writing and harboured an aspiration to become a journalist. He wrote articles for magazines and became a member of debating societies.
Aged 14, his father died – leaving his family to struggle financially. Due to this change in financial fortunes, Thant had to give up his desire for a four-year degree and instead took a two-year teaching certificate at Rangoon University in 1926.
At university, he became good friends with Nu, the future prime minister of Burma. After completing his teaching certificate, he returned to his hometown of Pantanaw when he became a senior teacher at the high school. Three years later, aged just 25, he became the school's headmaster after winning first place in the All Burma Teachership Examination.
In the 1930s, there was a tense political environment as Burmese nationalists sought to gain political independence from the British rule. As a child, he participated in strikes against the university act of 1920. But U Thant remained a moderate, supporting a more conciliatory approach to Burmese independence from the British. He admired both Mahatma Gandhi and the British politician Sir Stafford Cripps.
In 1942, Burma was invaded and occupied by the Japanese. Thant opposed attempts to make learning Japanese compulsory and became sympathetic to the growing anti-Japanese resistance.
In 1948, shortly after India, Burma gained independence. His friend Nu became the first Prime Minister, and he asked Thant to become part of the administration. When civil war broke out, Thant undertook the dangerous role of peace-mediator, visiting Karen camps to seek a negotiated peace. However, attempts at reaching a peace agreement failed, and in 1949, the advancing insurgents burnt his hometown and house to the ground. However, in the following year, the insurgents were defeated, and he was appointed secretary to the Prime Minister (1951-57). He became Prime Minister Nu's closest confident, advising and writing speeches for him.
In 1957, he was appointed Burma's permanent representative to the United Nations – beginning a long and close association with the international organisation.
He became involved in negotiations over Algerian independence and was appointed UN Chairman of Congo Commission.
UN Secretary-General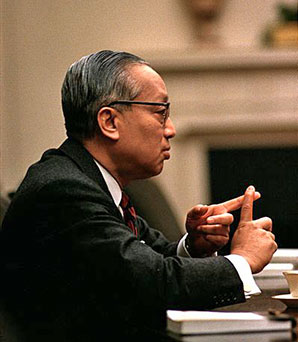 In 1961, the current United Nations Secretary-General Dag Hammarskjold was killed in a plane crash. This left a void in the top UN position, but the superpower blocks of the US and the Soviet Union could not agree on a candidate. When Thant was proposed by the non-aligned movement, U Thant was accepted as the most suitable candidate to fill the remaining term of Dag Hammarskjold. He was appointed acting Secretary-General on 3 November 1961 and unanimously appointed full Secretary-General a year later in November 1962.
In an interview in The Saturday Evening Post of 21 September 1963, David Sureck asked U Thant:
"The first United Nations Secretary-General, Trygve Lie has described your job as 'the most impossible job in the world.' What did you think about it on the day you were sworn in?"
U Thant's answer was:
"A feeling of humility and an overwhelming sense of responsibility, to which was added a dawning hope that the unanimous support which has so generously been accorded to me would make 'the most impossible job in the world' a little less impossible." (Source)
Cuban missile crisis
The appointment pushed U Thant into the global spotlight. In less than a year, the UN faced one of its most serious crisis as a stand-off between the Soviet Union and the US over nuclear missiles in Cuba threatened the real possibility of nuclear war.
U Thant suggested to J.F. Kennedy that in response to a US promise of non-invasion, the Soviets should remove their missiles. Kennedy and Kruschev agreed to this forming the basis of further negotiations.
U Thant's intervention was widely credited with playing a role in defusing the crisis.
"U Thant has put the world deeply in his debt."
—John F. Kennedy, October 1962
In December 1962, Katangan secessionists attacked UN operation in Congo forces (ONUC). U Thant authorised the use of force to defeat the rebels, and the decisive operation helped end the insurgency and help end the Congo civil war.
Nobel Peace Prize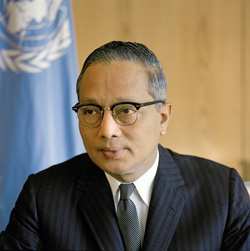 In 1965, members of the Norwegian Nobel Committee wished to award U Thant the Nobel Peace Prize for helping defuse the Cuban missile crisis and the Congo civil war. However, the Chairman Gunnar Jahn of the Nobel committee vetoed U Thant's award and instead it was given to UNICEF. For the next two years, the Nobel Committee was deeply divided, and no prize was awarded. On being told he might be awarded the Nobel Peace Prize, U Thant humbly commented 'Is not the Secretary-General merely doing his job when he works for peace?"
Second term
Thant was unanimously reappointed Secretary-General for a second term on December 2, 1966.
During this period he oversaw the growth of the UN, as it admitted new members from Asia and Africa. He also helped establish UN development programmes and UN environmental programmes – which began to extend the role of the UN into humanitarian functions.
In his last period of tenure, the UN had to face a succession of conflicts, such as the Six Day War between Arab countries and Israel, the Soviet invasion of Czechoslovakia, and the Indo-Pakistan war of 1971. The late 1960s also saw an escalation of the Vietnam War. U Thant's criticism of US involvement led to a deterioration in relations with the Johnson administration, making his period more difficult. U Thant attempted to create direct peace talks between Washington and Hanoi, but these were rejected by the US.
He was criticised by the US and Israel during the Six Day war, despite making a last-minute flight to Egypt to try and dissuade Nasser from going to war with Israel.
Despite great difficulties, U Thant is widely credited with strengthening the role and presage of the UN Secretary-General. He left office with widespread admiration. The Soviet idea for a troika formula of 3 secretary generals was no longer desired.
At the end of his second term, U Thant made it clear he would not be seeking a third term. In fact, he once remarked that one term was enough for any Secretary-General. His successor was Kurt Waldheim
Personal qualities
U Thant was noted for his calm and detachment, he had a remarkable ability to act as peacemaker and help people feel at ease. He explained the role of his Buddhist practise and faith in cultivating emotional detachment.
"As a Buddhist, I was trained to be tolerant of everything except intolerance. I was brought up not only to develop the spirit of tolerance but also to cherish moral and spiritual qualities such as modesty, humility, compassion, and, most important, to attain a certain degree of emotional equilibrium."
Although dealing with difficult, almost intractable world problems, he had the discipline to keep his emotions hidden – even though it told on his health.
"No one will ever know the intense internal struggle which U Thant's discipline and his deep faith concealed from the public gaze. He was occasionally even reproached for his calm. His medical history, which he concealed as far as possible, tells another story — the story of a good and disciplined man doing his best to perform one of the most difficult jobs in the world, and privately enduring the extremes of fatigue, worry and frustration."
– General Secretary Kurt Waldheim talking of his predecessor.
"This world of ours is assailed by injustice and insecurity. To liberate the world from injustice and insecurity, U Thant served tirelessly the heart of mankind. His heart of peace and his heart of oneness he offered to see the appreciable progress of humanity."
– Sri Chinmoy, who led the Peace Meditations at the United Nations, and spoke highly of U Thant's contribution to the United Nations.
Retirement
After his retirement, U Thant concentrated on writing, in particular, the avocation of greater international co-operation and the development of a truly global community.
"Many of the problems that we face today are due to, or the result of, false attitudes – some of them have been adopted unconsciously. Amongst these is the concept of narrow nationalism – 'my country, right or wrong'. It is lack of truth in international relations that leads to the conscious or unconscious adoption of double standards. It is therefore essential that, in international relations as in human relations, we should practice, as we preach to others, the universal principle of truth. "
– U Thant (Notable quotes at UN)
He died from lung cancer on 25 November 1974 in New York.
After his death, his body was returned to his native Burma where he was held in great esteem by his fellow countrymen. However, the military junta which had overthrown the democratically elected government of Nu refused to accord U Thant any honour. This refusal led to student protest and anti-government speeches. The military junta broke up the protests, killing protesters in the process. He was buried at the foot of Shwedagon Pagoda.
U Thant's natural humility made him reluctant to accept any awards. However, he did accept the Jawaharlal Nehru Award for International Understanding in 1965, the Gandhi Peace Award in 1972, and over 24o honorary degrees.
During his time at the United Nations, he invited spiritual teacher Sri Chinmoy to lead peace meditations at the United Nations. After his death, Sri Chinmoy, the leader of the UN meditation group established the U Thant Peace Award which honoured individuals or organisations who made a contribution to world peace.
Citation: Pettinger, Tejvan. "Biography U Thant", Oxford, UK www.biographyonline.net Published 2nd November 2014. Last updated 20 February 2019.
U Thant – The Search for Peace

U Thant – The Search for Peace by June Bingham – at Amazon.
Related

People who promoted world peace – People who have made a great contribution to creating a more peaceful world. Including Mahatma Gandhi, Leo Tolstoy, Malala Yousafzai Pope John Paul II and Mikhail Gorbachev.

Buddhists – Famous Buddhists, including Lord Buddha, Milarepa, the Dalai Lama and Thich Nhat Hanh.

People who changed the world – Famous people who changed the course of history including Socrates, Newton, Jesus Christ, Muhammad, Queen Victoria, Catherine the Great, Einstein and Gandhi.
External links