Cesar Chavez (1927 – 1993) was an American labour leader and civil rights activist for Latino Americans. With Dolores Huerta, he co-founded the United Farm Workers (UFW) which sought to represent farmworkers, especially Latinos into a major national organisation. Chavez was a formidable labour leader who helped to organise low-paid agricultural workers – leading major strikes to force farm owners to improve pay and conditions for workers. During the 1968 Delano grape strike, he also led a national campaign for consumers to boycott grapes until farmworkers were better paid. Although the UFW never achieved widespread unionisation on a national scale, his activism played a major role in improving conditions for farmworkers. His political activism was inspired by the non-violent movements of Mahatma Gandhi and Martin Luther King. He also embarked on spiritual fasting to raise awareness and promote his cause.
"All my life, I have been driven by one dream, one goal, one vision: to overthrow a farm labor system in this nation that treats farm workers as if they were not important human beings. Farm workers are not agricultural implements; they are not beasts of burden to be used and discarded."
– What the Future Hold 9 November 1984
Chavez was born in Yuma, Arizona on 31 March 1927. His grandfather was a Mexican who crossed into Texas at the end of the previous century. His family were a typical Latino extended family who practised the Catholic religion.
In 1939, his grandmother Dorotea died and after falling behind with mortgage payments the family were heavily debt. Despite his father's best efforts to delay the process, the local government forced the family and homestead to be auctioned off. The perceived injustice of being forced to sell the family left an impression on Chavez who saw the combined power of lawyers and local government. The family were forced to move to California, where they worked as itinerant food pickers. Chaves said the family were continually on the move and he attended over 60 different schools as his family moved from one iterant farm to another. Some schools were segregated by race others were unsegregated and he remembers Spanish was forbidden in school.
This was a period of great poverty for the family. The Great Depression had depressed wages and unskilled farm workers struggled to gain a basic subsistence. For the young Chaves, his new poverty was made starker by the contrast between himself and many of his more affluent classmates. He graduated junior high school in 1942 and, like his parents, became a full-time farm worker.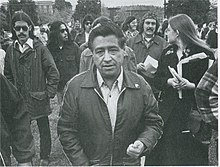 After a two year stint in the US navy from 1946-48, Chavez returned to work as a farm labourer in California. On returning to California he also married Helen Fabela, they had eight children together. In the early 1950s, Chavez became increasingly politically aware. He read widely, including left-leaning writers and spiritual figures with a political outlook. Reading the biography of Mahatma Gandhi was important for creating a belief in the power of non-violent protest. At the time, agricultural work in America often had the highest levels of poverty, and they had little political or economic influence. Previous federal legislation on union representation had excluded farm-workers because of the influence of farmers in key swing states. Farm workers and especially Latino workers had very limited opportunities for collective bargaining and had to accept whatever pay and conditions were imposed by employers.
In 1953, he was employed by supporters of Mexican-American civil rights to promote voter registration amongst Latinos working across California. Chavez worked for an organisation called the Community Service Organisation (CSO). Chavez also campaigned on behalf of unemployed farm workers who felt they were losing their job to unregistered guest Mexican workers, who were undercutting American permanent residents. By 1958, his relative success led him to be made the president of the CSO. As president, he secured the financial backing of donors who helped to improve their financial situation. He also led forms of activism such as sit-ins and protest marches for better conditions.
Chavez himself was not a great public speaker and only five foot six. But, his action and inner determination inspired workers. He led an austere life. He avoided meat and dairy products. He never earned more than Chavez never earned more than $5,000 a year – very low by union organiser standards.
In 1962, Chaves founded with Dolores Huerta the National Farm Workers Association (NFWA) – it later became the United Farm Workers (UFW). Initially, they struggled to make much impact, but in 1965, Filipino-American grape pickers went on strike for better pay and conditions. Chavez wholeheartedly backed the campaign and strike, which became known as La Huelga or "the strike". Speaking in 1965, Chavez said.
"This is the beginning of a social movement in fact and not in pronouncements. We seek our basic, God-given rights as human beings. Because we have suffered — and are not afraid to suffer — in order to survive, we are ready to give up everything, even our lives, in our fight for social justice. We shall do it without violence because that is our destiny."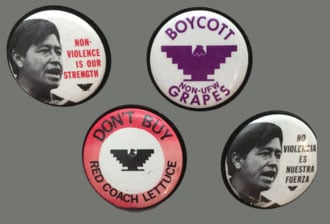 To further the aims of the strike, Chavez launched a nationwide appeal for consumers to boycott table grapes until the employers met their demands. Chavez felt even a partial boycott would put pressure on the employers. Chavez appeal made him a national figure, and the grape strike became national news. He gained the support of Robert F. Kennedy, who said of Chavez 'He is one of the heroic figures of our time.' It also led to the support of the most influential figure in the American labour union movement – Walter Reuther, who came to California and proclaimed he fully backed the strike. Chavez's leadership and perceived success led to a spread in union activism with a growth in trade union membership and more strikes amongst fruit workers who felt greater confidence that union activism could achieve success. He was asked why he fought so hard for farmworkers, Chavez replied.
"For many years I was a farm worker, a migratory worker, and, well, personally — and I'm being very frank — maybe it's just a matter of trying to even the score." (NY Times)
In 1965, farmworkers earned an average of less than $1.50 an hour with no fringe benefits or protection from unfair dismissal and exploitative labour practices. Unionisation and the threat of strikes led to significant increases in pay, access to medical insurance, pensions and a mechanism for challenging employer abuses. It wasn't just the economic improvements that were important. It helped Latino-Americans to gain a sense of self-esteem and belief that they were equal citizens and could participate in the future of the US. It led to many young Latino-Americans to expand their horizons from accepting their position in society.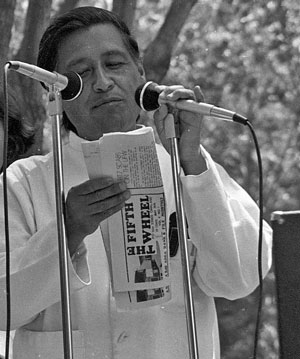 Chavez was an influential leader because he was seen to put his body and soul into the movement. In 1968, he began one of his first 'fasts' – his fasting was inspired by Gandhi, and also the Catholic tradition of penance. Chavez felt that the fast was both important for giving him inner strength and determination. It was also a political tool to illustrate that he had the will to achieve what he set out to achieve.
"A fast is first and foremost personal. It is a fast for the purification of my own body, mind, and soul. The fast is also a heartfelt prayer for purification and strengthening for all those who work beside me in the farm worker movement."
In 1970, he began a water-only fast of 'thanksgiving and hope' which lasted 25 days.
In 1970, the success of the grape strike encouraged salad pickers to also go on strike. Chavez' UFW union found itself in conflict with another union the International Brotherhood of Teamsters. Chavez felt the UFW had the main right to represent farmworkers and the Teamsters were undercutting their efforts. In August 1970, 6,000 UFW workers went on strike causing a halt to lettuce picking. It was the largest agricultural strike in US history and caused the price of lettuce to double. Despite court injunctions to prevent Chavez and the UFW picketing. Chavez ignored them. As a result, he was arrested and put in jail. This led to a bitter dispute between the UFW and Teamster union for the next four years. The battle for the right to represent agricultural workers led to attacks physically and legally on the UFW, and it began to lose its influence and confidence.
Chavez decided to change approach, and in 1975, the UFW led a march of farmworkers from San Francisco to a major grape producer in Modesto. The march was a great success. Starting with just a few hundred workers, by the time it had arrived at its destination, 15,000 people had joined on route. Combined with past memories of the grape strike, the California State Assembly passed a bill on labour law reform – Agricultural Labor Relations Act (ALRA), which allowed for collective bargaining in agriculture. It also had a "good standing clause," which enabled union leaders to deny work to any worker who challenged his decisions. This led to a generally peaceful resolution between the UFW and Teamsters.
However, in 1976, a further legislative attempt to pass Proposition 14 to guarantee the right of workers to organise and visit farms, was defeated in a referendum of California workers.
In the late 1970s and 1980s, Chavez wanted the UFW to become more of a political movement with a transformational character. He became more critical of internal dissent, and many initial board members were removed. He became fearful and suspicious of spies in his own organisation. In the 1980s, the power and influence of the UFW declined. Only a small percentage of national farm workers were covered by the UFW. In 1988, he tried to lead a strike against the exposure of farmworkers to pesticides, but the strike didn't succeed. Discouraged by the failure, he went on a 35-day strike to try and revive the protest, but it didn't make much difference and he was persuaded by others to give up his fast, which was now causing health issues. In the late 1980s, he also got into real estate development, using non-unionised labour, which some criticized him for.
He died aged 66 on 23 April 1993 from unknown natural causes
In 1994 a year after his passing he was posthumously given the Presidential Medal of Freedom.
Citation: Pettinger, Tejvan. "Biography of Cesar Chavez", Oxford, UK. www.biographyonline.net. Published 2 August 2019. Last updated 2 August 2019.
Cesar Chavez Autobiography
Cesar Chavez Autobiography at Amazon
Quotes by Cesar Chavez
"It can be done!"
Chavez's personal motto
"Dr. King was also radical in his beliefs about violence. He learned how to successfully fight hatred and violence with the unstoppable power of nonviolence. He once stopped an armed mob, saying: "We are not advocating violence. We want to love our enemies. I want you to love our enemies. Be good to them. This is what we live by. We must meet hate with love." 12 January 1990

"These trends are part of the forces of history that cannot be stopped. No person and no organization can resist them for very long. They are inevitable. Once social change begins, it cannot be reversed. You cannot uneducate the person who has learned to read. You cannot humiliate the person who feels pride. You cannot oppress the people who are not afraid anymore." (9 November 1984)

"We shall Strike. We shall pursue the revolution we have proposed. We are sons of the Mexican Revolution, a revolution of the poor seeking, bread and justice. Our revolution will not be armed, but we want the existing social order to dissolve, we want a new social order. We are poor, we are humble, and our only choices is to Strike in those ranchers where we are not treated with the respect we deserve as working men, where our rights as free and sovereign men are not recognized. We do not want the paternalism of the rancher; we do not want the contractor; we do not want charity at the price of our dignity." The Plan of Delano (1965)

"Our sweat and our blood have fallen on this land to make other men rich. The pilgrimage is a witness to the suffering we have seen for generations." The Plan of Delano (1965)

"I became a vegetarian after realizing that animals feel afraid, cold, hungry and unhappy like we (humans) do."

"History will judge societies and governments — and their institutions — not by how big they are or how well they serve the rich and the powerful, but by how effectively they respond to the needs of the poor and the helpless."As quoted in Cesar Chavez : A Triumph of Spirit (1997)
Related pages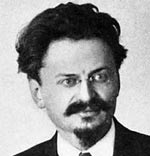 Famous Revolutionaries – People who inspired or began revolutions. Including Spartacus, Joan of Arc, George Washington, Karl Marx.

Famous Americans – Great Americans from the Founding Fathers to modern civil rights activists. Including presidents, authors, musicians, entrepreneurs and businessmen. Featuring Thomas Jefferson, Abraham Lincoln, Madonna, Oprah Winfrey.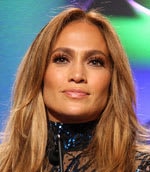 Famous Hispanics – A list of famous people of Spanish-speaking origin. Includes Shakira, Jennifer Lopez, Simon Bolivar, Selena and Jorge Ramos.
People who fought for human/civil rights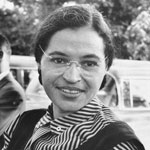 – People who campaigned for equality, civil rights and civil justice. Includes Abraham Lincoln, Harriet Tubman, Martin Luther King and Rosa Parks.