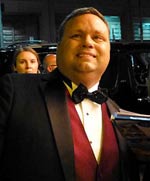 Paul Potts was born in Bristol 1971. For several years he worked as a shelf stacker in Tescos and tried unsuccessfully to make it as a full-time singer. He served as a local Liberal Democrat councillor on Bristol city council and in 2007 was working as the manager of Vodaphone phone shop.
In 2007, Potts applied to take part in the new TV Reality programme – ITV's Britain's Got Talent and instantly shot to fame. In his first performance, he looked nervous and unlike a celebrity. But, his performance of Nessun Dorma was widely praised (and has received over 120 million views on Youtube as 02/2014)
Since his TV performance, he has signed a record deal and become a well-known music celebrity. His first album 'One Chance' sold well, going to number 1 in the album charts in several countries.
The life of Paul Potts is a real rags to riches story. Previous to appearing on "Britain's Got Talent" Paul was dogged by illness and misfortune.
For example, he spent most of his savings on receiving singing lessons, including taking part in a Luciano Pavarotti master class. This cost him up to £20,000 and although he was given encouragement he was never able to get a paid job out of it.
In 2003 he had to receive hospital treatment for a benign tumour. Shortly after this operation, he broke his collarbone in a bike accident. He spent many months lying on the sofa in great pain. However, he was encouraged by friends to give the new ITV series a go. With little to lose and no high expectation, Paul auditioned and made it through various stages to the final. His first performance was in Wales at the Millennium Centre on 17th March. He sang a rendition of Puccini's aria from Turandot. His performance ended with a standing ovation from the 2,000-strong audience.
Even before he had won the final, he had been receiving much media interest.
Since the final Paul has travelled to many countries around the world. In a recent Canadian interview Paul said:
"I have done more things in the last four months than I would ever have expected to do in my whole lifetime," Potts told Reuters in an interview. "It's mind-boggling."
His schedule includes many performances and TV interviews – He has recorded a performance for Opera Winfrey.
Related pages
Paul Potts – One Chance at Amazon.co.uk
Paul Potts – One Chance at Amazon.com
Related pages 

Musicians – Famous musicians from classical music to popular music. Including Mozart, Beethoven, Bach and John Lennon.
Famous 

English people – Famous English men and women. From Anne Boleyn and Queen Elizabeth I to Henry VIII and Winston Churchill. Includes the great poets – William Shakespeare, William Blake and William Wordsworth.

Famous people with Rags to Riches stories – Rags to riches stories – People who started off poor, but became rich through good fortune or hard work. The list includes; George Soros, Andrew Carnegie, Samuel Walton, Pele and J.K. Rowling.