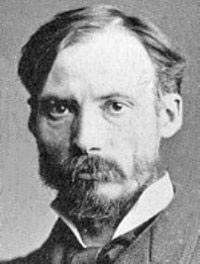 Auguste Renoir (1841–1919) was one of the founders of impressionism – a revolutionary new development amongst young painters, seeking to develop art in less formal directions. Renoir continued to innovate throughout his life – moving on from impressionism after being deeply moved by the Italian Renaissance Masters. He was famous for his rich, colourful paintings of Parisiens, which captured the excitement and life of Paris around the turn of the century.
Early life
Renoir was born in Limoges, France on 25 February 1841. Aged three, the family moved to Paris, where Renoir grew up. His father was a tailor, and Renoir was given an apprenticeship at a porcelain painter. He was a talented painter with a steady hand, but porcelain painting did not satisfy his artistic creativity, and where possible he went to the Louvre to study the paintings of the great masters. In addition to working in the factory, he sought out commissions from local patrons. His talents were soon recognised and he was given the opportunity to study at the Ecole des Beaux-Arts. It was here that he joined Charles Gleyre's studio and met many other young French impressionist artists, such as Claude Monet and Alfred Sisley.
During the 1860s, Renoir was struggling to make ends meet, uncertainty not helped by the Franco-Prussian War (in which Renoir fought). To make ends meet, he supplemented his income by drawing more conventional portraits. Despite his poverty, Renoir loved painting around Paris, he chose crowded meeting places, the banks of the Seine and a scenic forest at a nearby district of Fontainebleau. In 1871, he was caught up in the Paris Commune uprising. At one time, the Communards spied Renoir painting by the Seine and assumed he was a spy. He was only saved by Raoul Rigault, a leader of the Communards recognising Renoir as an old friend.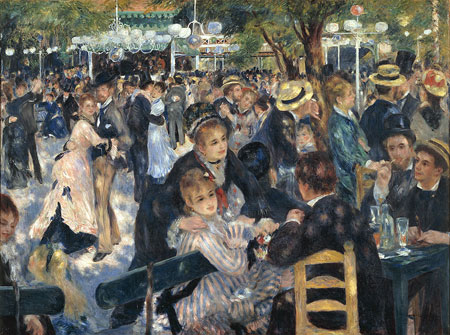 Moulin de La Galette
Impressionist period
In the 1870s, Renoir was inspired by the innovation and freedom of other impressionist painters such as Monet, Pissarro and Edouard Manet. Initially, the art establishment was unimpressed by the new breed of painters, and the impressionists struggled to have any exhibitions.  In April 1874, rejected by the Paris Salon, they promoted their own independent exhibition. Renoir displayed mostly portraits, and despite criticism over the radical new direction, Renoir received some positive praise and his reputation for an innovative portrait artist grew. Renoir contributed paintings to the first three of the Impressionist exhibitions in 1874, 1876 and 1877. By the end of the decade, Renoir had been able to submit paintings directly to the Paris Salon and he became one of the leading Parisien painters. Speaking on his philosophy of painting, Renoir tried to capture the beauty in life.
"To my mind, a picture should be something pleasant, cheerful, and pretty, yes pretty! There are too many unpleasant things in life as it is without creating still more of them."
― Pierre-Auguste Renoir
Post-impressionist period
In 1881, he visited Algeria and then Italy. In Italy, he was deeply impressed by the Italian Masters, such as Titan and Raphael. He also met and painted the portrait of composer Richard Wagner. After meeting Cezanne near Marseilles, Renoir sought to break away from Impressionism by developing a new structural style of his own. He sought to combine aspects of both the classical form and impressionist colour and freedom.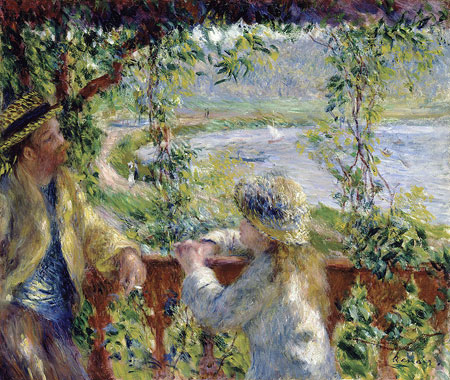 "The work of art must seize upon you, wrap you up in itself, carry you away. It is the means by which the artist conveys his passion; it is the current which he puts forth which sweeps you along in his passion."
―
Yet, he never abandoned his techniques of colour that he learnt during his impressionist period and he developed a combination of classical styles of applying paint with an impressionist perspective of colour.
Personal life
Renoir married late – it was not until 1890, when he was 49 years old that he married a former model of his – Aline Victorine Charigot – she was 20 years younger. Renoir included her in many of his future paintings depicting family life. They had three children, including Jean Renoir (1894-1979) a noted filmmaker.
Towards the end of the nineteenth century, he gained increasing fame and respect. In 1892, the French state bought one of his paintings – 'At the Piano.' By the end of his life, he was able to revisit the Louvre and see his own paintings hanging in the museum he had visited so often as a child.
Later years
As ill-fortune would have it, his fame and greater renown also coincided with the onset of arthritis which made painting difficult and painful. He hurt his right arm after a bicycle accident and this exacerbated his arthritis. Towards the end of his life, he was mostly confined to a wheelchair and he needed the help of an assistant to place the brush into his hand. Despite his physical difficulties, he struggled on and continued to paint some great masterpieces, though his work-rate slowed. In 1907, he moved to the warmer climate of Cagnes-sur-Mer on the south-west coast of France to gain some relief from arthritis. In December 1919, he suffered a heart attack and passed away on the 3 December aged 78.
Art of Renoir
His art was noted for its vibrant combination of colours. In classic impressionist style, he avoided rigid lines and merged objects giving a sense of dream-like consciousness. He also painted many portraits of women – often in nude. They focus not on the sexual aspect but often of everyday experiences. Like other Impressionists, his paintings are rich in saturated colour, fiving a life-like intimacy. He was constantly evolving and was influential in moving beyond impressionism and opening up new directions in art, which can be seen in later artists such as Picasso and Henri Matisse.
Citation: Pettinger, Tejvan. "Biography of Auguste Renoir", Oxford, UK. www.biographyonline.net Last updated 4 March 2020. Originally published 26 December 2010.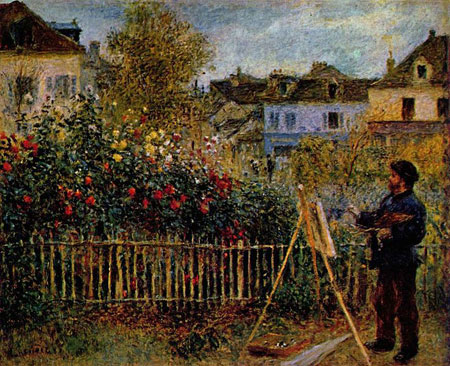 Claude Monet Painting in His Garden at Argenteuil, 1873
Renoir: An Intimate Biography
Related pages


Artists – A list of the great artists, including Leonardo da Vinci, Claude Monet, Vincent Van Gogh, Pablo Picasso, Michelangelo and Rembrandt.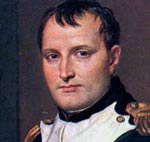 Famous French – A list of famous French men and women. Includes politicians, generals, artists, sportsmen and cultural figures, such as Napoleon, Marie Antionette, De Gaulle, Claude Monet, and Coco Chanel.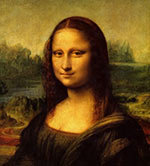 Greatest paintings of all time. Including the Mona Lisa by Leonardo da Vinci; Creation of Adam – Sistine Chapel by Michelangelo; and Poppies in a Field – Claude Monet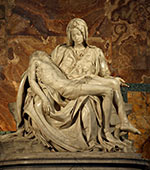 10 Greatest works of art of all time. Including The Pieta and The statue of David by Michelangelo; Ecstasy of St Therese by Bernini, and Sunflowers by Vincent Van Gogh.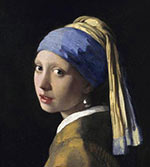 10 most famous paintings – Includes famous works such as; The Mona Lisa, The Last Supper, The Scream, The Girl with a Pearl Earring.