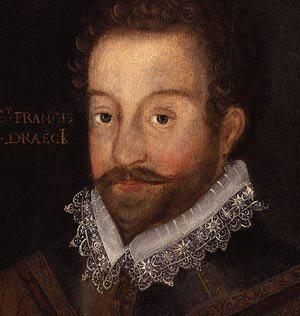 Sir Francis Drake ( 1540 – January 28, 1596) was an English sailor and explorer. Beginning around 1563, he and his cousin, Sir John Hawkins became the first Englishman to sell slaves from Africa in the New World. In Panama in 1573, he captured a fortune in silver and gold that the Spanish had seized from the Native Americans and became the first Englishman to see the Pacific. He was also the first Englishman to sail all the way around the world. Because of this, he was made a knight by Queen Elizabeth I. His rise from commoner to great war hero and influential person was rare for his time.
There were rumours of a love interest between Sir Francis Drake and Queen Elizabeth, but this is hard to quantify. Queen Elizabeth I did appreciate the many jewels and riches he brought back from his plunder of Spanish shipping (even if Queen Elizabeth I sometimes rebuked him for political reasons)
His most famous feat occurred when he was second in command of the English fleet – which defeated the Spanish Armada in 1588. A traditional tale says he was playing bowls when the Spanish fleet were first noticed. Sir Francis Drake is claimed to have said:
'there's still time to finish the game and defeat the Spanish.'
However, this remains unsourced. A sourced quote shows Drake's assessment of the Spanish fleet, as the Armada approached.
"Coming up unto them, there has passed some cannon shot between some of our fleet and some of them, and so far as we perceive they are determined to sell their lives with blows. … This letter honorable good Lord, is sent in haste. The fleet of Spaniards is somewhat above a hundred sails, many great ships; but truly, I think not half of them men-of-war. Haste."
Letter to Sir Francis Walsingham, from off Cape Sagres, Portugal (17 May 1587). His naval exploits led King Philip II of Spain to offer a reward of 20,000 ducats, ( US$6.5M in today's money), for his life.
Sir Francis Drake's ship was called 'The Golden Hind'. Sir Francis Drake was the second man to sail around the whole world with two of his ships intact.
Sir Francis Drake also helped to commercialise the slave trade. He accompanied his cousin Sir John Hawkins in the third British Slave trading expeditions. He was also present at the Rathlin Island Massacre, where 600 people were massacred after surrendering in Ulster.
He died of dysentery in January 1596 after unsuccessfully attacking San Juan, Puerto Rico.
Citation: Pettinger, Tejvan. "Biography of Sir Francis Drake", Oxford, UK. www.biographyonline.net, Published 21/04/2009. Last updated 18 Feb 2018.
Books on Sir Francis Drake
Related pages
Famous

English people – Famous English men and women. From Anne Boleyn and Queen Elizabeth I to Henry VIII and Winston Churchill. Includes the great poets – William Shakespeare, William Blake and William Wordsworth.

Great Briton list – Top 100 famous Britons as voted by a BBC poll. Including Winston Churchill, William Shakespeare, Thomas Cromwell and Queen Elizabeth I.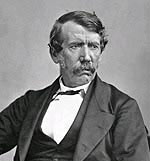 Adventurers – Famous adventurers and explorers, including Christopher Colombus, Marco Polo, Roald Amundsen and Neil Armstrong.