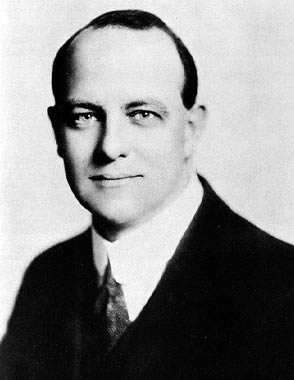 P.G. Wodehouse (15 October 1881 – – 14 February 1975) was one of the greatest comic writers of the Twentieth Century. He became a master of farce, creating a wonderful array of characters and imaginary fairyland based on the Edwardian British upper class. His 100 books have been translated into countless languages and remain an important part of popular culture.
Early life
Pelham Grenville Wodehouse was born 15 October 1881, in Guildford, England. His father was a judge in Hong Kong and his family had strong roots in Norfolk often representing the area in Parliament.  Wodehouse was sent to boarding school at Dulwich College and he often spent his vacations staying with various aunts around the English countryside. Many of his aunts were married to Church of England vicars. These childhood experiences and people he met would later be incorporated into his novels. At public school, he was an excellent student and sportsman, playing for the football and cricket first teams.
Writing career
Initially, his family planned for him a career in banking in the Far East. However, after his first job for Hongkong and Shanghai Bank, it soon became evident that repetitive paperwork was the wrong choice for the creative mind of Wodehouse. He left the bank to start a career as a journalist and writer. His early stories were based on public school life, featuring two characters in particular – Mike, the brilliant cricketer and all-round good egg, and the alternative alter ego – P Smith. He wrote a column for a London evening paper and a magazine for boys called 'Captain'. His fresh, innovative and comic style of writing gained a loyal following from both schoolboys and adults. His irreverent wit, lightness and charm was a wonderful anecdote to the staid world of Edwardian England. Wodehouse was one of the rare comic writers who could induce the reader to laugh out loud and not just merely smile.
Before the First World War, he visited New York in America which became a second home to him – he ended up with dual US-British citizenship. In New York, Wodehouse wrote 18 musical comedies, including The Golden Moth and The Cabaret Girl. It was during the 1920s, that the fame of P.G.Wodehouse really took off, with the publication of his Jeeves and Wooster stories. They captured a golden age of innocence and were also a gentle satire of his own class. The strength in the books lay in the marvellous comic talent he displayed in writing the various characters and dialogue. Each character seemed a humorous exaggeration of real-life characters that we all know. The pivotal character is Wooster, the archetypal, 'nice but dim' English gentleman.
"I'm not absolutely certain of the facts, but I rather fancy it's Shakespeare who says that it's always just when a fellow is feeling particularly braced with things in general that Fate sneaks up behind him with the bit of lead piping."
(- Wooster speaking in Jeeves and the Unbidden Guest)
He gained several acknowledgements for his literary efforts and was considered by Belloc to be the 'greatest writer in English'.
In the 'Roaring Twenties,' Wodehouse was at his most prolific and he became a household name. His Jeeves and Wooster books captured perfectly a timeless, imaginary world of high jinks and japes – it appealed to many people's desire to forget the past war and live in a world of good cheer. Wodehouse books had an innocence and lightness, he never ventured into serious crime or sexual relations; it was a world of safety and escapism. His comic inventions, such as The Drones Club and Blandings Castle became popular topics of conversations, with correspondents writing into the Times about aspects of Wodehouse's imaginary world.
When writing the Jeeves and Wooster series, Wodehouse said that he tried to imagine all characters were like paid actors, and only brought a character into the scene if he felt it was merited. He wrote very much with the stage in mind, and it enabled a very successful adaption for tv with Stephen Fry and Hugh Laurie, staring in the highly acclaimed and successful "Jeeves and Wooster" tv series.
Wodehouse worked very hard in planning books his books. He would first write a detailed plotline and then build a story and the humorous interactions around it. At his peak, he could complete a novel in around three months; this rate later slowed to around six months. Commenting on his own efforts to produce a book he writes with customary self-deprecation.
"When in due course Charon ferries me across the Styx and everyone is telling everyone else what a rotten writer I was, I hope at least one voice will be heard piping up, 'But he did take trouble.'"
— Wodehouse on Wodehouse, 1957
P.G. Wodehouse during the War
In 1940, at the onset of World War II, he was captured by the Germans in Le Touquet, France. Just prior to the Allied armies evacuation he was offered the one remaining seat on a RAF plane, but did not wish to leave behind his wife and adopted daughter. He was sent to a prison at the Citadel of Huy and then to an internment camp in Upper Silesia. During the war, the Germans allowed him a typewriter, and he secretly sent word to the families of Canadian prisoners of war. As he was over 60, he was released on the condition that he remain in Germany for the duration of the war. During this period, he was invited to make six broadcasts on German Radio for America. Though his broadcasts were apolitical – neither supporting Germany or criticising his own country – it led to a vitriolic response from countrymen who felt it appeared he was indifferent to the war and sympathetic to Germany. The situation was inflamed by the Daily Mirror launching a front page calling him a traitor.
In 1953, in "Performing Flea" P.G. Wodehouse later regretted his decision, which he blamed on his naivety, but he also denied he had intended to betray the interests of his country.
"Of course I ought to have had the sense to see that it was a loony thing to do to use the German radio for even the most harmless stuff, but I didn't. I suppose prison life saps the intellect." – P.G. Wodehouse
Without becoming bitter he strongly rejected ever going against his country. But despite being a very popular writer, public opinion was so strongly against him after the war, he remained in the US, and never returned to England, despite expressing a wish to return. On discussing Wodehouse's wartime broadcasts, Malcolm Muggeridge made the following assessment of Wodehouse:
"He is a man singularly ill-fitted to live in a time of ideological conflict, having no feelings of hatred about anyone, and no very strong views about anything. … I never heard him speak bitterly about anyone—not even about old friends who turned against him in distress. "
Despite this controversy, interest in his books never wavered and he continued to write new Jeeves and Wooster stories with his characters retaining the same youthful adolescent attitude. He continued with the same style and formula – a timeless approach that seemed to appeal to readers of all ages and generations. His success as a writer continued to grow and to his great delight, he was awarded a KBE shortly before his death on 14th February 1975 – aged 93 – after over 70 years as a public writer.
Personal life
In 1914, Wodehouse married Ethel Rowley, a recent widow. He adopted Ethel's daughter from her previous marriage. He never had any children of his own. Amongst friends Wodehouse was known affectionately as 'Plum' He was known for avoiding the limelight but pursued a modest lifestyle, enjoying golf, swimming and meeting good friends.
Citation: Pettinger, Tejvan. "Biography of P.G. Wodehouse", Oxford, UK. www.biographyonline.net. Last updated 18 March 2020. Published 26 January 2011.
The Jeeves & Wooster Boxed Set: The Collectors Wodehouse at Amazon
Related pages

Inter-war era (1918 to 1939) A period of peace in between the two world wars. Characterised by economic boom and bust, and the growth of polarising ideologies. Includes; Hitler, Churchill, Gandhi, Roosevelt and Mussolini.
Writers and authors

 – Famous authors such as J.R.R. Tolkien, William Shakespeare, J.K. Rowling, Jane Austen, Leo Tolstoy, John Steinbeck and Ernest Hemingway.
Famous 

English people – Famous English men and women. From Anne Boleyn and Queen Elizabeth I to Henry VIII and Winston Churchill. Includes the great poets – William Shakespeare, William Blake and William Wordsworth.