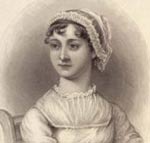 Jane Austen (1775 – 1817) English author who wrote romantic fiction combined with social realism. Her famous novels include Sense and Sensibility (1811), Pride and Prejudice (1813), Mansfield Park (1814) and Emma (1816).
Early Life of Jane Austen
Jane Austen was born in Steventon, Hampshire on 16th December 1775. She was the seventh daughter of an eight child family. Her father, George Austen, was a vicar and lived on a reasonable income of £600 a year. However, although they were middle class, they were not rich; her father would have been unable to give much to help her daughters get married. Jane was brought up with her five brothers and her elder sister Cassandra. (another brother, Edward, was adopted by a rich, childless couple and went to live with them). Jane was close to her siblings, especially Cassandra, to whom she was devoted. The two sisters shared a long correspondence throughout her life; much of what we know about Jane comes from these letters, although, unfortunately, Cassandra burnt a number of these on Jane's death.
Jane was educated at Oxford and later a boarding school in Reading. In the early 1800s, two of Jane's brother's joined the navy leaving to fight in the Napoleonic wars; they would go on to become admirals. Her naval connections can be seen in novels like Mansfield Park. After the death of her father in 1805, Jane, with her mother and sister returned to Hampshire. In 1809, her brother Edward, who had been brought up by the Knights, invited the family to the estate he had inherited at Chawton. It was in the country house of Chawton, that Jane was able to produce some of her greatest novels.
Novels of Jane Austen
Jane Austen's novels are a reflection of her outlook on life. She spent most of her life insulated from certain sections of society. Her close friends were mainly her family and those of similar social standing. It is not surprising then that her novels focused on two or three families of the middle or upper classes. Most of her novels were also based on the idyll of rural country houses that Jane was so fond of.
Her novels also focus on the issue of gaining a suitable marriage. In the Nineteenth Century, marriage was a big issue facing women and men; often financial considerations were paramount in deciding marriages. As an author, Jane satirised these financial motivations, for example, in Pride and Prejudice the mother is ridiculed for her ambitions to marry her daughters for maximum financial remuneration. Jane, herself remained single throughout her life. Apart from brief flirtations, Jane remained single and appeared to have little interest in getting married. (unlike the characters of her novels)
The strength of Jane's novels was her ability to gain penetrating insights into the character and nature of human relationships, from even a fairly limited range of environments and characters. In particular, she helped to redefine the role and aspirations of middle-class women like herself. Through providing a witty satire of social conventions, she helped to liberate contemporary ideas of what women could strive for.
During her lifetime the novels were reasonably popular. One of her strongest supporters was Walter Scott. He said of her novels:
"That young lady has a talent for describing the involvements of feelings and characters of ordinary life which is to me the most wonderful I ever met with."
In the early nineteenth-century, women were not allowed to sign contracts and publishing a book had to be done by a male relative.  Through her brother, her publisher Thomas Egerton agreed to publish Jane's novels and on release, they sold well. At the time, the novel reading public was quite small, due to the cost of paper. The initial print run of her first novel 'Sense and Sensibility' (1811) was just 750. However, as they sold out, the book was reprinted and later books had bigger print runs. Jane earned a modest income from her book royalties but achieved little fame as the books were published anonymously.
In 1815, she learnt that the Prince Regent (the future King George IV) requested one novel to be dedicated to him. Emma is therefore dedicated to the King, even though Jane did not like the reports of his womanising and licentious behaviour.
Death of Jane Austen
Just a few years after achieving modest success as a published author, Jane began feeling unwell and, despite trying to brush it off and continue writing, her condition deteriorated rapidly. Jane died in 1816, aged only 41. She died of Addison's disease, a disorder of the adrenal glands. She was buried at Winchester Cathedral.
There are two museums dedicated to Jane Austen.
The Jane Austen Centre in Bath and
The Jane Austen's House Museum, located in Chawton Cottage, in Hampshire, where she lived from 1809 –1816
In 2005, Pride and Prejudice was voted best British novel of all time in a BBC poll.
Jane Austen Novels
Sense and Sensibility (1811)
Pride and Prejudice (1813)
Mansfield Park (1814)
Emma (1815)
Northanger Abbey (1818, posthumous)
Persuasion (1818, posthumous)
Lady Susan (1871, posthumous)
Unfinished fiction
The Watsons (1804)
Sanditon (1817)
Jane was also voted as one of the Top 100 greatest Britons.
Citation: Pettinger, Tejvan. "Biography of Jane Austen", Oxford, UK. www.biographyonline.net, Published 1 Feb 2007. Last updated 13 February 2018.
Jane Austen – four novels
Related pages

Famous

English people – Famous English men and women. From Anne Boleyn and Queen Elizabeth I to Henry VIII and Winston Churchill. Includes the great poets – William Shakespeare, William Blake and William Wordsworth.

Great Briton list – Top 100 famous Britons as voted by a BBC poll. Including Winston Churchill, William Shakespeare, Thomas Cromwell and Queen Elizabeth I.

Women who changed the world – Famous women who changed the world, including Sappho, Marie Curie, Queen Victoria, and Catherine the Great.

Writers and authors – Famous authors such as J.R.R. Tolkien, William Shakespeare, Leo Tolstoy, John Steinbeck and Ernest Hemingway.
Jane Austen
Novels of Jane Austen
 Sense and Sensibility (published 1811)
 Pride and Prejudice (1813)
 Mansfield Park (1814)
 Emma (1816)
 Persuasion (1818) posthumous
 Northanger Abbey (1818) posthumous
External Links