David Herbert Richards Lawrence (11 September 1885 – 2 March 1930) was an influential writer, poet and literary critic. Highly controversial during his life, since his death he has gained a widespread esteem and is seen as one of the great modern novelists.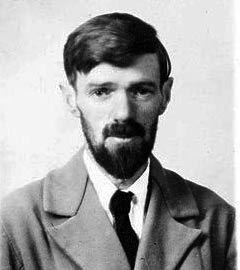 He was born in a poor Nottinghamshire mining town. He was an outstanding pupil and gained a rare county council scholarship which enabled him to continue his studies at Nottingham High School. After working for a brief spell in a factory, he was able to get a teaching certificate and gained employment teaching.
In 1912 he met Frieda Weekley (nee von Richthofen), and although she was married with three children they fell in love and eloped to the French town of Metz on the border of Germany. They would remain faithful life partners for the rest of their lives.
D.H.Lawrence was an unconventional thinker who could see beyond the prevailing orthodoxy of the day. For example, he was profoundly anti-militarism, and during the patriotic fervour of the First World War his pacifism made him deeply unpopular (especially because he also had a German wife)
He was suspected of spying whilst living in Cornwall and forced to leave. At the end of the First World War, he began his long and frequent travels around the world. He termed this period his 'savage exile' He travelled all around the world including various scenic parts of Italy and for several years in Mexico – where he hoped to establish a utopian community. However, a period of pneumonia, which affected him throughout his life, forced him to return to Europe. He died in 1930, aged just 45.
His notable works include Sons and Lovers, The Rainbow, Women in Love, and Lady Chatterley's Lover. During the period, many commentators felt D.H.Lawrence had wasted his talents in producing 'pornographic' works for which he became renowned. At the time of his death, few save E.M.Forster, A. Huxley and a few close friends defended his reputation as a great writer. However, following his death, opinion slowly changed as people came to recognise his contribution to modernist literature and the powerful impression that his novels left on the reader.
"For man, the vast marvel is to be alive. For man, as for flower and beast and bird, the supreme triumph is to be most vividly, most perfectly alive."
– D.H.Lawrence
A frequent theme of his works was the impact of modernity on man. He was particularly interested in how modern life had given supremacy to the mind. Though he is most famous for depicting sexuality in his books (he became a household name following the 1960 case to publish Lady Chatterley's Lover) D.H.Lawrence was also interested in a range of subjects from psychology to religion.
"In the face of formidable initial disadvantages and life-long delicacy, poverty that lasted for three quarters of his life and hostility that survives his death, he did nothing that he did not really want to do, and all that he most wanted to do he did. He went all over the world, he owned a ranch, he lived in the most beautiful corners of Europe, and met whom he wanted to meet and told them that they were wrong and he was right. He painted and made things, and sang, and rode. He wrote something like three dozen books, of which even the worst page dances with life that could be mistaken for no other man's, while the best are admitted, even by those who hate him, to be unsurpassed. Without vices, with most human virtues, the husband of one wife, scrupulously honest, this estimable citizen yet managed to keep free from the shackles of civilization and the cant of literary cliques. He would have laughed lightly and cursed venomously in passing at the solemn owls—each one secretly chained by the leg—who now conduct his inquest. To do his work and lead his life in spite of them took some doing, but he did it, and long after they are forgotten, sensitive and innocent people—if any are left—will turn Lawrence's pages and will know from them what sort of a rare man Lawrence was.:
– Catherine Carswell summing up his life in a letter to the periodical Time and Tide published on 16 March 1930.
Citation: Pettinger, Tejvan. "Biography of D.H. Lawrence", Oxford, UK. www.biographyonline.net. Published 1st Feb 2009.
Related pages
Writers and authors

 – Famous authors such as J.R.R. Tolkien, William Shakespeare, J.K. Rowling, Jane Austen, Leo Tolstoy, John Steinbeck and Ernest Hemingway.

Great Briton list – Top 100 famous Britons as voted by a BBC poll. Including Winston Churchill, William Shakespeare, Thomas Cromwell and Queen Elizabeth I.
Famous 

English people – Famous English men and women. From Anne Boleyn and Queen Elizabeth I to Henry VIII and Winston Churchill. Includes the great poets – William Shakespeare, William Blake and William Wordsworth.