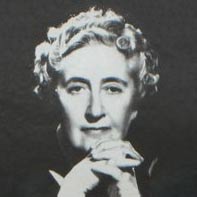 Agatha Christie (15 September 1890 – 12 January 1976) was an English writer of crime and romantic novels. She is best remembered for her detective stories including the two diverse characters of Miss Marple and Hercule Poirot. She is considered to be the best selling writer of all time. Only the Bible is known to have outstripped her collected sales of roughly four billion worldwide copies. Her works have been translated into more languages than any other individual writer.
Early life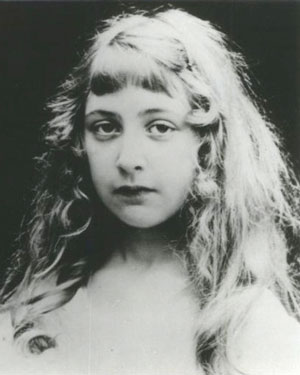 Agatha Christie was born in Torquay, Devon 1890 to Clarissa Margaret Boehmer and a wealthy American stockbroker. She said her father was a most agreeable man "but (he) was a gentleman of substance and never did a handsturn in his life." She received little formal education and was brought up by both her mother and her sister. She did have access to many books and became an avid reader. She recalls her childhood days with fondness.
"One of the luckiest things that can happen to you in life is to have a happy childhood. I had a very happy childhood. I had a home and a garden that I loved; a wise and patient Nanny; as father and mother two people who loved each other dearly and made a success of their marriage and of parenthood." A. Christie Autobiography
In 1905, she went to Paris where she was educated at finishing schools and hoped to become a singer, however, she realised that her voice was not strong enough to make it a career. She experimented with writing short novels, but not much came of it. She approached several publishers but, in the period before the First World War, received several rejections.
In 1914, Agatha Christie met Archibald Christie an aviator in the Royal Flying Corps – they married a few months after the outbreak of war in December 1914. They had a child, Rosalind in August 1919.
During the First World war, with her husband away in France, she trained and worked as a nurse helping to treat wounded soldiers. She also became educated in the field of pharmacy. She recalled her time as a nurse with great fondness, saying it was one of the most rewarding jobs she ever undertook.
Writing Career of Agatha Christie
Agatha Christie was first published in 1920. Her first book was The Mysterious Affair at Styles, (1920) which featured the detective – Hercule Poirot, who at the time was portrayed as a Belgian refugee from the Great War. Poirot is one of the most recognised fictional characters in English with his mixture of personal pride, broken English and immaculate appearance and moustache. The book sold reasonably well and helped meet the public's great appetite for detective novels. It was a genre that had been popularised through Arthur Conan Doyle's Sherlock Holmes stories at the turn of the century. In 1926, she made her big breakthrough with the publication of "The Murder of Roger Ackroyd." This became a best-seller and made Christie famous as a writer.
Mysterious disappearance
"I like living. I have sometimes been wildly despairing, acutely miserable, racked with sorrow, but through it all I still know quite certainly that just to be alive is a grand thing." – Foreward to Autobiography
In the same year (1926) as her major breakthrough, Agatha Christie disappeared for 11 days. It became national headline news as the whole country became absorbed in the mystery of where she had disappeared to. After much-publicised efforts, she was discovered eleven days later in a Harrogate hotel living under a false name. She appeared to be suffering from amnesia. Agatha Christie herself never gave a full explanation for those 11 days, preferring to ignore the subject.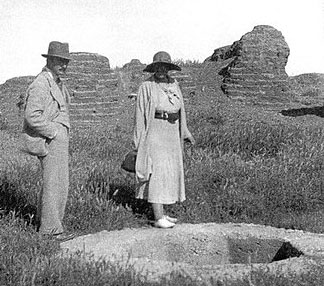 However, it may have been partly due to her turbulent marriage. She frequently rowed with her husband, and in that year discovered he was having an affair. Also, she had recently lost her mother, to whom she was very close. In a way, the drama of her disappearance increased her profile as a writer of fiction.
After the affair, with created negative publicity towards her, she travelled to the Canary Islands for recuperation. In 1930, she married her second husband, Max Mallowan. This marriage was happier, though her only child, Rosalind Hicks, came from her first marriage. Her second husband Max Mallowan was an archaeologist and she often accompanied him on trips to the Middle East. She learnt to help in archaeological digs, taking photographs and working on the sites. Christie paid her own way and tried to keep out of the limelight, working anonymously.
Writings of Agatha Christie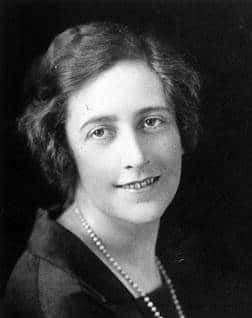 Agatha Christie wrote over 40 novels featuring the proud and immaculate Hercule Poirot. Like Conan Doyle, Christie had no great love for her own creation – Poirot seemed to be admired by the public more than the writer herself. Also, she was similarly unenthused by Poirot's foil – Captain Hastings. Christie felt he was a rather underdeveloped character, but the public loved him.
Agatha Christie preferred her other great detective – the quiet but effective old lady – Miss Marple, who used to solve crimes through her intricate knowledge of how people in English villages behave. The character of Miss Marple was based on the traditional English country lady – and her own relatives. In later life, she increasingly preferred Miss Marple to Poirot.
The plot of Agatha Christies novels could be described as formulaic. Murders were committed by ingenious methods – often involving poison, which Agatha Christie had great knowledge of. After interrogating all the main suspects, the detective would bring all the participants into some drawing-room before explaining who was the murderer. Her writing was quite clear and it is easy to get absorbed in the flow of the story. It also gave readers the chance to try and work out who the murderer was before it was revealed at the end.
Agatha Christie enjoyed writing. For her there was great satisfaction in creating plots and stories. She also wrote six novels in the genre of romance and suspense under a pseudonym – Mary Westmacott.
During the Second World War, Christie worked in the pharmacy of the University College London, which gave her ideas for some of her murder methods. After the war, her books continued to grow in international popularity. In 1952, her play The Mousetrap was debuted at the Ambassador's Theatre in London and has been performed without a break ever since. Her success led to her being honoured in the New Year's honour list. In 1971 she was appointed Dame Commander of the British Empire.
Personal life
Agatha Christie loved embroidery, travelling and gardening – she won various horticultural prizes. She expressed a dislike of alcohol, smoking and the gramophone. She preferred to avoid the limelight and rarely gave public interviews. To some extent she hankered after the more idyllic days of Edwardian England she experienced in her childhood and was dubious about aspects of modern life.
"The quality of agreeableness is not much stressed nowadays. People tend to ask if a man is clever, industrious, if he contributes to the well-being of the community, if he 'counts' in the scheme of things." -A. Christie, Part I of Autobiography
Religious views
Agatha Christie was baptised in the Anglican Church and remained a Christian throughout her life, though she went through periods of difficulty. She was very close to her mother, who was a practising Christian but also was willing to experiment in following practices of Catholocism and spiritualism. Agatha and her other siblings believed that her mother had a degree of psychic ability. Her own writings are not explicitly Christian, but generally have a theme of justice with the sinners unable to escape the consequences of their bad actions, and the moral universe restored. She kept her mother's copy of "Imitation of Christ" by Thomas à Kempis – close to her bed. In her own autobiography, she writes about her own awareness and interest in the inner spiritual sense.
"We never know the whole man, though sometimes, in quick flashes, we know the true man. I think, myself, that one's memories represent those moments which, insignificant as they may seem, nevertheless represent the inner self and oneself as most really oneself." – A. Christie
She died in 1976 aged 85 from natural causes, though may have experienced some dementia in her final years.
Citation: Pettinger, Tejvan. "Biography of Agatha Christie", Oxford, www.biographyonline.net Last updated 18 March 2020. Originally published 5 February 2013.
Agatha Christie – a biography

by Janet Morgan.
Related pages

Writers and authors – Famous authors such as J.R.R. Tolkien, William Shakespeare, J.K. Rowling, Jane Austen, Leo Tolstoy, John Steinbeck and Ernest Hemingway.
Famous

English people – Famous English men and women. From Anne Boleyn and Queen Elizabeth I to Henry VIII and Winston Churchill. Includes the great poets – William Shakespeare, William Blake and William Wordsworth.