Dame Agatha Christie, (15 September 1890 – 12 January 1976)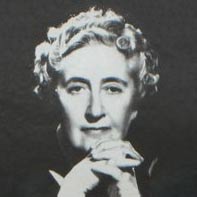 Agatha Christie was an English writer of crime and romantic novels. She is best remembered for her detective stories including the two diverse characters of Miss Marple and Hercule Poirot. She is considered to be the best selling writer of all time. Only the Bible is known to have outstripped her collected sales of roughly four billion worldwide copies. Her works have been translated into more languages than any other individual writer.
Agatha Christie was born in Torquay, Devon 1890 to Clarissa Margaret Boehmer and a wealthy American stockbroker. She was brought up by both her mother and her sister. In the First World war, she trained and worked as a nurse helping to treat wounded soldiers. She also became educated in the field of pharmacy. She recalled her time as a nurse with great fondness, saying it was one of the most rewarding jobs she ever undertook.
Agatha Christie's married an aviator in the Royal Flying Corps – Archibald Christie in December 1914. The marriage was somewhat turbulent and ended in divorce in 1928, two years after Archibald had begun an affair. In 1926, Agatha Christie disappeared for 11 days. The circumstances were never really resolved and it created widespread media interest in the disappearance of this famous novelist. She was eventually discovered in a Harrogate hotel eleven days later. Though Agatha Christie never said why it was probably a combination of shock over her mother's death and the discovery of her husband's affair. In 1930, she married her second husband, Max Mallowan. This marriage was happier, though her only child, Rosalind Hicks, came from her first marriage.
Writing Career of Agatha Christie
Agatha Christie began writing in 1920, after the end of the First World War. Her first story was The Mysterious Affair at Styles, (1920). This featured the soon to be famous detective – Hercule Poirot, who at the time was portrayed as a Belgian refugee from the Great War. The book sold well and helped meet the public's great appetite for detective novels. It was a genre that had been popularised through Arthur Conan Doyle's Sherlock Holmes stories at the turn of the century.
Agatha Christie went on to write over 40 novels featuring the proud and immaculate Hercule Poirot. Like Conan Doyle, Christie had no great love for her own creation – Poirot seemed to be admired by the public more than the writer herself. Agatha Christie preferred her other great detective – the quiet but effective old lady – Miss Marple. The character of Miss Marple was based on the traditional English country lady – and her own relatives.
The plot of Agatha Christies novels could be described as formulaic. Murders were committed by ingenious methods – often involving poison, which Agatha Christie had great knowledge of. After interrogating all the main suspects, the detective would bring all the participants into some drawing room before explaining who was the murderer. The psychological suspense of the novels and the fact readers feel they have a good chance of solving the crime undoubtedly added to the popularity of the books.
During the Second World War, Christie worked in the pharmacy of the University College London, which gave her ideas for some of her murder methods. After the war, her books continued to grow in international popularity. In 1952, her play The Mousetrap was debuted at the Ambassador's Theatre in London and has been performed without a break ever since. Her success led to her being honoured in the New Year's honour list. In 1971 she was appointed Dame Commander of the British Empire.
She died in 1976 aged 85.
Citation: Pettinger, Tejvan. "Biography of Agatha Christie", Oxford, www.biographyonline.net 5 February 2013. Last updated 1 February 2018.
Agatha Christie – a biography

by Janet Morgan.
Related pages

Writers and authors – Famous authors such as J.R.R. Tolkien, William Shakespeare, J.K. Rowling, Jane Austen, Leo Tolstoy, John Steinbeck and Ernest Hemingway.
Famous

English people – Famous English men and women. From Anne Boleyn and Queen Elizabeth I to Henry VIII and Winston Churchill. Includes the great poets – William Shakespeare, William Blake and William Wordsworth.