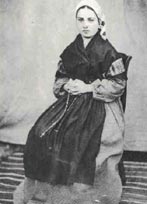 The interest generated by the visions of Bernadette created great interest in the town of Lourdes. Many of the leading town officials assumed that these "visions" were hallucinations or even worse a cunning scheme, plotted by several people. Therefore, after a while, Bernadette was brought in for questioning.
Her calm and confident answers were unexpected by her hostile inquisitors. This is a selection from Bernadette's interview with Commissioner Dominique Jacomet.
February 21st, 1858
"Did you see something Ugly?"
"Oh, no! I saw a beautiful young girl with a rosary on her arm." (29)
Note: this took place after the 6th apparition, before the "beautiful Lady" had revealed her name as "I am the Immaculate Conception" – Up until that point the lady had never given her name and had maintained silence when asked by Bernadette.
Rumours were also flying around Lourdes, many of the excited townsfolk had started to assume the vision was that of the Virgin Mary.
P: Well, now, Bernadette, you saw the Blessed Virgin?"
B: "I never said I saw the Blessed Virgin."
"Ah, well! You say nothing!"
"Yes, I saw something."
"Well, what did you see?"
"Something white."
"Was it some thing, or some one?"
"Aquero has the form of a young girl."
"And Aquero did not say "I am the Blessed Virgin"?"
"Aquero did not say that to me."
"All right then, this lady..er. this girl, she wears clothes?"
"A white dress, with a blue sash, a white veil on her head and a yellow rose on each foot… and rosary beads in her hands."
"Is she Beautiful?"
"Oh, yes sir, very beautiful."
"As beautiful as who? Madame Pailhasson?"
"They don't even come close."
"How old is she?"
"Young."
"But sir, I saw Aquero a number of times. I can't still be mistaken."
"I can't explain it, but I'm sure I saw something."
"Listen, Bernadette, everybody's laughing at you. Everyone says you are mistaken, that you're crazy. For your own good, you must not go back to that grotto."
"I promised to go for fifteen days."
Source: Bernadette Speaks – Rene Laurentin p39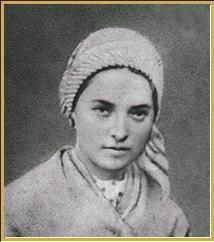 Biography – Bernadette Soubirous
Useful books on Bernadette Soubirous:
St. Bernadette Soubirous: 1844-1879
St. Bernadette Soubirous: 1844-1879 by Francois Trochu at Amazon
St. Bernadette Soubirous: In her own words
St. Bernadette Soubirous: In her own words by Rene Laurentin at Amazon
Related pages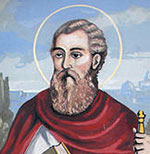 Christians – Famous Christians from Jesus Christ and the early Apostles to Catholic Popes and saints. Includes St Francis of Assisi, St Catherine of Sienna and St Teresa.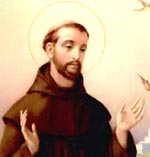 Famous saints – Famous saints from the main religious traditions of Christianity, Hinduism, Islam, Judaism and Buddhism. Includes St Francis of Assisi, Mirabai and Guru Nanak.