Henry V (16 September 1386 – 31 August 1422)
Henry V was king of England from 1413 to his death in 1422. He was famous for leading the English to victory over the French at the Battle of Agincourt in 1415.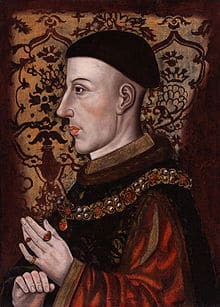 Henry V was born in Monmouth, to Henry of Bolingbroke (later King Henry IV). His grandfather was John of Gaunt and his great grandfather Edward III
Initially, Henry V was not in line to the throne. After the exile of his father, King Richard II looked after the young Henry and later took him in his service to Ireland.
In 1399, Henry V's father (Henry Bolingbroke) returned home to claim his Lancastrian estate. However, because of the popular discord with the rule of King Richard II he was able to usurp Richard II, and reclaim the crown for the Lancastrians. This meant the future Henry V was recalled from Ireland and given the title 'Prince of Wales'.
Around this time, the Welsh rose up in rebellion led by Owain Glyn Dir, and Henry IV was forced to send troops to the Welsh borders. His difficulties were further increased when Henry Percy (Hotspur) also rebelled over a feeling of mistreatment by Henry IV.
The young Henry was involved in fighting for his father, and nearly died after being hit in the face by an arrow. These records of valiant fighting, go to a large extent to disprove the more popular image of a riotous and carefree youth of the Shakespeare play. It is likely Shakespeare exaggerated these qualities for dramatic effect. Nevertheless, there were political differences between father and son. In 1413, Henry IV died and Henry V was crowned at Westminster Abbey in the month of April.
Henry proved an able ruler, cementing Britain as a united country. He was ruthless in quashing domestic dissent but was successful in forging a stronger national identity. He was the first king since the Norman conquest to use English as the official language,
Henry then turned his attention to France, where he had the dual aim of reclaiming his title King of France and also securing parts of France considered to be English.
In 1415, he took his army to France and, at the Battle of Agincourt, led his army to a famous victory. Helped by his bowman, they defeated the French army, even though they were heavily outnumbered. The battle was later immortalised by William Shakespeare.
"Once more unto the breach, dear friends, once more;
Or close the wall with our English dead."
Henry V (William Shakespeare)
In the next few years, Henry V would lead more successful campaigns taking Rouen and Paris. Disunited because of disputes between Burgundians and Armagnacs, the French, in the Treaty of Troyes, agreed that Henry V would become heir to the kingdom of France. In 1420, he married Catherine of Valois, the daughter of the French king. They had one son, who became Henry VI.
King Henry V died in 1922, from dysentery, aged only 36. He failed to be crowned King of France (he was outlived by Charles VI) and English gains in France would later be wiped out.
Quotes from Henry V by William Shakespeare
What's he that wishes so?
My cousin Westmoreland? No my fair cousin:
If we are mark'd to die, we are enow
To do our country loss; and if to live,
The fewer men, the greater share of honor.
God's will! I pray thee, wish not one man more.
By Jove, I am not covetous for gold,
Nor care I who doth feed upon my cost;
It yearns me not if men my garments wear;
Such outward things dwell not in my desires:
But if it be a sin to covet honor,
I am the most offending soul alive.
No, faith, my coz, wish not a man from England:
God's peace! I would not lose so great an honor
As one man more, methinks, would share from me
For the best hope I have. O, do not wish one more!
Rather proclaim it, Westmoreland, through my host,
That he which hath no stomach to this fight,
Let him depart; his passport shall be made
And crowns for convoy put into his purse:
We would not die in that man's company
That fears his fellowship to die with us.
This day is called the feast of Crispian:
He that outlives this day, and comes safe home
Will stand a tip-toe when the day is named,
And rouse him at the name of Crispian.
He that shall live this day, and see old age,
Will yearly on the vigil feast his neighbors,
And say 'To-morrow is Saint Crispian:'
Then will he strip his sleeve and show his scars.
And say 'These wounds I had on Crispin's day.'
Old men forget: yet all shall be forgot,
But he'll remember with advantages
What feats he did that day: then shall our names,
Familiar in his mouth as household words
Harry the king, Bedford and Exeter,
Warwick and Talbot, Salisbury and Gloucester,
Be in their flowing cups freshly remember'd.
This story shall the good man teach his son;
And Crispin Crispian shall ne'er go by,
From this day to the ending of the world,
But we in it shall be remember'd;
We few, we happy few, we band of brothers;
For he to-day that sheds his blood with me
Shall be my brother; be he ne'er so vile,
This day shall gentle his condition:
And gentlemen in England now a-bed
Shall think themselves accursed they were not here,
And hold their manhoods cheap whiles any speaks
That fought with us upon Saint Crispin's day.
— William Shakespeare, Henry V
"I think the king is but a man, as I am: the violet smells to him as it doth to me; the element shows to him as it doth to me; all his senses have but human conditions: his ceremonies laid by, in his nakedness he appears but a man; and though his affections are higher mounted than ours, yet when they stoop, they stoop with the like wing. Therefore when he sees reason of fears, as we do, his fears, out of doubt, be of the same relish as ours are: yet, in reason, no man should possess him with any appearance of fear, lest he, by showing it, should dishearten his army."
— William Shakespeare, Henry V
Citation: Pettinger, Tejvan. "Biography of Henry V", Oxford,  UK. www.biographyonline.net, 27/02/2011. Last updated 1 March 2018.
Henry V – England's Greatest King
Henry V – England's Greatest King at Amazon.
Related pages
Famous

English people – Famous English men and women. From Anne Boleyn and Queen Elizabeth I to Henry VIII and Winston Churchill. Includes the great poets – William Shakespeare, William Blake and William Wordsworth.

Royalty – Famous Kings and Queens throughout history. Including Henry VIII, Queen Victoria and Catherine the Great.

Great Briton list – Top 100 famous Britons as voted by a BBC poll. Including Winston Churchill, William Shakespeare, Thomas Cromwell and Queen Elizabeth I.