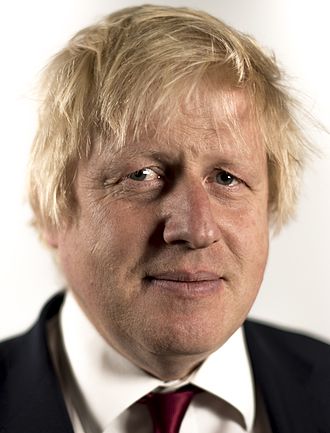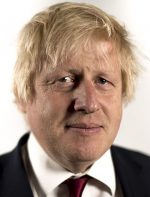 Boris Johnson is a leading Conservative politician and British Prime Minister, who was elected leader of the Conservative Party in the summer of 2019, in a bid to take the UK out of the EU with or without a deal. He served as Mayor of London for two terms 2008-16, overseeing the 2012 London Olympics. He also played a leading role in the 2016 "Vote Leave" campaign on the EU referendum, afterwards becoming Foreign Secretary and later Prime Minister. He is one of Britain's most high profile politicians, renowned for his eccentric approach to life but increasingly known for his hardline Brexit stance which has polarised opinion. Johnson's term has Prime Minister was overshadowed by the coronavirus crisis. In 2021/22, details emerged that unauthorised parties had taken place in number 10 Downing Street – when the rest of the country was in lockdown.
Early life of Boris Johnson
Boris Johnson was born on 19th June 1964. His full name is Alexander Boris de Pfeffel Johnson but chooses to use the shortened version of Boris.
Boris is the son of Stanley Johnson, who is descended from Turkish ancestry and a former member of the European Parliament. Boris was educated at Eton, and Balliol College, Oxford University, where he studied classics. During his time at Oxford University, he became president of the prestigious Oxford Union. It is claimed that he was the preferred candidate of the Social Democrat party, although Boris claims he was never an active participant in the centre-left party. During his time at Oxford, he also became involved in various drinking clubs, such as the Bullingdon Club. This drinking society was associated with a "Hurray Henry" mentality. Boris has maintained this impression of being an Oxford toff, into his political and public life. In his own words Boris has said:
"A wise guy playing the fool to win" [2]
The media have often referred to him as "Bozzer".
On graduating from Oxford he spent one week as a management consultant, before having to resign he memorably said:
"Try as I might, I could not look at an overhead projection of a growth profit matrix, and stay conscious" [3]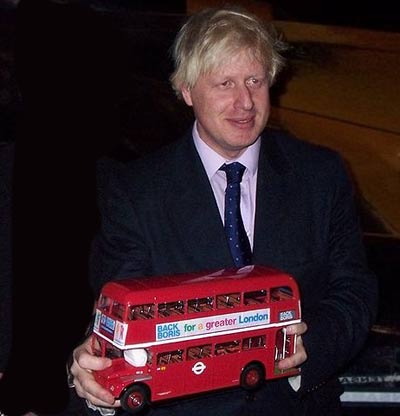 Instead, he pursued a career in journalism. In 1987 he worked as a journalist for the Times, but he was sacked from the Times by editor Charles Wilson for inventing a quote by historian Colin Lucas. After the Times, he moved to the Telegraph where he was appointed to Brussels to cover European issues. At the Telegraph he carved out a niche – writing humorous, Europsceptic articles, which were warmly received by the Telegraph readership. Johnson was criticised by fellow journalists for writing untruths and making up stories to discredit the European Commission. However, the articles had a powerful impact on UK politics, increasing tensions within the Conservative Party, and raising the profile of Euro-scepticism.

In 1999, his profile led him to be hired as editor of the Spectator; his position led to considerable controversy. Not least, over an editorial criticising the people of Liverpool for being "overly sentimental" in response to the murder of British hostage Ken Bigley. The editorial created uproar in Liverpool; Boris Johnson was forced by his party leader Michael Howard to travel to Liverpool to apologise for his behaviour. Boris did go to Liverpool though he faced a frosty reaction.
Boris Johnson as MP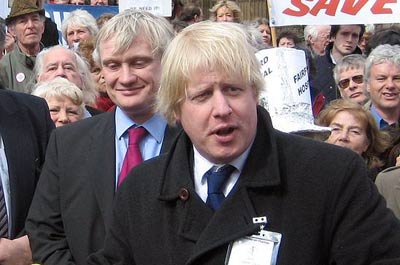 In 2001, Boris Johnson was elected an MP for Henley on Thames, replacing Michael Heseltine. In 2004 he was appointed shadow minister for the arts. However, in November 2004, he was forced to resign over allegations of an extramarital affair with Petronella Wyatt. In 2005, he was reprieved and given the position of shadow minister for education. In 2006, allegations of another extramarital affair arose, but David Cameron did not consider it sufficient to deserve a sacking. In 2015, he was elected MP for Uxbridge and South Ruislip.
Boris Johnson and Mayor of London
In July 2007, Boris Johnson resigned from his position as shadow education secretary so that he would be free to stand as the Conservative candidate for Mayor of London. He was successful in beating the incumbent Ken Livingstone. As Mayor of London, Boris Johnson has forged a strong political identity, often criticising his own party, for example over placing a cap on housing benefits, which hurts London more than other areas. Describing his own political views, Johnson states:
"[I am] free-market, tolerant, broadly libertarian (though perhaps not ultra-libertarian), inclined to see the merit of traditions, anti-regulation, pro-immigrant, pro-standing on your own two feet, pro-alcohol, pro-hunting, pro-motorist and ready to defend to the death the right of Glenn Hoddle to believe in reincarnation."
Boris Johnson
From 2008-16, Johnson served as Mayor of London becoming one of the highest-profile politicians in the UK. He has often been rumoured as a credible leadership candidate for the Conservative party, though he often denied this. In 2012, Johnson was re-elected Mayor of London, again defeating Ken Livingstone.
How did Boris Johnson become Mayor of London?
Developed a high media profile through appearances on TV
Ability to turn gaffes into public relation successes.
An appeal to young people across traditional party boundaries.
Gave the impression of charismatic and unique personality, an increasing rarity in modern politics.
It was partly a backlash against the Labour government in 2007, but primarily because of Johnson's personal profile. It is rare for Conservatives to do well in London.
Ken Livingston had his own high public profile after eight years in the job, but there was some desire for a change
Boris Johnson and Cycling
Boris is well known for his love of cycling and frequently commutes to work through the busy streets of London. As mayor of London, he implemented an existing idea to provide hire bikes in London. For a time, they became known as the "Boris Bike".
He has had many bikes stolen and has written extensively on the injustice of bike theft. For example, he notes that on having a bike stole people usually respond by criticising the cyclist for not taking sufficient precautions or buying a bike that is too flash. He admits that he has fantasised over leaving dummy bikes as bait for thieves and then setting the Navy Seals on to the criminals.
Boris Johnson and Have I got News for You
In 1998 Boris Johnson first appeared on Have I Got News for You. His appearance was considered a success, and he was invited back for future episodes and also twice to host the show. Johnson's comedy persona of playing the 'Upper-Class Twit' made him a media celebrity and raised his profile beyond the political class. Usually, the show lasts for 30 minutes. With Boris in the chair, there were frequent pauses and extra time getting through questions. Merton and Hislop affectionately refer to Johnson as "Wodehousian", and agree that "every time he's on it gets better".
Some of his quotes from the show include:
"We're moving irresistibly towards a conclusion."

"Badgers badgers badger badger badgers."

"There may be a reason I can't think of, but the problem with that reason is that I can't think of it now."

"I think I was once given cocaine, but I sneezed, so it didn't go up my nose. In fact, it may have been icing sugar."

"I could not fail to disagree with you less." [1]
– Boris Johnson, Have I Got News for You
Boris Johnson and London Olympics
Boris was a key figurehead for the successful 2012 London Olympics. Even getting stuck on a high wire, did Boris no harm. At the end of the London Olympics, Johnson said:
"But I suppose there are two emotions – one is obviously some sadness that it is all over, because it's been an amazing experience, but also a great relief because there is no doubt it has been a prodigious exertion by London and by Londoners."
Boris Johnson and EU Referendum
In February 2016, Boris Johnson announced he would back the Vote Leave campaign. His decision to support Vote Leave rather than the PM's 'Remain' campaign was seen as a highly influential decision – as his high profile could swing many undecided voters. Johnson, who had previously spoken of the benefits of the Single Market, stated it was a difficult decision. Indeed Boris Johnson wrote two articles – one supporting Leave, one supporting Remain. He stated he wrote two different articles to help make up his mind. Critics argued it showed his insincerity and some feel his decision to support Vote Leave was partly motivated by the belief it would help best his political career.
On the eve of the Referendum, Johnson appeared on a live TV debate and declared 23 June could be "Britain's independence day". Against many expectations, Britain voted to leave EU by a majority of 52% – 48%. After the result, the Prime Minister David Cameron resigned, leading to a leadership campaign for the Conservative Party. It was expected Boris Johnson would be the front-runner as he was the most popular with party activists. However, to many people's surprise, his fellow Vote Leave campaigner Michael Gove announced his decision to stand, causing Johnson to re-evaluate and unexpectedly announce he would not stand after all. In the end, Theresa May, who nominally supported Vote Remain was chosen as party leader.
Despite differences with Theresa May, she appointed Johnson as Foreign Secretary. Boris Johnson later resigned critical of the direction of Theresa May and her withdrawal bill.
In the summer of 2019, Johnson won the leadership contest for the Conservative Party becoming Prime Minister. His main commitment was to take take the UK out of the EU by 31 October 2019 – saying he would rather 'die in a ditch than ask for a Brexit extension'. However, Johnson lost his first six votes in Parliament. As Parliament passed a bill preventing the UK from leaving the EU without a deal. Johnson also lost a vote to gain an early election.
2019 election
In the November 2019 election, Boris Johnson was elected Prime Minister with a large majority, gaining 43% of the vote – with the Conservatives gaining seats in pro-Brexit Labour heartlands in the north and Midlands. His slogan of "Get Brexit Done" appealed to those who had voted Brexit in the 2016 referendum. Johnson benefitted from the unpopularity of the Labour leader Jeremy Corbyn who was seen as far left. Despite the large majority, his popularity ratings were – 22 – a reflection of his divisive politics and legacy of appearing to tell lies or misleading statements.
Covid-19
In 2020, Boris Johnson headed up the UK's government response to Covid-19, ordering a lockdown in March. He test positive himself for the virus in early April 2020. He was taken to St. Thomas' Hospital and intensive care after his symptoms worsened. He received around the clock care from two nurses. After spending time in hospital he was released when his symptoms improved. Boris Johnson praised "the brilliant care he has received." and stated that it could have gone either way.
Partygate
In 2021/22, details emerged that unauthorised parties had taken place in number 10 Downing Street – when the rest of the country was in lockdown. Initially, Boris Johnson tried to deny he had broken any rules, but his position increasingly looked untenable as more details emerged of the extent and number at the parties. His former chief of staff Dominic Cummings was a key figure in leaking details of the parties, saying that "It is his duty to get rid of Boris Johnson."
Citation: Pettinger, Tejvan.  "Biography of Boris Johnson", Oxford, UK. www.biographyonline.net, Published 11th Feb 2013. Last updated 10 Jan 2022.
Johnson's Life of London
Boris Johnson has authored several books on Ancient Rome, Winston Churchill and a best selling account of the history of London.
Johnson's Life of London at Amazon
References
[1] 2004 winner of the Foot in Mouth Award from the Plain English Campaign, for his comment on the 12 December 2003 edition of Have I Got News For You [1]
[2] Boris Johnson, Sunday Times, 16 July 2000, p. 17.
[3] The Herald (Glasgow), 13 November 2004, p. 15.
Related pages
Famous 

English people – Famous English men and women. From Anne Boleyn and Queen Elizabeth I to Henry VIII and Winston Churchill. Includes the great poets – William Shakespeare, William Blake and William Wordsworth.
Controversial people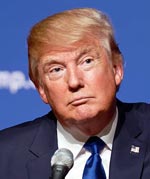 A list of people who have courted controversy or whose opinions have divided the world.
Boris Johnson Links