Lord Nelson (29 September 1758 – 21 October 1805) English naval commander who died during the Battle of Trafalgar, leading Britain to victory over the French navy – a key moment in the Napoleonic Wars.
'England expects that every man will do his duty'
– Lord Nelson shortly before the Battle of Trafalgar, 1805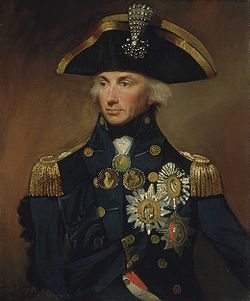 Lord Nelson was one of Britain's greatest naval commanders. He had a long and distinguished career, in which he gained a reputation as a master tactician and for his great personal bravery.
His crowning moment came at the Battle of Trafalgar, where Britain's decisive victory over Napoleon's fleet ended the threat of a French invasion.
He was born in 1758 in Burnham Thorpe, Norfolk, the sixth of eleven children. At the age of only 12, he joined the navy as an apprentice working in the lowest naval ranks. However, his aptitude and enthusiasm for the job saw him rapidly rise through the ranks, until he was given his own ship and made a captain at only 20 years old. This rapid advancement through the ranks occurred despite suffering an acute form of sea-sickness which dogged him throughout his life.
His first service was in the West Indies, where he was involved in managing Britain's commercial interests. However, after the US revolutionary wars ended, there were cutbacks to the navy and Horatio found himself out of work and surviving on half pay. He returned to England with his wife, Frances Nesbet.
However, the French revolutionary wars saw Nelson re-employed and he became engaged in battles around the Mediterranean. He achieved notable victories against the Spanish at Cape Vincent (1797) and the Battle of Copenhagen (1801).
Nelson developed a reputation as a very good commander, who was daring, bold and – when necessary – willing to disobey orders. He also picked up several serious injuries and was blinded in one eye. When he was given a command to withdraw at the Battle of Copenhagen, he ignored the command putting his telescope to his blind eye and pretending not to see. His boldness paid off – with his persistence gaining victory.
Nelson was a complex character; at a time when navy discipline was often extremely severe, he was said to have had empathy and love for his men – he didn't adopt an overly authoritarian manner. His men definitely responded to his courage and confidence. But, he was also vain and loved to be flattered and receive praise. He had a great need for attention and was often bedevilled by insecurities. However, he was admired as a leader with a very strong sense of duty to his country.
In 1787, Nelson married Frances Nisbet on her native island of Nevis in the Caribbean. However, several years later in Naples, he met and fell in love with Lady Emma Hamilton and became increasingly estranged from his wife. Despite both their marriages, Nelson and Emma continued a long public love affair, and had one child out of wedlock. Nelson considered Emma to be his true soul-mate.
By 1801, Nelson's prowess had led him to be appointed a vice-admiral and he became increasingly engaged in the Napoleonic wars with France. In 1805, Napoleon's reach extended across France, and Britain was under real threat of invasion. However, under Nelson's command, France was defeated and the threat of invasion receded. Tragically, the victory cost Nelson his life – dying in battle. After being shot he said:
"Hardy, I do believe they have done it at last… my backbone is shot through."
After been taken below deck, he knew he would die. Shortly before his death, he was heard to murmur – 'Thank God I have done my duty'.
This death in victory made Nelson a huge symbol of national pride and he was given a full state funeral. Nelson's column was later erected in his honour.
On hearing of Nelson's death, despite a famous victory, King George III is said to have burst into tears saying.
"We do not know whether we should mourn or rejoice. The country has gained the most splendid and decisive Victory that has ever graced the naval annals of England; but it has been dearly purchased."
Citation: Pettinger, Tejvan. "Biography of Lord Nelson", Oxford, www.biographyonline.net, 7th Sept. 2012.
Nelson: The Sword of Albion
Related pages

Famous

English people – Famous English men and women. From Anne Boleyn and Queen Elizabeth I to Henry VIII and Winston Churchill. Includes the great poets – William Shakespeare, William Blake and William Wordsworth.

Great Briton list – Top 100 famous Britons as voted by a BBC poll. Including Winston Churchill, William Shakespeare, Thomas Cromwell and Queen Elizabeth I. Lord Nelson was voted number 9.