"A sure cure for seasickness is to sit under a tree."
– Spike Milligan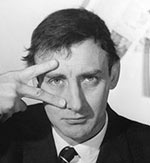 Terence Alan Patrick Seán Milligan KBE (16 April 1918 – 27 February 2002), better known as Spike Milligan. Spike was born in Ahmednagar, British India in 1918. He attended school in Poona and later in Rangoon Burma.
He was not a good student, preferring mischievous pranks. In the late 1930s and early 40s, he worked as a jazz trumpeter, with a smattering of comedy performances before his call-up to the British army. He fought in the North Africa campaign and later in the invasion of Italy. In Italy, he was severely wounded in action, suffering shell shock from a mortar explosion.
He later wrote vivid diaries of his time in the army, in a book 'Hitler – My Part in his Downfall'. It was an open and honest account. Spike does not hide back from his dislike of authority and his commanding officers.
"I suppose," said Suitcase, "you know you are three months late arriving?"

"I'll make up for it sir, I'll fight nights as well!"
–  Spike Milligan, Adolf Hitler: My Part in his Downfall, Part 2
On recovering from his injury, he increasingly became involved in taking part in comic skits for the troop entertainment performances. In 1951, Spike Milligan joined Peter Sellers, Harry Secombe and Michael Bentine in a new BBC programme called The Goon Show. This proved to be very popular and helped in the development of postwar comedy. Each member created imaginary crazy characters; the show became known for its zaniness and wild sense of humour. The Pythons later acknowledged the importance of The Goon Show in leading to the new style of comedy which they developed.
"I thought I'd begin by reading a poem by Shakespeare, but then I thought, why should I? He never reads any of mine.  " – Spike Milligan
Though the Goons was a great success, the limelight and pressure on Spike Milligan affected his mental health. Like fellow comic Eric Morecambe, Spike put much pressure on himself to keep raising the standard. However, this pressure aggravated his long-standing mental fragility. During series three he suffered from a mental breakdown and spent two months recovering in a hospital.
Spike was also involved in writing and helped in the development of the influential writers' agency Associated London Scripts.
In the 60s, 70s and 80s, Spike Milligan frequently appeared on different TV shows, either as a special guest, where he often stole the show or in comedy series such as the innovative A TV series. Spike had a great talent for ad-libbing. His prodigious talent enabled him to make up lines of the spot. In one theatre production – Bloom, Spike was chosen to take a serious part. But, when the play started, he couldn't help acting the clown and making up lines. The cast was startled at first, but, the play increasingly became Spike's own creation. After 5 weeks it was relabelled Son of Bloom and moved to the comedy theatre.
Milligan has perhaps become best well known for his poetry. He loved to write in the genre of nonsense – typified by poems such as 'On the Ning Nang Nong'.
As well as being a comic of the absurd and nonsensical. Spike was keen to take strong positions on serious issues. He was an active campaigner for animal rights and the environment. No issue was too small for Spike to take a stand. He even wrote to the Prime Minister about a leaking biro on one occasion.
Spike was awarded a CBE in the birthday honours list. Though with his characteristic wit, he replied:
"I can't see the sense in it really. It makes me a Commander of the British Empire. They might as well make me a Commander of Milton Keynes — at least that exists. "

– Spike Milligan.
Spike died from liver disease at the age of 83 on 27 February 2002.
Citation: Pettinger, Tejvan. "Biography of Spike Milligan", Oxford, UK. www.biographyonline.net, 25th Feb 2010. Last updated 1 Nov 2019.
Related