John Eric Bartholomew OBE (14 May 1926 – 28 May 1984)
"My neighbour asked if he could use my lawnmower and I told him of course he could, so long as he didn't take it out of my garden."
Short Bio – Eric Morecambe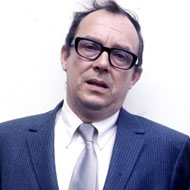 Eric Bartholomew, better known by his stage name, Eric Morecambe, was one of the most popular comedians of the post war period. At one point, his show Morecambe and Wise attained the highest viewing figures of any entertainment show on British TV.
Eric Bartholomew was born in the northern seaside resort of Morecambe. From an early age, he won local talent competitions and became enamoured of becoming a professional comedian and entertainer. He left school in 1940, aged only 14, and with a young friend – Ernest Wise – they began a double act on stage in the Nottingham Empire. Their performance was viewed as a success, but it was split up due to their commitments to national service during World War II. Eric was one of the Bevin Boy's working down a mine in Accrington. However, the first signs of ill health which were to dog him through the rest of his life led to him being invalided out of national service after 11 months.
After the war, a chance meeting with his former partner – Ernie Wise, led them to restart their double act. They worked on various stage and radio productions before gaining their first TV series (Running Wild) in 1954. It was not a critical success, but, it didn't hamper their progress. In 1961, they were given a tv series at ITV – Two of A Kind. The show became increasingly popular and attracted a variety of celebrities onto the show. It was during this period that Eric married his wife – Joan Bartlett in December 1952, they had two children Gail and Steven.
It was their move to the BBC in 1968, which really pushed them to the top of the ratings, making Morecambe and Wise the most popular entertainers on TV. Generally, it was Morecambe who was seen as the funniest, with Wise playing his role as the straight man. Like Tommy Cooper, Morecambe had the ability to make people laugh just by the simplest of body actions or smiles. His endearing qualities and image of clean cut humour made the show the star attraction at Christmas Time. The 1977 Morecambe & Wise, Christmas Special receiving a record 28 million viewers.
"I always take my wife morning tea in my pyjamas. But is she grateful? No, she says she'd rather have it in a cup." – Eric Morecambe
Yet, although Morecambe appeared to be spontaneously funny, he actually went to great lengths practising and preparing his acts. Indeed his wife, Joan Bartlett, said that Eric Morecambe would begin worrying about the Christmas special by June. Morecambe had exacting standards, and the great success of the programmer only made him more determined to keep find better jokes and better ways of doing the show – such standards became increasingly stressful to maintain, and Morecambe's health suffered as a result.
His first major heart attack occurred in 1968. He was saved by a passer-by who rushed him to hospital in his car. Later Morecambe heard that his 'rival' Des O Connor had heard about his heart attack on and asked his audience on live TV to pray for his recovery. When Morecambe later heard he thanked O'Connor and said: "It was the prayers of those six or seven people which made all the difference." – Des O'Connor was frequently the butt of jokes by Morecambe and Wise, though Des was quite happy and used to even write his own self-deprecating jokes.
Another feature of the Morecambe and Wise shows was the many great celebrities who were guests on the show. But, in his own style, Morecambe would fail to recognise the stars and gently insult them. For example, calling Ringo Star of the Beatles – Bongo.
In 1979, Morecambe had another heart attack and only survived thanks to pioneering heart surgery by Magdi Yacoub. Following this, Morecambe increasingly strived to pursue a solo career – having grown somewhat tired of his double act. It was perhaps loyalty to his partner Ernie Wise that kept it going. Nevertheless, despite his ill-health, he managed to write screenplays and his own novels.
In 1984, Eric Morecambe collapsed after a performance on stage, suffering a third and this time fatal heart attack. He died later at Cheltenham General hospital aged 58.
He was voted one of the greatest top 100 Britons and also the favourite British Comedian, ahead of John Cleese and Tommy Cooper. A larger than life statue in his home-town of Morecambe is a prominent feature of the prom.
Citation: Pettinger, Tejvan. "Biography of Eric Morecambe", Oxford, www.biographyonline.net, Published 25/4/2009
Related pages