Sir Titus Salt (20 September 1803 – 29 December 1876) was a successful businessman who helped improve conditions for his workers, building a model factory and village in Saltaire (near Bradford). Influenced by his Methodist faith, he brought a social conscience to capitalism at a time when many industrial workers lived in abject poverty.
Titus Salt was educated at Morley, Batley and Wakefield before learning the wool trade at the age of 17. He was a spirited and determined worker. He soon became a driving force behind the family's wool business and also an important member of the Horton Lane Congregational chapel.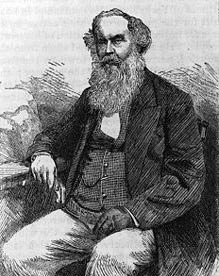 He married aged 27 and then took a business gamble by investing in a new type of wool – Donskoi wool grown by sheep on the banks of the Russian River Don. He also experimented with a new Alpaca wool from Peru. It was this new wool fibre which helped the Salt business take off – helping Titus Salt becoming one of Bradford's most successful businessmen.
He also became the second mayor of Bradford in 1848. It was a turbulent time, with poor standards of living for most of the Yorkshire working class.
Saltaire Mill
In 1853, he opened a new super-large mill in Saltaire, near Shipley. It was about three miles from Bradford and Titus Salt hoped that the cleaner Aire Valley would help insulate his workers from the Cholera epidemics which were common around the centre of Bradford. In addition to the huge mill in Saltaire, he built 823 houses, shops, a school, chapels, recreation facilities and churches for his workers. Each house had its own outdoor toilet – a rare luxury for the working class of the nineteenth century. Speaking about his model village in Saltaire, he said:
"It is also, from the beauty of its situation, and the salubrity of the air, a most desirable place for the erection of dwellings. Far be it from me to do anything to pollute the air or the water of the district. I shall do my utmost to avoid these evils, and I have no doubt of being successful. I hope to draw around me a population that will enjoy the beauties of this neighbourhood—a population of well paid, contented, happy operatives. I have given instructions to my architects (who are competent to carry them out) that nothing shall be spared to render the dwellings of the operatives a pattern to the country, and if my life is spared by Divine Providence, I hope to see satisfaction, contentment, and happiness around me." – Speech in 1853 before the opening of the Saltaire village. The Bradford Observer: pp. 8
His impressive buildings and parks can still be seen in Saltaire. He was a great philanthropist of the age, helping his workers have unprecedented living standards for the time. He was also a strict Methodist and required his workers to attend chapel on Sundays; gambling and drinking were frowned upon.
He took an active interest in politics supporting universal adult suffrage and opposing the 1834 Poor Laws – which only gave support to the poorest when they were institutionalised in a workhouse. In 1848, he was elected mayor of Bradford. After a deadly cholera epidemic, he said in a speech.
"The cholera most forcibly teaches us our mutual connection. Nothing shows more powerfully the duty of every man to look after the needs of others. Cholera is God's voice to his people." (1)
In 1859, he was elected member of parliament for the Radical party, however, after two years he retired due to ill health.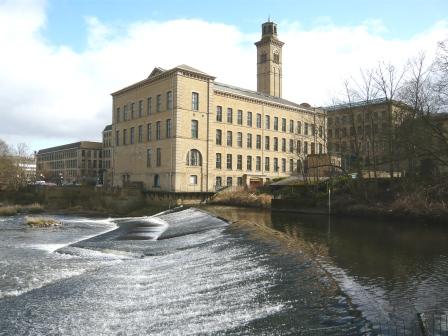 Saltaire today
Although very successful businessman, by the time of his death, it is estimated he had given away the majority of his wealth £500,000 to good causes – His family business disappeared 16 years after his death, but, the mills were used well into the twentieth century when they fell into disuse from the decline in British manufacturing.
The Salt Mills have since been renovated and turned into offices and small shops.
Citation: Pettinger, Tejvan. "Biography of Sir Titus Salt", Oxford, www.biographyonline.net, 25th Feb. 2012. Last updated 5 Nov. 2019.
Sir Titus Salt, Baronet; His Life and Its Lessons
Sir Titus Salt, Baronet; His Life and Its Lessons at Amazon

Related Links

Great Briton list – Top 100 famous Britons as voted by a BBC poll. Including Winston Churchill, William Shakespeare, Thomas Cromwell and Queen Elizabeth I.

Business people – Famous businessmen and women. Including Bill Gates, Richard Branson, Donald Trump, Oprah Winfrey, Henry Ford and Steve Jobs.
Related People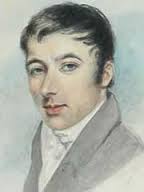 Robert Owen – Utopian businessman who also founded model town and business