Henry Spencer Moore (30 July 1898 – 31 August 1986) was an English sculptor and artist. He is best known for his abstract bronze sculptures which are located in various prominent public places. He became the most influential and famous sculptor of his generation.
Henry Moore Short Biography
"Now I really make the little idea from clay, and I hold it in my hand. I can turn it, look at it from underneath, see it from one view, hold it against the sky, imagine it any size I like, and really be in control, almost like God creating something."
– Henry Moore
Henry Moore was born on 30 July 1898, in Castleford, Yorkshire. He was the seventh child in a family of eight children. His father worked in a colliery in Castleford but wanted his children to avoid working down the mines, so as much as possible given the family's poverty, the children were educated at a local school.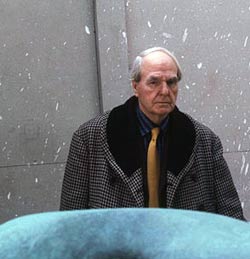 It was in his teenage years that he developed an interest and talent in art. Even visiting the local abattoir gave Moore artistic inspiration. He was intrigued by the large curved shapes of their large skulls. He also admired local rock formations near Leeds and the architecture of local churches. An early artist who inspired him was the great Michelangelo.
He gained a scholarship to Castleford Secondary school and after completing his high school education, he worked for a short time as a teacher at Temple Street School in Castleford. Shortly after his work as a teacher began, he was called up to the army and was sent to the Western Front. In 1917 Moore was injured during a gas attack at the Battle of Cambrai. After his injury, he spent the remainder of the war behind the line training new recruits. Moore later said for him the war was not a traumatic experience – unlike that of many of his contemporaries.
After the war, he continued his education and in 1921 won a scholarship to study at the Royal College of Art. He didn't regret his late opportunity to attend art school.
"I'm very grateful that I was too poor to get to art school until I was 21… I was old enough when I got there to know how to get something out of it."
– Henry Moore
Henry Moore was a talented student, but already he was experimenting with new styles and this often conflicted with his teachers who were trying to teach the classic style – of perfection in form and composition. Moore was attracted to a more spontaneous art form with imperfections evident in the sculpting.
In 1924, he spent time travelling in Italy and later Paris. Here he could view the great Masters such as Michelangelo and Giovanni Pisano. But, Moore was also influenced by his studies of primitive art, and at the Louvre, he was particularly influenced by the Toltec-Maya sculptural form, the Chac Mool. He was also inspired by Rodin, Paul Gauguin, Matisse and painters of the 'Die Brucke' group. This gave him artistic inspiration from not just the classical world of the Mediterranean but also South America, Africa and Polynesian peoples.
"A sculptor is a person who is interested in the shape of things, a poet in words, a musician by sounds."
– Henry Moore
On his return to London in 1929, he took up a teaching post at the Royal College of Art. This part-time post enabled him to work on his own art, leading to his first commissions such as the West Wind – 1928-29.
In the 1930s, Moore became an active member of the informal modern art movement, centred around the ideas and innovation of people like Pablo Picasso and Jean Arp. He also briefly flirted with the surrealist movement.
The Second World War brought a halt to work on big sculptures. He was recruited by the War Office to work as Britain's official war artist. In London, during the Blitz, he produced memorable pictures such as The "Shelter Drawings" – images of civilians trying to survive the Blitz, huddled together in the London underground.
His success as a war artist helped Moore's reputation and after the war led to numerous awards and opportunities in America. In 1948, he was awarded the International Sculpture Prize at the Venice Biennale. Significant commissions included.
A reclining figure for UNESCO building in Paris 1956
A Nuclear energy sculpture at the University of Chicago. (to commemorate the 25th anniversary of nuclear reaction)
Knife Edge – Two Piece in 1962 for College Green, London around Houses of parliament.
Henry Moore
"The secret of life is to have a task, something you devote your entire life to, something you bring everything to, every minute of the day for the rest of your life. And the most important thing is, it must be something you cannot possibly do."
– Henry Moore
In 1972, Henry Moore established his Henry Moore Foundation – a charitable trust to promote art education and the support of young artists. He was a man of modest means. Despite his wealth and fame, he lived frugally remembering his Yorkshire roots.
"Art is not to do with the practical side of making a living. It's to live a fuller human life."
– Henry Moore
He even turned down a knighthood in 1951 because he didn't want to be seen as an establishment figure. Yet, during his lifetime he became one of the most influential sculptors of his generation.
Citation: Pettinger, Tejvan. "Biography of Henry Moore", Oxford, UK. www.biographyonline.net. Published 22 Dec. 2009. Last updated 1 December 2019.
Henry Moore art
Henry Moore at Amazon
Related pages

Artists – A list of the great artists, including Leonardo da Vinci, Claude Monet, Vincent Van Gogh, Pablo Picasso, Michelangelo and Rembrandt.
Famous 

English people – Famous English men and women. From Anne Boleyn and Queen Elizabeth I to Henry VIII and Winston Churchill. Includes the great poets – William Shakespeare, William Blake and William Wordsworth.