Donald Campbell CBE (23 March 1921 – 4 January 1967) was a world speed record holder. He broke eight world records for speed on both land and water. He tragically died during an attempt on the water speed record on Lake Coniston in his Bluebird K7.
He was born in Kingston on Thames, Surrey in 1921. His father was Sir Malcolm Campbell a pioneer in speed records, who himself broke 13 world records during the 1920s and 1930s. This love of speed he passed onto his son Donald, who would continue the families record-breaking attempts post-war.
Donald was educated at Uppingham School, and on the outbreak of the Second World War in 1939, he volunteered for the RAF. However, he was rejected due to ill health, leaving him to gain a job as a maintenance engineer.
After his father's death in 1948, Donald became actively interested in seeking to attempt new speed records on both land and water. Helped by Ken and Lew Norris, he designed the Bluebird K7 – a jet-propelled hydroplane.
Between 1955 and 1964, he set seven world speed records, increasing the world record from 202mph in 1955 to 276mph in 1964.
Water speed records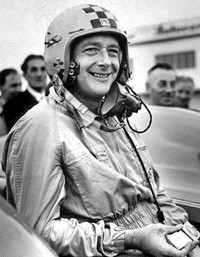 Campbell began his speed record attempts using his father's old boat Bluebird K4, but after a structural failure at 170 mph (270 km/h) on Coniston Water, Lancashire in 1951 he developed a new boat. Designed by Ken and Lew Norris, the Bluebird K7 was an all-metal jet-propelled 3-point hydroplane with a Metropolitan-Vickers Beryl jet engine.
Campbell set seven world water speed records in K7 between 1955 and 1964. He remains the world's most prolific breaker of water speed records.
Land speed record attempt
After dominating the water speed records, he switched to land speed records. These proved more difficult and many record attempts were abandoned or failed. However, on 17 July 1964, Campbell set a record of 403 mph (648 km/h) for a four-wheeled vehicle (Class A).
Later in the year, he broke the water speed record near Perth, Western Australia – setting a speed of 276mph. He became the first person to hold both water and land speed records in the same year.
Death
In 1966, he again attempted the water speed record, but troubles with his K7 meant they were unsuccessful. On 4 January 1967, Campbell was making an attempt in his K7 on Lake Coniston. His first run was successful, but on the second run, the K7 flipped in the rough water and landed nose first at over 300mph. The boat disintegrated, and Campbell was killed instantly.
The rough water was partly his fault as the lake still had wake from his previous run. He didn't stop to refuel and wait as was his previous plan. Campbell's last words on his final run were, via radio intercom:
Pitching a bit down here…Probably from my own wash…Straightening up now on track…Rather close to Peel Island…Tramping like mad…er… Full power…Tramping like hell here… I can't see much… and the water's very bad indeed…I can't get over the top… I'm getting a lot of bloody row in here… I can't see anything… I'm going…. oh!
On 28 January 1967 Campbell was posthumously awarded the Queen's Commendation for Brave Conduct "For courage and determination in attacking the world water speed record."
Donald Campbell's body was not recovered until 2001 – 34 years after his death.
Related