"I am an ordinary woman who did extraordinary things. The first to qualify as a ground engineer. The first to fly to Australia single-handed. A million people lined the streets of London when I came home. I waved to them from an open-topped car like the queen, the queen of the air."
— Kate Lord Brown, The Beauty Chorus
Amy Johnson was the first women to fly solo from England to Australia, a feat she completed in 1930. She subsequently completed many path breaking flights such as England to Tokyo via Siberia and England to New York. Her bravery in making unaided flights made her famous and a role model for Women pilots at a time when very few women learned to fly, let alone made arduous trips across continents.
Her father was Danish, but met a Yorkshire women when sailing to Hull. They married and settled down in England. Amy Graduated from Sheffield University with a BA, before going to the London Flying Club to learn how to fly at the Edgware aerodrome.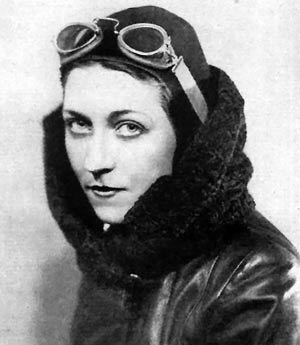 In 1930 she acquired a second hand moth aeroplane with Gipsy engine. With very little flying experience – just one flight from London to Hull, she made the decision to fly and navigate to Australia. Despite her great lack of experience she completed the flight. However, due to exhaustion she crashed the aeroplane on landing in Brisbane. She was awarded a CBE for her efforts and a £10,000 prize form the Daily Mail.
She married in 1932, but got divorced in 1938. During the early years of the war, she flew equipment into France for the RAF.
Citation : Pettinger, Tejvan. "Biography of Amy Johnson", Oxford, www.biographyonline.net, 18th May. 2006
Related