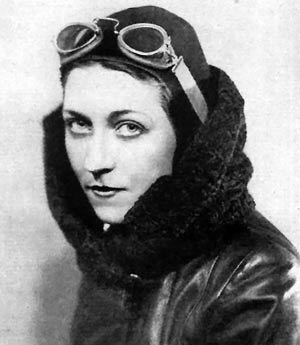 Amy Johnson (1903 – 1941) British pilot. Johnson was the first women to fly solo from England to Australia, a feat she completed in 1930. She subsequently completed many path-breaking flights such as England to Tokyo via Siberia and England to New York. Her bravery in making unaided flights made her famous and a role model for women pilots at a time when very few women learned to fly, let alone made arduous trips across continents.
Early life
Amy Johnson was born in Hull, East Yorkshire in 1903. Her father was a Danish fish merchant who met her mother Amy Hodge a Yorkshire woman when sailing to Hull. From an early age, she loved adventure and preferred boys games and was very competitive. When she was 14 she lost her two front teeth after being hit with a cricket ball. This made her withdrawn, and as she remembers became "introspective and withdrew farther and farther into a protective shell of my own making." Johnson went to school in Hull before studying economics at Sheffield University.
Graduating with a BA, she gained to office jobs in Hull before moving to London to work as a solicitor.
Bored with her office job, Johnson took the opportunity to learn how to fly – which was still a new hobby for most people – let alone women. She gained an aviation certificate and then pilots licence in 1929. She recalls the difficulty of learning to fly and admits it was a scary experience as her first instructor was not very sympathetic.
"When I was up in the air I could only hear a confused sound in my neck instead of what should have been lucid instructions . . . I was scared stiff of my instructor who never seemed to lose his first idea that I was a born idiot."
She learned to fly at London Aeroplane Club and was also a member of the Yorkshire Gliding Club in Yorkshire.
Record-breaking flights
In 1930, with the financial help of her father and Lord Wakefield, she acquired a second-hand moth aeroplane with a Gipsy engine. With very little flying experience – she had made just one flight from London to Hull, she made the decision to fly and navigate from England to Australia. This was a distance of 17,600km, and she hoped to beat the record time of 15.5 days. At the time, intercontinental aircraft travel was something almost unheard of. Aeroplanes were very flimsy by today's standards. The vast majority of people had never been near an aeroplane and it was considered a very challenging task.
On the 5 May 1930, she set off from Croydon Airport. Despite her almost complete lack of experience, she completed the flight almost 19 days later. Her experiences included a difficult landing in Timor, in the Dutch East Indies. She missed the aerodrome and landed on a grassy field, full of giant anthills. She was met by bemused locals. Amy recalls facing "a horde of yelling natives, with hair flying in the wind, and knives in their hands or between their red-stained teeth" However, she was taken for a meal with a local missionary and officials from the nearby aerodrome came to meet her.
She was on course to beat the record until she had two crashes near the end which caused lengthy delays to repair them. On landing in Brisbane, she crashed again on landing – possibly due to exhaustion.  But her dramatic arrival in Australia only served to capture the imagination of the public and overnight she became a celebrity. It was a welcome distraction to the grim news of the Great Depression. She was awarded a £10,000 prize form the Daily Mail and later was made a CBE.
"I am an ordinary woman who did extraordinary things. The first to qualify as a ground engineer. The first to fly to Australia single-handed. A million people lined the streets of London when I came home. I waved to them from an open-topped car like the queen, the queen of the air."
—- Amy Johnson, (in Kate Lord Brown, The Beauty Chorus)
After the exhilaration of her first long-distance journey, she began to embark on new adventures, seeking new challenges, such as flying to Moscow with co-pilot Jack Humphreys – becoming one of the first persons to achieve the feat.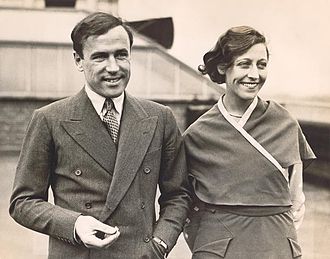 In 1932, she met a Scottish pilot Jim Mollison during a flight and – shortly after meeting Johnson, he proposed and they were married soon after.
In 1933, the newly married couple undertook an attempt to make a record-breaking distance for a non-stop transatlantic flight from South Wales, to Brooklyn, New York. They managed to cross the Atlantic, but near Connecticut began to run low on fuel and, in the dark, had to make an emergency landing at Bridgeport Municipal Airport. They missed the runway and crash-landed in a ditch. Remarkably they were able to escape with cuts and bruises and received a ticker-tape parade and reception in Wall Street, New York.
Over the next few years, the Morrisons also made more record-breaking flights to India and South Africa. However, her relationship with her husband Jim was rocky. They argued over who should be control of the aircraft and after six years of marriage decided to divorce. Johnson was also badly affected by the death of fellow female-pilot Amelia Earheart who disappeared on a flight in 1937. After this time, Johnson abandoned record-breaking flights and spent more time gliding.
In 1940, shortly after the outbreak of the Second World War, she volunteered for the RAF and was involved in transporting planes around military bases.
Mysterious Death
In January 1941, she was on a flight from Prestwick in the north of England to Kidlington, Oxford – a journey which should have only taken 90 minutes and been fairly routine. However, very bad weather pushed her a long way off course towards the Thames Estuary – over 60 miles from her destination. Low fuel meant she had to bale out into the icy waters. She was spotted by an officer, Walter Fletcher, from the Royal Navy but Johnson disappeared from view and drowned before she could be rescued. Some fear she may have been sucked into the ship's propellers. Fletcher dived in to try and save her and any other passenger who might have been with her; due to the intense cold of the water, he became unconscious and died in hospital two days later.  It has been suggested that her crash may have been due to 'friendly fire' as she was an unexpected visitor to the Thames Estuary.
Significant journeys of Amy Johnson
1931 – The first pilot to fly from London to Moscow in one day, flying the 1,760 miles in approximately 21 hours.
1931 – Moscow to Tokyo in 10 days.
1932 – New world record for solo flight from London to Cape Town.
1933 – Attempted non-stop flight east to west across the Atlantic with her husband. They landed in Connecticut.
1936 – Regained her London to Cape Town record.
Citation: Pettinger, Tejvan. "Biography of Amy Johnson", Oxford, UK. www.biographyonline.net, Last updated 12 March 2020. Originally published 18th May 2006,
Amy Johnson: Queen of the Air at Amazon
Related

Women who changed the world – Famous women who changed the world. Features female Prime Ministers, scientists, cultural figures, authors and royalty. Includes; Cleopatra, Princess Diana, Marie Curie, Queen Victoria, and Joan of Arc.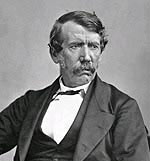 Adventurers – Famous adventurers and explorers, including Christopher Colombus, Marco Polo, Roald Amundsen and Neil Armstrong.

Famous Americans – Great Americans from the Founding Fathers to modern civil rights activists. Including presidents, authors, musicians, entrepreneurs and businessmen. Featuring Thomas Jefferson, Abraham Lincoln, Madonna, Oprah Winfrey.