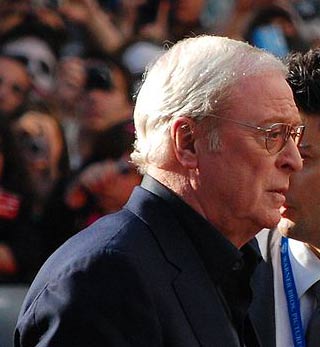 Born Maurice Joseph Micklewhite, he later took the screen name, Michael Caine. Michael Caine is one of the most famous English actors of the post-war period, starring in over 100 films and renowned for his distinctive working-class voice.
Michael Caine was born 14 March 1933 in Rotherhithe, London, England. He grew up in London, living for 18 years in a simple prefab house in Elephant and Castle. From 1952 to 1954 he served in the British Army as part of the compulsory National Service. He was sent to Korea where he had a feeling he would die, but he survived the conflict and returned to England.
Despite receiving no classic drama training, he responded to an advert in the paper and began acting in the 1950s. He performed many roles for tv and film and rose to international fame with his appearance as an upper-class English officer in the epic film Zulu (1964). Zulu told of the epic siege by thousands of Zulu warriors against a British outpost. Fighting to the death, the British managed to hold out against the massed assault of the Zulus.
Another iconic film of the 1960s was the 'Italian Job' (1969) Michael Caine led a group of English gangsters to take part in an audacious robbery of gold from Italy. It is famous for the chase scenes involving Mini Coopers; the film was later remade.
"You're only supposed to blow the bloody doors off!"
– Michael Caine, Italian Job
Other blockbusters of the 1960s and 70s, Caine starred in included:  Battle of Britain (1969), The Eagle Has Landed (1976), Get Carter (1971), and The Man Who Would Be King (1975).
In the 1980s, Michael Caine moved to America where he continued to star in many films. However, many films he made in this period were criticised for being low quality. He later admitted to being motivated by money rather than the quality of the film.
However, in 1984 he won the golden globe award for his role in Educating Rita. In the 2000s, his career had something of a revival. He starred in in Miss Congeniality (2000), Last Orders (2001), The Quiet American (2002), for which he was Oscar-nominated. He was one of only two actors to be Oscar-nominated in every decade from the 1960s to 2000s.
He was made a CBE in 1992.
Citation: Pettinger, Tejvan. "Biography of Michael Caine", Oxford, UK. www.biographyonline.net 23 Oct. 2008. Last updated 1 November 2019.
Michael Caine

Michael Caine Collection at Amazon
Related pages

Famous

English people – Famous English men and women. From Anne Boleyn and Queen Elizabeth I to Henry VIII and Winston Churchill. Includes the great poets – William Shakespeare, William Blake and William Wordsworth.

Great Briton list – Top 100 famous Britons as voted by a BBC poll. Including Winston Churchill, William Shakespeare, Thomas Cromwell and Queen Elizabeth I.

Actors – Famous actors, including Alec Guinness, Katherine Hepburn, Audrey Hepburn and Grace Kelly.

Famous Working Class – A list of famous people of working class origin, including John Lennon, Cesar Chavez, Alexandria Ocasio-Cortez, Noam Chomsky, Michael Caine and Hannah Mitchell.