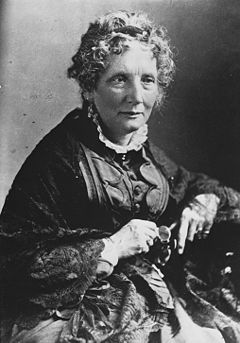 Harriet Beecher Stowe was a writer and anti-slavery campaigner. She is best known for her book 'Uncle Tom's Cabin' This was a vivid depiction of slavery and its human cost. It was influential in shaping public opinion about slavery in the period leading up to the American civil war.
She was born 14 June 1811 in Litchfield, Connecticut to a strongly religious family. She was educated at a girls school and received a wide-ranging education. When she was 21, she moved to Ohio where she became involved in various literary circles and became concerned with social issues of the day.
Harriet married Calvin Ellis Stowe on 6 January 1836. Stowe was committed to abolishing slavery, and with Harriet, they took part in the Underground Railroad which temporarily housed fugitive slaves.
Through experiences such as this, Harriet gained a close hand knowledge of the institution of slavery. In 1833, she visited a slavery auction in Kentucky, an experience that profoundly moved her. She felt it her Christian duty to write about the injustice of slavery.
In 1851, she published her first instalment of Uncle Tom's Cabin in the newspaper the National Era. By 1952, its popularity had led to its publication in book form. The book became a best-seller, selling over 300,000 copies in the first year alone.
"Is man ever a creature to be trusted with wholly irresponsible power? And does not the slave system, by denying the slave all legal right of testimony, make every individual owner an irresponsible despot? Can anybody fall to make the inference what the practical result will be"

– Harriet Beecher Stowe, 'Uncle Tom's Cabin'
Uncle Tom's Cabin was a realistic account of the pain and injustice of slavery. It helped galvanise opinion in the country. It popularised the anti-slavery movement in the north. In the south, it predictably enraged opinion and led to opposition to the book.
After the outbreak of civil war, Harriet was invited to a meeting with Abraham Lincoln on 25 November 1862 in the White House. President Lincoln spoke to Harriet (in a half-joking manner)
"So you're the little woman who wrote the book that started this great war!"
Harriet recollects it was quite a funny interview with the President. Thought the causes of the American civil war were wide-ranging, her book definitely made many northern Americans more receptive to the idea of seeking to end slavery. It also highlighted the cultural divide between the north and south. In response to her book, the south began publishing many 'Anti-Tom' novels portraying slavery and southern life in more flattering terms.
Although best remembered for the hugely influential Uncle Tom's Cabin, Harriet also wrote a total of 20 novels and wrote on a variety of social and political issues.
Religion was an important influence on her life. She was brought up with her father's strict Calvinism, but as she became older she followed her own path, which included high-church Episcopalianism. After the death of her two sons, she also became interested in spiritualism (the practice of seeking contact with spirits who have passed away). Her Christian faith was very important to her life and writing. Adding an introduction to the 1879 edition of Uncle Tom's Cabin, she added:
"I did not write it. God wrote it. I merely did his dictation."
She died on 1 July 1896 in Hartford, Connecticut aged 85. Her house the Harriet Beecher Stowe House was next door to fellow author Mark Twain.
Citation: Pettinger, Tejvan. "Biography Harriet Beecher Stowe", Oxford, UK. www.biographyonline.net 3 Feb 2016.
Harriet Beecher Stowe:
Harriet Beecher Stowe: A spiritual life at Amazon
Related
Writers and authors

 – Famous authors such as J.R.R. Tolkien, William Shakespeare, J.K. Rowling, Jane Austen, Leo Tolstoy, John Steinbeck and Ernest Hemingway.

Women who changed the world – Famous women who changed the world. Features female Prime Ministers, scientists, cultural figures, authors and royalty. Includes; Cleopatra, Princess Diana, Marie Curie, Queen Victoria, and Joan of Arc.

Famous Americans – Great Americans from the Founding Fathers to modern civil rights activists. Including presidents, authors, musicians, entrepreneurs and businessmen. Featuring Thomas Jefferson, Abraham Lincoln, Madonna, Oprah Winfrey.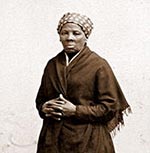 People in the anti-slavery movement – Men and women who campaigned for the end of slavery. This includes former slaves such as Harriet Tubman and Frederick Douglass, and political campaigners, such as William Wilberforce and Abraham Lincoln.