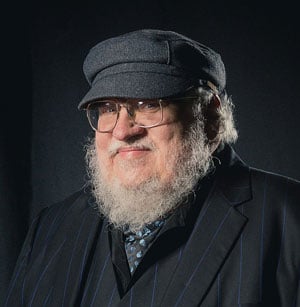 George R.R. Martin is the celebrated author of the fantasy series "A Song of Fire and Ice" which he helped turn into the hit tv series "A Game of Thrones" Born in 1948, Martin began writing as a teenager but for many years struggled to make a living. However, by the late 1970s, he had published his first novel "Dying of the Light" and he proceeded to make a successful career from writing and screenwriting for tv. In 1996, he published his first novel "A Game of Thrones" which became an international best-seller. Martin's novels are a mix of fantasty, historical realism and explore issues of power, betrayal, human suffering and idealism within dark times.
Early life
George Raymond Martin was born on 20 September 1948, in Bayonne, New Jersey. His father worked on the docks and his mother came from a wealthy family who lost everything in the Great Depression. Born in America, his heritage includes French, English, Welsh, German and Ashkenazi Jewish roots. When he was 13 he received the Christian name Richard. R.R. stands for Raymond Richard.
From an early age, he had a vivid imagination and would create imaginary worlds. He began writing short stories and selling them to his childhood friends. Though, in his early years, he felt disappointed his writing could not reflect his full imagination. He often started stories that he failed to finish. He read widely and particularly loved Marvel Comics and the superheroes created by Stan Lee. Martin said that Stan Lee was a particularly big source of inspiration in his writing career. As a teenager, Martin became absorbed in the comic and sci-fi subculture and he contributed short stories to fan magazines. In the late 1960s, he enrolled at Northwestern University to study journalism. He graduated in 1970 and gained an M.S. in journalism in 1971. During this time, he continued writing short stories and, in 1970, sold his first story "The Hero" to Galaxy Magazine.
In the early 70s, young Americans were being drafted into the Vietnam War, but Martin signed up as a conscientious objector. His application was accepted and he was allowed to do alternative volunteer status for two years. He believes that war is nearly always wrong and the Vietnam War was a big mistake for America.
First novels
During the early 1970s, he continued to write short stories and he gained increased recognition from within the science fiction community. However, the small commissions were not enough to live on and in 1973 he found additional employment working as a director of chess tournaments. This weekend job enabled him to support his writing career. A big breakthrough in his writing career was his first novel "Dying of the Light" published in 1977 by Dubuque – it sold well, helped by a renewed interest in Science Fiction following the success of the Star Wars film. His writings won him three Hugo Awards, two Nebulas and others.
He continued to publish books, entering into different genres such as futuristic novels and sci-fi horror. But in 1983, he suffered a major setback to his writing career when his latest horror novel "Armageddon Rag" (1983) was a commercial flop. This left his writing career at danger of ending, and for a time he considered a switch into real estate. Around this time, he also became absorbed in role-playing games which led to his income drying up more quickly. However, whilst contracts for writing books dried up, he received an offer to move into screenwriting for tv. This was paid better than being a writer and it included writing and producing a fantasy series "Beauty and the Beast." Whilst tv work was better paid, it left Martin frustrated as tv directors often cut plots and scenes to fit into tv schedules. Also his tv pilots were often rejected. Frustrated with a lack of intellectual freedom he turned his attention back to novel writing.
"Books were really my first love. I kind of missed doing them anyway. There's a freedom there that you don't get in Hollywood. There's a full canvas to paint on so you don't have to worry about compromising." Jan interview
The Game of Thrones
It was in 1991 that he began formulating and writing "The Game of Thrones" the first book in the "A Song of Ice and Fire" series. It took him a few years to write as he had to continue with commercial work, but he found the characters and the imaginary world were entering deep into his psyche.
"Whenever I put it aside it would continue to taunt me. I would find myself thinking about it even [going] to and from the studio or before I went to sleep at night. Sometimes on vacation. So the characters stayed with me. That was one way I really knew that this was a series I had to write: this was a story I had to tell." Jan interview
The new series was a culmination of his interest in fantasy and writing inspiration. It was inspired by a mixture of Tolkien's Lord of the Rings, The War of the Roses, The Accursed Kings and Ivanhoe. It was an almost Shakespearian world of love, betrayal, passion and lust for power. Martin was keen to base his books on the reality of feudal power and complex factors that motivated individuals and shaped medieval society. Whilst Martin always loved Tolkien's Lord of the Rings, Martin's world was more gritty, gloomy and has less sense of good vs evil. There is an element of magic, but it is relatively understated. Martin is keen on historical fiction, but he states the problem with historical fiction is you know who is going to win. His fantasy world enables him to mix historical fiction with the freedom to develop the plot.
"My take on the genre has somewhat less magic and sorcery onstage and more emphasis on swordplay and battles and political intrigue and the characters." Jan interview
Martin took his time to write the books. Talking about his writing style, he says, he is more like a gardener than an architect – he cannot plan everything in advance, but has a rough plan but then crafts the story as it grows.
His first book in the series was published in 1996 – five years after he began writing. This was followed by "A Clash of Kings" (1998) and "A Storm of Swords" (2000) and A Feast for Crows (2005) and A Dance with Dragons (2011). Early editions sold well, if not spectacularly. It was not until the fourth novel that sales broke through with "A Feast for Crows" becoming no.1 on the New York Times bestseller. After that point, his books enjoyed a meteoric rise becoming international best-sellers and translated into numerous languages.
Game of Thrones TV Series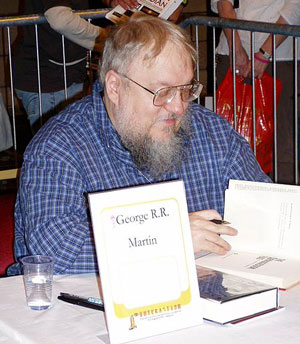 When he first wrote the books, he felt the freedom to write very intricate plot details as he knew it would never make it to tv or film. But, in an irony he himself notes, it has gone on to be one of most famous tv series. In 2007, he sold the tv rights to HBO and Martin was closely involved in supervising the translation of the book to tv; Martin worked on both scriptwriting and producing. When it was aired in 2011, it received great critical and commercial success and cultivated an eager following. As more series were produced, it continued to grow in popularity and prestige and viewing figures continued to grow. The series won numerous TV awards and became one of the most popular long-running tv series.
Such was the interest in Martin's novels, that Martin received innumerable fan requests and enquiries about the state of the series development. In particular, the long six-year period between the fourth and fifth volume (2005-2011) Martin tried to avoid these questions, asserting that as a writer he feels the need to write on a variety of projects and cannot force through a book, just to please eager fans.
"Ten years from now, no one is going to care how quickly the books came out. The only thing that will matter, the only thing anyone will remember, is how good they were. That's my main concern, and always will be." Official blog, (July 2007)
He has admitted that he often wished he had more time. "I need more hours in the day and more days in the week and more months in the year because the time does seem to go very fast," (Guardian)
Personal life
Martin is a big fan of sci-fi conventions and often attends to give book signings and meet his fans. He is also a member of Science Fiction & Fantasy Writers of America – which he served as president from 1996-98.
He met his first wife Gale Burnick at a sci-fi convention and they married in 1975. They divorced four years later. He remarried Parris McBride in February 2011. He has no children. He actively supports the Wild Spirit Wolf Sanctuary which provides public education and support for captive-bred wolves.
He has admitted that his fame has been a challenge. He tends to avoid the internet and keeps in touch with friends he had before his real fame. When asked if he missed the times when he was less well known, he admits.
"Yeah. Honestly I do. I mean, I can't go into a bookstore any more, and that used to be my favourite thing to do in the world. To go in and wander from stack to stack, take down some books, read a little, leave with a big stack of things I'd never heard of when I came in. Now when I go to a bookstore, I get recognised within 10 minutes and then there's a crowd around me. So you gain a lot but you also lose things." (Guardian)
Martin is slow to adopt new technology, he outsources twitter and Facebook to managers and prefers to write on a very old and outdated DOS machine running WordStar 4.0. He claims its simplicity makes it unsurpassed.
Politics
He has openly supported Democratic candidates, such as Joe Biden and Hilary Clinton. He has been a vocal critic of Donald Trump, saying he is the worst president in US history. Speaking in Nov 1916.
"Trump was the least qualified candidate ever nominated by a major party for the presidency. Come January, he will become the worst president in American history, and a dangerously unstable player on the world stage" (3)
He has also made a point of appreciating the contribution of immigrants to America, writing a specific blog post – "A Salute to Immigrants".  Speaking in 2016 he said in reference to the anti-immigrant policies of Donald Trump.
"I'm not an "American First" (and maybe because I read science fiction) I'm a "Terran First". I'm a human being first. And I have this sympathy for other human beings no matter what side of the giant ice wall they happen to be born on." Tuscon 43 (2016)
He currently lives in Santa Fe, New Mexico, where he has had a home since 1979. He loves the local Mexican food and admits he is addicted to spicy food and green chillies in particular. He is also devoted to New York Mets and the New York Jets.
Religion
Martin describes himself as a lapsed catholic, but with great interest in religion and spirituality. He says he struggles to get his rational mind to believe in the afterlife, though he is intrigued at the prospect.
"It doesn't seem to matter what gods you pray to. We all die, in the real world and in fantasy worlds, and if there was some religion where you did not die I suspect that would be, that God would become very popular." Authors@Google (August 2011)
In his Game of Thrones Series, the religion is based on Christianity in the medieval world with often very worldly people holding positions of religious authority.
Citation: Pettinger, Tejvan. "Biography of George R.R. Martin", Oxford, UK. www.biographyonline.net, Published 3 April 2020.
A Song of Ice and Fire
A Song of Ice and Fire (7 Volumes) at Amazon
Related pages

Writers/authors – Famous authors. John Milton, Charles Dickens, Leo Tolstoy, John Steinbeck and Ernest Hemingway.

Famous Americans – Great Americans from the Founding Fathers to modern civil rights activists. Including presidents, authors, musicians, entrepreneurs and businessmen. Featuring Thomas Jefferson, Abraham Lincoln, Madonna, Oprah Winfrey.