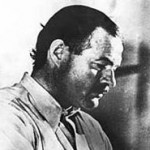 Ernest Hemingway (July 21, 1899 – July 2, 1961) was an American author and journalist whose unique, understated writing style had a strong influence on 20th-century fiction and culture.
Hemingway lived through the major conflicts of Europe during the first half of the Twentieth-Century. His war experiences led to powerful accounts, which described the horrors of modern war. Two major books include; A Farewell to Arms (1929) – about the First World War, and For Whom the Bell Tolls (1940) – about the Spanish Civil War. Many of his books are considered classics of American literature.
Early life
Hemingway was born in 1899, in Oak Park, Illinois. After leaving school, he worked as a journalist for the Kansas City City Star. He later writing was influenced by the style guide of the paper. "Use short sentences. Use short first paragraphs. Use vigorous English. Be positive, not negative."
However, after a few months of work, in 1918 he enlisted with the Red Cross to volunteer as an ambulance driver in the First World War. He was sent to the Italian front where he saw the horrors of the trench war. In July 1918, he was seriously wounded from mortar fire, but, despite his injuries and coming under machine-gun fire – still managed to carry two Italian comrades to safety. He was awarded the Italian Silver Medal for this act of bravery.
Whilst recuperating from his injuries he fell in love with a Red Cross nurse, Agnes von Kurowsky, but she rejected his offer of marriage. This rejection left a powerful emotional scar. A decade later, in 1929 Hemingway would write a semi-autobiographical novel, – A Farwell to Arms based on his war experiences. The main character in the book is an ambulance driver who becomes disillusioned with the war and then elopes with a Spanish girl to Switzerland.
Hemingway returned home to the US, but fell out with his mother. Hemingway disliked the moralising tone of his outwardly religious mother, who accused Hemingway of living based on 'lazy loafing and pleasure seeking,' Hemingway's free spirit rebelled against his mother's more religious, moralistic approach and he walked away from his family and was never reconciled.
In 1921 he married Hadley Richardson, the first of four wives, he moved to Chicago and then Paris, where he spent much of the inter-war years. He worked as a correspondent for the Toronto Star and became acquainted with many modernist writers, such as James Joyce, Gertrude Stein and Ezra Pound who lived in Paris at the time. In 1926, he published a successful novel "The Sun Also Rises," which was based on a generation of American socialites who drifted around Europe. For his part, Hemingway enjoyed the atmosphere and intellectual curiosity of Paris in the 'roaring twenties.'
"If you are lucky enough to have lived in Paris as a young man, then wherever you go for the rest of your life, it stays with you, for Paris is a moveable feast."
– Ernest Hemingway, A Moveable Feast
In 1932, he wrote a non-fiction book "The Dance of Death" which was a sympathetic look at the Spanish custom of bullfighting. Hemingway pondered the question of whether it was justified to torment and kill an animal for sport. Hemingway was fascinated by the heroic, yet barbaric act which appealed to the Latin machismo and to Hemingway was not a sport but art and "the only art in which the artist is in danger of death."
For Whom the Bell Tolls
In 1937, he went to Spain to cover the Spanish Civil war. He advocated international support for the Popular Front – who were fighting the fascist regime led by Franco. He later wrote a book – For Whom the Bell Tolls (1940), which captures the struggles and brutality of the Spanish civil war. During the Second World War, he continued to work as a foreign correspondent. He was present at the Normandy landings and the liberation of Paris.
Literary recognition
After the Second World War, Hemingway bought a home in Finca Vigia ("Lookout Farm"), in Cuba. Here in Cuba, he wrote "The Old Man and the Sea" (1952) – story about an elderly fisherman and devout Catholic, Spencer Tracy. The novel was praised by critics and he awarded the Pulitzer Prize. (1953)
In 1954, Hemingway was involved in two plane crashes which left him severely injured and in pain for the rest of his life.  After the crash, Hemingway was bed-ridden for a couple of years. Towards the end of the year, he was awarded the Nobel Prize for Literature (1954). His citation for the Nobel Prize was
"his mastery of the art of narrative, most recently demonstrated in The Old Man and the Sea, and for the influence that he has exerted on contemporary style."
For many years, Hemingway had sought the Nobel Prize, but when he was notified of the award, he humbly suggested other writers may have deserved it more. He was concerned that news of his near-death, may have affected the sympathies of the jury
Then in 1960, Fidel Castro's rise to power in Cuba forced him to return to the US – he returned to Ketchum, Idaho. The last years were very difficult for Hemingway, he suffered from great physical pain, his mental clarity diminished, he struggled to write and he suffered from increasing depression. He tried electric shock therapy but to no avail. In 1961, at the age of 62, he killed himself with a shotgun.
Writing style of Hemingway
Hemingway's style had some similarities to other modernist writers. It was a reaction against the more elaborate, turgid style of the nineteenth century. Hemingway's writing was direct and minimalist – often leaving things unstated, but at the same time profoundly moving for bringing the reader into the heart of the story and experience.
"All good books are alike in that they are truer than if they had really happened and after you are finished reading one you will feel that all that happened to you and afterwards it all belongs to you: the good and the bad, the ecstasy, the remorse and sorrow, the people and the places and how the weather was. If you can get so that you can give that to people, then you are a writer."
– Ernest Hemingway
Hemingway termed his style the Iceberg theory.
"If a writer of prose knows enough of what he is writing about he may omit things that he knows and the reader, if the writer is writing truly enough, will have a feeling of those things as strongly as though the writer had stated them. The dignity of movement of an ice-berg is due to only one-eighth of it being above water. A writer who omits things because he does not know them only makes hollow places in his writing."
—Ernest Hemingway in Death in the Afternoon
Hemingway said the facts float above the water, but the structure is kept out of sight. Behind the minimalist prose is a great effort, but the result is simplicity, immediacy and clarity.
He was married four times.
"There are events which are so great that if a writer has participated in them his obligation is to write truly rather than assume the presumption of altering them with invention."
– Ernest Hemingway – Preface to The Great Crusade (1940) by Gustav Regler
Religious views of Hemingway
Hemingway was born and raised in a strict Protestant tradition. After he married his second wife, he converted to Catholicism. Although he was not always observant in attending mass, he was fascinated by Catholic rites, and would frequently visit churches on his own and light a candle. In his writings, he was also interested in the idea of pilgrimage, to Catholic sites.
After his serious injury in July 1918, he was baptized by an Italian priest and given the last rites. Hemingway also describes a spiritual experience during his serious injury. He says he felt that his
"soul or something coming right out of my body, like you'd pull a silk handkerchief out of a pocket by one corner. It flew around and then came back and went in again and I wasn't dead anymore." (link)
Selected list of works by Hemingway
Indian Camp (1926)
The Sun Also Rises (1926)
A Farewell to Arms (1929)
The Short Happy Life of Francis Macomber (1935)
For Whom the Bell Tolls (1940)
The Old Man and the Sea (1951)
A Moveable Feast (1964, posthumous)
True at First Light (1999)
Citation: Pettinger, Tejvan.  "Ernest Hemingway Biography", Oxford, UK. www.biographyonline.net. Last updated 13 March 2020. Published 11th Feb 2013.
The Complete Short Stories of Ernest Hemingway
The Complete Short Stories of Ernest Hemingway at Amazon
Ernest Hemingway – A Biography
Ernest Hemingway – A biography by Mary Dearborn at Amazon
Related pages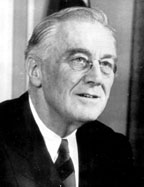 Famous Americans – Great Americans from the Founding Fathers to modern civil rights activists. Including presidents, authors, musicians, entrepreneurs and businesspeople.

Writers and authors – Famous authors such as J.R.R. Tolkien, William Shakespeare, Leo Tolstoy, John Steinbeck and Ernest Hemingway.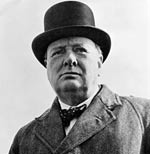 People of the Twentieth Century (1901 to 2000) Famous people of the turbulent century. Includes Winston Churchill, F.D. Roosevelt, Adolf Hitler and Stalin.