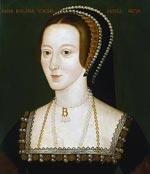 Anne Boleyn (1501  -1536) – Second wife to Henry VIII, subsequently beheaded. To marry Anne Boleyn, Henry VIII had to break with Rome and set up the Church of England. Indirectly, Anne Boleyn played a key role in the English Reformation.
Anne Boleyn was the daughter of Thomas Boleyn, 1st Earl of Wiltshire. She received a good education, studying in Netherlands and France. In France, she served as maid of honour to Claude, wife of King Francis I of France.
In 1522, Anne returned to England to marry James Butler, 9th Earl of Ormond and her Irish cousin. However, Cardinal Wolsey interrupted the marriage plans and secured a post for Anne to serve as maid of honour to Catherine of Aragon – Henry's wife of over 20 years.
In 1523, Anne was secretly engaged to Henry Percy, 5th Earl of Northumberland. But, again Cardinal Wolsey broke up the marriage and send Anne back to her family home in Hever Castle.
Two years later, in the spring of 1526, Henry VIII visited Hever Castle and was enamoured of Anne Boleyn's beauty and charm, and he began attempts to seduce her.
Anne Boleyn was considered beautiful, though not exceptional; she also had a natural charm, intelligence and personal wit. Yet, she could also be forceful and opinionated.
Despite Henry VIII's forceful entreaties, Anne Boleyn didn't want to be another mistress to the king (like her sister) and refused the kings advances. However, King Henry VIII was smitten and wouldn't desist. The couple sent many love letters, with the King expressing his heartfelt desire. Anne stated she would only consent to be his legal wife and Queen, or nothing at all. It was a bold declaration as it entailed the king gaining an annulment for his marriage – which was a rare occurrence. However, it struck a chord with Henry VIII because he was deeply dissatisfied with his first marriage to Catherine. Despite 20 years of marriage, the couple had failed to produce a son. Henry was desperate for a male heir as he felt it essential to the stability of the Tudor regime.
Religious views of Anne Boleyn
Historians suggest that her motivations to marry and become Queen may have partly been due to her religious sentiments. In her early life, she came into contact with religious reformers and she expressed support for the reform movement which sought to rein in the excesses of the Catholic church. When in a position of influence, Anne protected and promoted evangelical reformers and those who promoted the English Bible translations of William Tyndale (Tyndale was executed for heresy in 1536.) By pushing Henry VIII away from the Pope and Catholic Church, she – either wittingly or unwittingly – played a major role in the Protestant Reformation.
Wolsey and Cromwell
Seduced by the beauty of Anne Boleyn and also seeking to father a legal male heir, Henry VIII became consumed with the desire to annul the marriage to his wife and remarry. Initially, the king turned to Cardinal Wolsey the Archbishop of Canterbury, but after his failure, Wolsey was removed from office and, in desperation, Henry turned to Thomas Cromwell, a commoner who had risen to be the king's right-hand man. Like Anne Boleyn, Cromwell was also sympathetic to the reformist religious tendencies of the Protestant Reformation. Allied to their own personal interests, challenging the power of the Pope suited their religious inclinations. Also, Cromwell knew that annulling Henry's first marriage would cement his influence on the king further.
In 1528, Anne Boleyn nearly died from the sweating sickness that had broken out. The king sent his own physician, and after Anne's recovery was even more determined to be able to marry her.
However, despite sending his best lawyers and brightest minds of England to Rome and pursuing all legal options, Pope Clement VII refused to annul the marriage. Catherine of Aragon came from a prestigious Spanish Royal family who had considerable influence on the Pope.
In order to marry Anne Boleyn, Henry VIII took the advice of Cromwell and assumed supremacy over religious matters, arguing the King was superior to the Pope. This led to widespread social change, with England becoming a Protestant country and a new Church of England, headed by the monarch. However, it also left a split country, with many influential figures and ordinary people clinging to their old Catholic faith.
Amongst the king's close followers, most fell into line behind his wishes. But, Thomas More – one of the king's most loyal servants could not bring himself to sign the final Oath of Supremacy. He was executed on the king's orders in 1535.
Marriage of Anne Boleyn and Henry VIII
Henry and Anne secretly married on 14 November 1532 in Dover, after returning from France. Henry was desperate to sleep with Anne, so he arranged a quick marriage. They were officially married on 25 January 1533, under the stewardship of Thomas Cranmer, the new Archbishop of Canterbury. Anne was crowned Queen of England on 1 June 1533.
Even before being crowned Queen, Anne was active in matters of state. In 1532 she played a role in solidifying an alliance with France, helped by her time in the French Royal Court.
A few months later on 7 September, Anne gave birth to a girl – the future Queen Elizabeth I. Henry was disappointed to have a girl, but hopeful the next child would be a boy.
Over the next three years, Anne Boleyn conceived three times, and on each occasion suffered a miscarriage. Henry VIII was devastated and began blaming his new wife for his misfortune in failing to produce a male heir. Furthermore, Anne Boleyn's fiery nature and willingness to stand up to the king in public, made Henry frequently fall out with Anne – his former object of infatuation.
It didn't help that popular opinion was mostly against Anne Boleyn. The public and court were generally sympathetic to Catherine of Aragon and viewed the 'conniving' Anne Boleyn with suspicion. When it appeared the king had lost his infatuation, it became much easier to express these criticisms and suspicions.
After the split from Rome, Henry VIII began the dissolution of the monasteries – under the guidance of Thomas Cromwell. Cromwell used the dissolution of the monasteries to fill the king's coffers. Anne disagreed with this policy, preferring reform of the monasteries rather than closure and taking their valuables. Her stance caused friction with both Cromwell and the king.
Despite her support for the charitable works of the church, Anne Boleyn kept a lavish court, spending large sums on dress, furniture and status. However, this made her a target for those critical of the King's tyrannical regime – not helped by the execution of popular figures such as Thomas More and Bishop John Fisher and her association with the 'new religion'.
The great love affair between Henry and Anne quickly soured, and Henry began to desert his wife and, instead, began courting Jane Seymour.
After the third miscarriage, Henry VIII decided to give up on Anne Boleyn. He decided the failure to produce a male heir was a sign the marriage did not find favour of God. He sought a way out and wished to marry Jane Seymour.
With the help of King Henry VIII's fixer Thomas Cromwell, Anne Boleyn was arrested for high treason in April 1536. It was ironic that Cromwell was involved in Anne's downfall, as he had done much to promote her in the first place. She was accused of adultery, incest and plotting to kill the king. Despite the evidence being fabricated, the jury of peers which included her own uncle and Henry Percy (former betrothed), found her guilty. Four days later, she was executed by beheading. The king commuted the sentence to beheading from 'hanging, drawing and quartering' the punishment traditionally reserved for treason.
Reports suggest that before her execution she spoke to the crowd with calmness and dignity. Her final prayer on the scaffold was repeating continually, "Jesu receive my soul; O Lord God have pity on my soul."
She was buried in an unmarked grave in the Chapel of St Peter ad Vincula.
Citation: Pettinger, Tejvan. "Biography of Anne Boleyn", Oxford, UK – www.biographyonline.net. Published 17th January 2017.
The Life and Death of Anne Boleyn
The Life and Death of Anne Boleyn at Amazon
Related pages

Women who changed the world – Famous women who changed the world, including Sappho, Marie Curie, Queen Victoria, and Catherine the Great.

Female biographies – A list of famous women from Sappho and Cleopatra to Marilyn Monroe and Angela Merkel.

Famous Kings and Queens – Famous Kings and Queens throughout history. Including Henry VIII, Queen Victoria and Catherine the Great.