Muhammad Ali born Cassius Marcellus Clay Jr. on January 17, 1942. He changed his name to Muhammad Ali in 1964 after joining the Nation of Islam.
His Nicknames included: The Greatest, The Champ, The Louisville Lip or just 'Ali'
Muhammad Ali has been married four times and has seven daughters and two sons.
His height is 1.91 m (6 ft 3 in)
Muhammad Ali won a gold medal in the light heavyweight division at the 1960 Summer Olympics in Rome.
In his autobiography, Ali states that he threw his Olympic gold medal into the Ohio River after being refused service at a 'whites-only' restaurant, and fighting with a white gang.
Ali developed Parkinson's disease due to the injuries he sustained throughout his career.
Ali became famous for his pre-match interviews where he would 'trash talk his rivals talking in rhymes explaining how he would win.
In 1999, Ali was crowned "Sportsman of the Century" by Sports Illustrated and "Sports Personality of the Century" by the BBC.
When Clay beat Liston, he was the youngest boxer (age 22) ever to take the title from a reigning heavyweight champion in 1965.
The religion of Muhammad Ali
Ali converted to the Nation of Islam in 1965, under leader Elijah Muhammad.
Ali converted from the Nation of Islam sect to mainstream Sunni Islam in 1975.
In 2005, he embraced the spiritual practices of Sufism – a mystical branch of Islam.
Vietnam War
1966: "I ain't got no quarrel with them Viet Cong … They never called me nigger."
In 1967 Ali was arrested for draft evasion charges – he refused to fight in the Vietnam War.
Ali was sentenced to five years in jail. Although he avoided jail he was not allowed to fight for four years. He was later granted a Presidential
Boxing Career
His boxing record Total fights 61
Wins 56
Wins by KO 37
Losses 5
One of his most famous sayings was: "float like a butterfly, sting like a bee" – it referred to his unorthodox style of fighting
Fight of the Century. After being unable to box because of his conviction of draft dodging, Ali was finally able to meet the reigning heavyweight champion and Frazier in the ring on March 8, 1971, at Madison Square Garden. The fight was known as '"The Fight of the Century," Ali lost his first professional fight of his career.
Rumble in the Jungle Ali regained his title on October 30, 1974, by defeating champion George Foreman in their bout in Kinshasa, Zaire. It was one of the greatest sporting upsets in boxing. Ali out danced the tiring Foreman to knock him out in the 8th round.
Ali was named "Fighter of the Year" by Ring Magazine more times than any other fighter and was involved in more Ring Magazine "Fight of the Year" bouts than any other fighter.
After Boxing
Muhammad Ali has devoted his life to humanitarian work, putting his name to many initiatives for peace and humanitarian aid.
His daughter Laila Ali also became a boxer in 1999
On November 19, 2005 (Ali's 19th wedding anniversary), the $60 million non-profit Muhammad Ali Center opened in downtown Louisville.
Muhammad Ali and the Rise of an American Hero
Muhammad Ali and the Rise of an American Hero at Amazon
Muhammad Ali – The Whole Story
Muhammad Ali – The Whole Story at Amazon
Related pages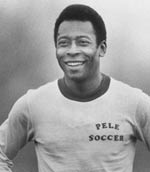 100 Famous sporting personalities – 100 Famous sporting personalities, including Muhammad Ali, Nadia Comaneci, Pele and Jesse Owens.

Famous Americans – Great Americans from the Founding Fathers to modern civil rights activists. Including presidents, authors, musicians, entrepreneurs and businessmen. Featuring Thomas Jefferson, Abraham Lincoln, Madonna, Oprah Winfrey.