Various quotes from Joan of Arc (Jeanne d'Arc)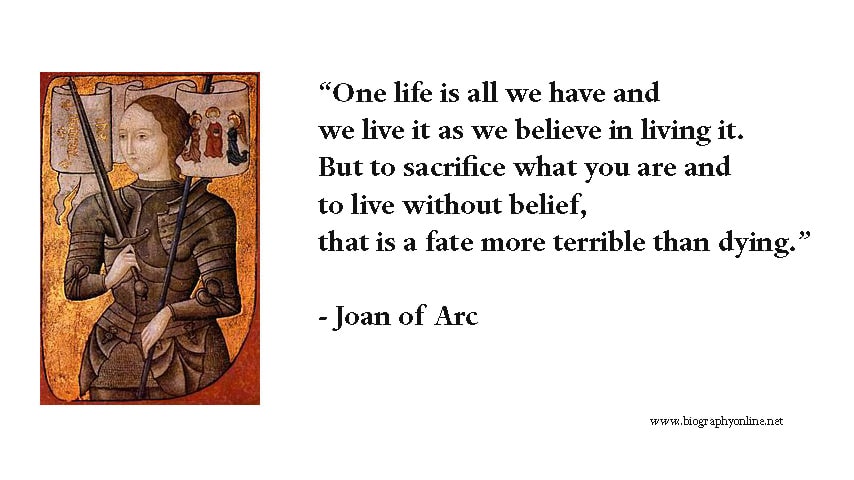 Note: these quotes come from the trial transcript. Her trial was little more than a show trial, her persecutors had decided in advance she must renounce all her voices and actions or burn at the stake. Her inner guidance advised her to answer the questions boldly.
Question at Trial: "Do you know if you are in the grace of God?"
"If I am not, may God place me there; if I am, may God so keep me. I should be the saddest in all the world if I knew that I were not in the grace of God. But if I were in a state of sin, do you think the Voice would come to me? I would that every one could hear the Voice as I hear it. I think I was about thirteen when it came to me for the first time." – Joan of Arc
Question at Trial "Was it God who prescribed to you the dress of a man?"
"What concerns this dress is a small thing – less than nothing. I did not take it by the advice of any man in the world. I did not take this dress or do anything but by the command of Our Lord and of the Angels." – Joan of Arc
Question at Trial "Which did you care for most, your banner or your sword?"
"Better, forty times better, my banner than my sword!" – Joan of Arc
Question at Trial "In what likeness did Saint Michael appear to you?"
"I did not see a crown: I know nothing of his dress."
Question at Trial: "Was he naked?"
"Do you think God has not wherewithal to clothe him?"
"They do not order me to disobey the Church, but God must be served first."

"One life is all we have and we live it as we believe in living it. But to sacrifice what you are and to live without belief, that is a fate more terrible than dying."

"Of the love or hatred God has for the English, I know nothing, but I do know that they will all be thrown out of France, except those who die there."

"I was thirteen when I had a Voice from God for my help and guidance. The first time that I heard this Voice, I was very much frightened; it was mid-day, in the summer, in my father's garden. I had not fasted the day before. I heard this Voice to my right, towards the Church; rarely do I hear it without its being accompanied also by a light. This light comes from the same side as the Voice. Generally it is a great light. Since I came into France I have often heard this Voice."

"You, men of England, who have no right to this Kingdom of France, the King of Heaven orders and notifies you through me, Joan the Maiden, to leave your fortresses and go back to your own country; or I will produce a clash of arms to be eternally remembered. And this is the third and last time I have written to you; I shall not write anything further."

"You may well ask me some things on which I shall tell you the truth and some on which I shall not tell it you. If you were well informed about me, you would wish to have me out of your hands. I have done nothing except by revelation."

"I will not answer you about that. I have revelations touching the King that I will not tell you."
"I firmly believe, as firmly as I believe the Christian faith and that God has redeemed us from the pains of Hell, that the voice comes from God and at his bidding."
Quotes sourced from the trial of Joan of Arc
Her words to Charles
"I bring you news from God, that our Lord will give you back your kingdom, bringing you to be crowned at Reims, and driving out your enemies. In this I am God's messegner. Do you set me bravely to work, and I will raise the siege of Orleans."
– Joan of Arc "In her own Words", p.21
To the English Captain at Orleans
"Glasdale, Glasdale, yield, yield to the King of Heaven. You have called me "whore": I pity your soul and the souls of your men."- Joan of Arc "In her own Words", p.37
Other quotes by Joan of Arc
"I do not fear their soldiers; my way lies open. If there are soldiers on the road, I have my Lord with me, who will make a road for me to reach the Dauphin. I was born for this."
– Joan of Arc "In her own Words", p.19
"Whenever I am unhappy, because men will not believe me in the things that I say at God's bidding, I go apart and pray to God, complaining to him that those to whom I speak do not easily believe me. And when I have made my prayer to God, I hear a voice that says to me: "Child of God, go, go, go! I shall be with you to help you. Go!" And when I hear that voice I feel a great joy. Indeed, I would that I might ever be in that state."
– Joan of Arc "In her own Words", p.43
"Alas! that my body, clean and whole, never been corrupted, today must be consumed and burnt to ashes!"
– Joan of Arc. As quoted by Jean Toutmouille during the retrial after her execution (5 March 1449)
"You say that you are my judge. I do not know if you are! But I tell you that you must take good care not to judge me wrongly, because you will put yourself in great danger. I warn you, so that if God punishes you for it, I would have done my duty by telling you!"
– Joan of Arc – Jeanne's warning to Bishop Cauchon (15 March 1431)
Last day
"Rouen, Rouen, shalt though be my dwelling?

I beg each priest here to say a mass for me.
At the stake
"I pray you, go to the nearest church, and bring me the cross, and hold it up level with my eyes until I am dead. I would have cross on which God hung be ever before my eyes while life lasts in me."

"Jesus, Jesus!"
Joan of Arc: By Herself and Her Witnesses
Joan of Arc: By Herself and Her Witnesses at Amazon
Joan of Arc: In Her Own Words
Joan of Arc: In her Own Words at Amazon
Related pages

The life story of Joan of Arc from anonymous peasant to leading French armies.

Women who changed the world – Famous women who changed the world. Features female Prime Ministers, scientists, cultural figures, authors and royalty. Includes; Cleopatra, Princess Diana, Marie Curie, Queen Victoria, and Joan of Arc.