Short Biography of Lady Nancy Astor (1879-1964)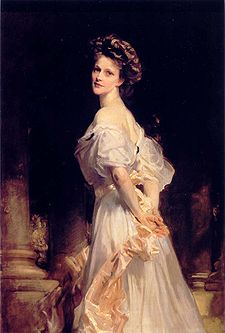 Lady Nancy Astor was the first British female MP. She was born in the US – Nancy Witcher Lanhorne. In 1897 she married Robert Gould Shaw, but the marriage only lasted six years. In 1906 She married Waldorf Astor a well connected member of the British aristocracy. In 1919, Lord Astor took his father's peerage and seat in the House of Lords. She stood as a Conservative for the Plymouth seat in 1919 and was elected. She held her seat until 1945 when she retired.
In parliament she supported women's interests and contributed to the widening of the female vote in the mid 1920s. She was also closely interested in children's welfare and participated in a programme to promote nursery schools. She also frequently campaigned against the drink trade. This dislike of alcohol was common amongst American women of her class; in the US campaigners had successfully argued for prohibition laws. Her political opinions were also influenced by her religious beliefs which were Christian Scientist.
"One reason why I don't drink is because I wish to know when I am having a good time."
– Lady Astor
On one occasion she made a speech saying the reason for the defeat of the England cricket team against Australia was their use of alcohol. This was kind of statement was widely scorned and contributed to her increasing unpopularity towards the end of the 1930s.
"I married beneath me. All women do"
– Lady Astor
Getting married into the Astor family meant she was very well connected amongst British political circles. As a political hostess at the family country home in Cliveden, she had considerable influence on government policy of the inter-war years. In the 1930s, she became a key figure in the 'Cliveden movement' which supported Chamberlain's policy of appeasement. Part of this was a desire to avoid another world war, which had so devastated Europe. However, the public perceived she had a certain sympathy for Hitler and the Nazi's because of her anti-communist stance.
Lady Astor died in 1964 at her daughter's home in Grimsthorpe.
Related pages