Madonna (16 August 1958 – ) is an American singer, actress, dancer and movie star. She has sold over 300 million records worldwide, making her the best-selling female artist of all time. Madonna, often referred to as "The Queen of Pop", has had a profound influence on music culture. She has pursued an independent approach to her career – writing most of her songs and constantly redefining her image. For pushing the boundaries of taste and behaviour, she has often courted controversy for upsetting religious and moral sensibilities.
Short Bio of Madonna
Madonna, born Louis Cicconi on 16 August 1958, was brought up in Rochester Hills Michigan. Her mother died of breast cancer when she was only five; she was then brought up by her grandparents. Madonna was raised a Roman Catholic, though, from an early age, she displayed a rebellious streak. In 1978, she dropped out of college and moved to New York, with very limited resources. She got a job as a waitress at Dunking Donuts, and in her spare time learnt modern dance. She temporarily joined a rock band 'The Breakfast Club' and then tried to make a solo career. Her early attempts at singing gained a favourable impression with Sire Records, and she was given her first recording contract.
"I went to New York. I had a dream. I wanted to be a big star. I didn't know anybody. I wanted to dance. I wanted to sing. I wanted to do all those things. I wanted to make people happy. I wanted to be famous. I wanted everybody to love me. I wanted to be a star. I worked really hard and my dream came true."
– Madonna (Virgin Tour, 1985)
In 1982, she released her first single 'Everybody', and in 1983, she launched her first album 'Madonna' It sold very well, but it was her next album 'Like a Virgin' which made her into an international superstar. The album sold over 12 million copies, helped by the hit single 'Like a Virgin' which stayed at number one for six weeks. Other hit records included Papa Don't Preach", "Like a Prayer", "Vogue", "Take a Bow", "Frozen", "Music", and "4 Minutes". Madonna states that Marilyn Monroe has been an influence on her career. The video for the hit single "Material Girl" was a tribute to Monroe's performance in the film Gentlemen Prefer Blondes.
"I loved Carole Lombard and Judy Holliday and Marilyn Monroe. They were all incredibly funny … and I saw myself in them … my girlishness, my knowingness and my innocence." – Madonna
As well as being a successful music recording artist, Madonna was very influential in influencing fashion and attitudes to life. Her trademark looks included fishnet stockings, a Christian cross, bleached hair and Capri skirts. Her early music videos, shown on MTV, were influential in cultivating the image of Madonna in popular culture.
"I think that life is a paradox and you have to embrace that in your work and your belief systems… you can't be a literalist, and that's the trouble that people always find themselves in. That's why people always hit a wall with any of my stuff, because you can't take it literally."
– Madonna, Dazed & Confused, 29 Feb 2008
Throughout her career, Madonna has courted controversy for her mix of sexuality and religious imagery. Her attitudes sparked criticism from the Vatican, and the Church discouraged people from attending her concerts because of the eroticism. Madonna remained unapologetic and continued to perform her routines.
"A lot of people are just really confused by me; they don't know what to think of me, so they try to compartmentalize me or diminish me. Maybe they just feel unsafe. But any time you have an overtly emotional or irrational, negative reaction to something, you're fearing something that it's bringing up in you."
– Madonna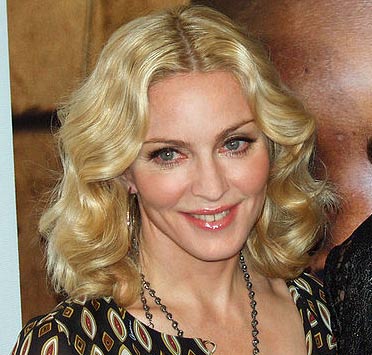 After forming her own company – Madonna, produced a book titled 'Sex'. It featured nude photography and was quite controversial, especially in the US; but it sold over half a million copies.
She has launched several business enterprises, such as fashion lines – Material Girl (1980s) and  'Truth or Dare by Madonna' (2011)
Madonna has acted in a couple of films, without much commercial success – though her appearance in Evita (1996) about Eva Peron, the famous Argentinian wife of the President received good reviews. For her role in Evita, she received Golden Globe Award for Best Actress,
She has now produced over ten albums and remains a very influential artist still capable of hitting the top of the album charts. According to Billboard magazine, she is second only to the Beatles in terms of the all-time best-selling artist. In recent years, her music has evolved to include new styles. Her album True Blue (1986) incorporated aspects of classical music. In Music (2000) and American Life (2003), she experimented with folk and acoustic music. She produces and writes her own music, and has never conformed to a narrow vision of recording companies.
"I pay attention to what's going on around me. I'm always looking for new energy, new talent, new voices. When you do that I think it's easier to come up with fresh ideas. It's not that my career has been based on surprising people, but it's been about challenging myself — to constantly do new things that are going to broaden my own mind and in the process, hopefully, connect with other people."
– Madonna, Parade magazine 24 June 2008
Her early Catholic roots influenced her music and videos, but, in the early 1990s, she embraced Kabbalah a Jewish mystical sect. In 2004, she adopted the Kabbalah name 'Esther' which in Persian means star. Talking about the meaning of Kabbalah, Madonna stated:
"That consciousness is everything and that all things begin with a thought. That we are responsible for our own fate, we reap what we sow, we get what we give, we pull in what we put out. I know these things for sure."
– Madonna
In recent years, Madonna has continued to tour, release albums and engage in humanitarian work. In 2013, she realised a short film entitled Secretprojectrevolution – launched at the Art for Freedom initiative, which states it is seeking to promote "art and free speech as a means to address persecution and injustice across the globe". She also supports an organisation 'Raising Malawi' a humanitarian organisation co-founded by Madonna and committed to building schools in an effort to end the extreme poverty of Malawi orphans. In 2017, she adopted two twins Esther and Stella Mwale from a Malawi orphanage
Madonna Marriage and Children
Madonna married Sean Penn in 1985 but divorced four years later in 1989. She re-married Guy Ritchie in 2000 and divorced in 2008.
Madonna has six children
Lourdes Maria Ciccone Leon (1999) – with Carlos Leon.
Rocco Ritchie (2001), with Guy Richie
David Banda in 2006  (adopted from Malawi)
Mercy James in 2009. (adopted from Malawi)
Esther and Stella Mwale (adopted from Malawi)
Citation: Pettinger, Tejvan. "Biography of Madonna", Oxford, UK. www.biographyonline.net. Published 4th February 2015. Updated 6 February 2018.
The Mammoth book of Madonna
The Mammoth book of Madonna at Amazon
Madonna: An Intimate Biography
Madonna: An Intimate Biography at Amazon
Albums of Madonna
Madonna (1983)
Like a Virgin (1984)
True Blue (1986)
Like a Prayer (1989)
Erotica (1992)
Bedtime Stories (1994)
Ray of Light (1998)
Music (2000)
American Life (2003)
Confessions on a Dance Floor (2005)
Hard Candy (2008)
MDNA (2012)
Rebel Heart (2015)
Related pages

Women who changed the world – Famous women who changed the world. Features female Prime Ministers, scientists, cultural figures, authors and royalty. Includes; Princess Diana, Marie Curie, Queen Victoria, and Catherine the Great.

Americans – Great Americans from the Founding Fathers to modern civil rights activists. Including presidents, authors, musicians, entrepreneurs and businessmen. Featuring Thomas Jefferson, Abraham Lincoln, Madonna, Oprah Winfrey.
Image: Madonna by David Shackbone CC