Leonard Cheshire (7 September 1917 – 31 July 1992) Baron Cheshire, VC, OM, DSO and Two Bars, DFC – was a highly decorated RAF pilot during the Second World War, and later helped establish a charitable foundation – The Leonard Cheshire Charity.
Short Biography Leonard Cheshire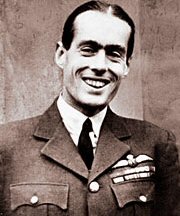 Leonard was born in Chester to a successful lawyer (Geoffrey Cheshire). When Leonard was quite young, he moved to Oxford, where he studied at the Dragon and Stowe School. He was later accepted to Merton College, Oxford University. Leonard had a strong personality and had a habit of attracting friends and attention through his good-natured manner. He was quite an extrovert, and keen to try different challenges. Once in a barroom bet, he set off to see if he could walk to Paris with just a few pennies in his pocket. – He won the bet.
At Oxford, he joined the RAF and trained as a pilot. He visited Germany in 1936 and refused to give the Nazi salute at a Nazi rally. Cheshire was convinced war was coming.
To his initial disappointment, he was initially posted to bomber command (he had hoped for fighter pilot). However, he soon displayed great aptitude and leadership. He was posted to 35 Squadron, where he flew Halifax bombers. By 1942, he was promoted to squadron leader. Cheshire invoked great loyalty from his men. He was clearly devoted to their needs and was willing to take practical steps to improve the safety and success of missions. Cheshire never had his own crew, but would often fly with inexperienced members to help give them confidence on their first flights. It is said that on moving to a base, he would take the trouble to learn the name of every man. He was not an elusive or superior leader. He wished to lead very much from the front, without any airs or graces. He was firm but fair and was quick to dismiss any pilot or crew member who displayed a lack of moral fibre. Cheshire later said, there was no time to show compassion. He didn't want the squadron to be infected by lack of confidence.
In 1943, he wrote a book 'Bomber Pilot' which modestly told of his exploits, including flying a badly damaged bomber. An act for which he received the DSO. After successful tours, he was again promoted to Station Commander at Marston Moor in March 1943. But, Cheshire wanted to be actively flying and didn't like just sitting behind a desk.
He was allowed to fulfil his wish to return to operational flying in one of the most dangerous and prestigious bomber units. Squadron 617 'dambusters'
It was typical of Cheshire to always volunteer for the most dangerous missions, such as flying to Germany rather than France. He also pioneered a new method of targeting sites, by low-level flying. On one occasion, he flew in a slow figure of eights to give his bomber squadron the correct place to bomb.
After four years of flying and completing a very impressive total of 102 missions, Cheshire was awarded the Victoria Cross – for the very rare citation of sustained courage and outstanding effort. Though it was rare to get the VC for prolonged endeavour, rather than one single mission, it was universally welcomed, such was his personality and reputation. Though when he went to Buckingham Palace to be awarded the VC – He asked the King to award a VC to Norman Jackson, a lower class officer first – because, as Cheshire said 'he really stuck his neck out'
Cheshire flew right until the end of the war, including deep penetration bombing of V2 and V3 rocket sites. He finished the war the most decorated pilot in Bomber Command.
 "Cheshire was a legend in Bomber Command, a remarkable man with an almost mystical air about him, as if he somehow inhabited a different planet from those about him, but without affectation or pretension".
Cheshire acted as the official British observer for the nuclear bombing of Nagasaki. The bombing affected him deeply, though as Cheshire later said, it wasn't just this one event, but the whole six years of war, which left him profoundly tired and after the war, he sought to promote understanding to avoid future war.
After leaving the RAF in 1946, he began a series of charitable endeavours, which sought to provide opportunities for ex-servicemen and their families. In 1948, he began looking after people in his VIP community, in Le Court, Hampshire. Cheshire himself learnt nursing skills to look after people who were brought there. But, he primarily used his leadership skills to delegate and inspire others to work as hard as him.
From these humble beginnings, his charitable endeavours became a major charity and the Leonard Cheshire charity is now one of the UK's top 30 charities – seeking to look after disabled people.
After the war, Cheshire considered himself a 'lapsed' Christian, but surprising himself, he became interested in religion, and in 1948, became a Roman Catholic convert – being accepted into the Catholic Faith. He remained an ardent Catholic for the rest of his life, and founded a charity – Raphael to help disabled people visit Lourdes – a popular destination for Catholic pilgrims.
Cheshire first married in 1941, to an American actress 21 years his younger, but the marriage didn't last long and was childless. In 1959, he married Sue Ryder (another Roman Catholic convert) and together they worked on their charitable foundations.
They had two children, Jeromy and Elizabeth.
"He showed notable powers of leadership and of skilful delegation, and the ability to persuade others to exert themselves almost as much as he did. Of warm and friendly personality, he was always quietly spoken but with a most compelling presence and an almost hypnotic gaze. His almost schoolboyish sense of humour never deserted him. He had become, as his achievements grew, almost pathologically modest and for many years refused all titles, only finally accepting the OM (after declining a CH) because it was in the Queen's gift"
– C  Foxley Norris (Obituary, Independent, 1992)
Cheshire died on 31 July 1992 of motor neurone disease, aged 74.
Citation: Pettinger, Tejvan. "Biography of Leonard Cheshire", Oxford,  UK. www.biographyonline.net, 1st Feb. 2013
The Biography of Leonard Cheshire
The Biography of Leonard Cheshire, at Amazon
Charitable life
In 1948, he founded the charity now styled Leonard Cheshire Disability, which provides support to disabled people throughout the world. It is now one of the top 30 British charities.Other organisations set up by Leonard Cheshire are:
The Ryder-Cheshire Foundation, set up by Leonard Cheshire and his wife Sue Ryder at the time of their marriage in 1959. It now mainly operates in two fields: the rehabilitation of disabled people, through Ryder-Cheshire Volunteers and the prevention and treatment of tuberculosis, through Target Tuberculosis.
In 1953 Cheshire founded the Raphael Pilgrimage in order to enable sick and disabled people to travel to Lourdes.
The Leonard Cheshire Disability & Inclusive Development Centre is a joint project by Leonard Cheshire Disability and University College London (originally set up in 1997 as the Leonard Cheshire Centre of Conflict Recovery).
Related

Great Briton list – Top 100 famous Britons as voted by a BBC poll. Including Winston Churchill, William Shakespeare, Thomas Cromwell and Queen Elizabeth I.

Military figures – Famous military leaders and soldiers, including Alexander the Great, Napoleon, Ataturk, Erwin Rommel, Winston Churchill and Dwight Eisenhower.