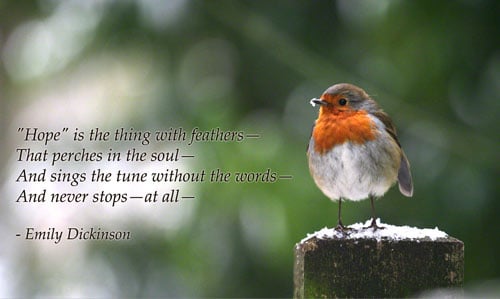 Hope is the Thing with Feathers
"Hope" is the thing with feathers –
That perches in the soul –
And sings the tune without the words –
And never stops – at all –
And sweetest – in the Gale – is heard –
And sore must be the storm –
That could abash the little Bird
That kept so many warm –
I've heard it in the chillest land –
And on the strangest Sea –
Yet – never – in Extremity,
It asked a crumb – of me.
By: Emily Dickinson
---
Because I Could Not Stop For Death
Because I could not stop for Death –
He kindly stopped for me –
The Carriage held but just Ourselves –
And Immortality.
We slowly drove – He knew no haste
And I had put away
My labor and my leisure too,
For His Civility –
We passed the School, where Children strove
At Recess – in the Ring –
We passed the Fields of Gazing Grain –
We passed the Setting Sun –
Or rather – He passed Us –
The Dews drew quivering and Chill –
For only Gossamer, my Gown –
My Tippet – only Tulle –
We paused before a House that seemed
A Swelling of the Ground –
The Roof was scarcely visible –
The Cornice – in the Ground –
Since then – 'tis Centuries – and yet
Feels shorter than the Day
I first surmised the Horses' Heads
Were toward Eternity –
---
T'is So Much Joy
'Tis so much joy! 'Tis so much joy!
If I should fail, what poverty!
And yet, as poor as I,
Have ventured all upon a throw!
Have gained! Yes! Hesitated so—
This side the Victory!
Life is but Life! And Death, but Death!
Bliss is, but Bliss, and Breath but Breath!
And if indeed I fail,
At least, to know the worst, is sweet!
Defeat means nothing but Defeat,
No drearier, can befall!
And if I gain! Oh Gun at Sea!
Oh Bells, that in the Steeples be!
At first, repeat it slow!
For Heaven is a different thing,
Conjectured, and waked sudden in—
And might extinguish me!
---
Behind me dips Eternity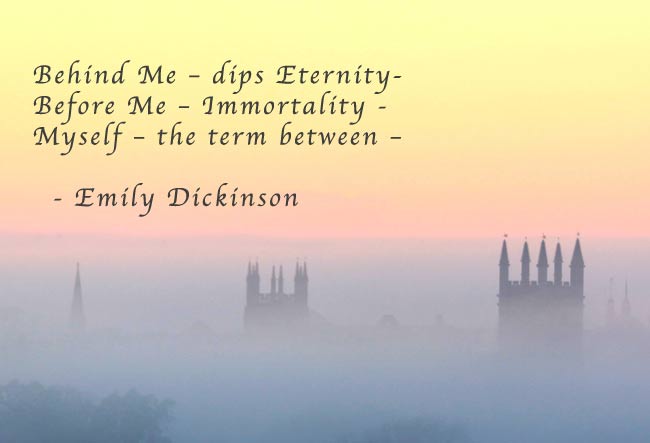 Behind Me—dips Eternity—
Before Me—Immortality—
Myself—the Term between—
Death but the Drift of Eastern Gray,
Dissolving into Dawn away,
Before the West begin—
'Tis Kingdoms—afterward—they say—
In perfect—pauseless Monarchy—
Whose Prince—is Son of None—
Himself—His Dateless Dynasty—
Himself—Himself diversify—
In Duplicate divine—
'Tis Miracle before Me—then—
'Tis Miracle behind—between—
A Crescent in the Sea—
With Midnight to the North of Her—
And Midnight to the South of Her—
And Maelstrom—in the Sky—
---
The only news I know
Is bulletins all day
From Immortality.
The only shows I see,
Tomorrow and Today,
Perchance Eternity.
The only One I meet
Is God, -the only street,
Existance; this traversed
If other news there be,
Or admirabler show –
I'll tell it you.
---
If I Can Stop
If I can stop one heart from breaking,
I shall not live in vain;
If I can ease one life the aching,
Or cool one pain,
Or help one fainting robin
Unto his nest again,
I shall not live in vain.
---
Much Madness
Much Madness is divinest Sense –
To a discerning Eye –
Much Sense – the starkest Madness –
'Tis the Majority
In this, as all, prevail –
Assent – and you are sane –
Demur – you're straightway dangerous –
And handled with a Chain –
Related
photos: Tejvan, Pavitrata (top)