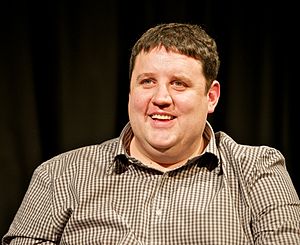 Peter Kay (born 2 July 1973) is one of Britain's top comedians who has a Guinness world record for the most successful comedy tour. During his 2010/11 comedy tour he played to over 1.2 million people. He made his TV breakthrough with the popular Phoenix Nights comedy series. In recent years, he has focused on one man comedy shows, touring around the British Isles.
Short Bio Peter Kay
Peter Kay was born and brought up in Bolton, Lancashire. He frequently makes reference to his town of birth in his stand up shows. It is clear that he has a great fondness for his hometown of Bolton. A lot of his material is based on his experiences growing up in Bolton, either events or characterisations of people from Lancashire.
From a young age, Peter Kay recalls how he enjoyed making people laugh. In his autobiography "The Sound of Laughter" he relates his early memories of performing impersonations of people like Louis Armstrong and Frank Spencer. All through his life, he has enjoyed entertaining others, although, until he made his first breakthrough, he doubted whether he would ever be able to make it into the world of show business.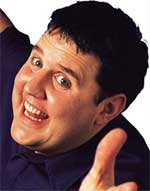 Peter Kay's own autobiography "Sound of Laughter" is a deliberately a play on "The Sound of Music" because his school (Mount St Joseph) was run by nuns. Although brought up a Catholic he was not inspired by the religious element of the school. He does recall many instances of giving the nuns a hard time through his practical jokes. One of his earliest comic performances was actually during a school production of "The Wizard of Oz". To the nuns displeasure, he had missed several rehearsals so he was supposed to remain static, but the young Peter Kay couldn't resist the temptation to run down from the stage entertaining the audience with his comic acting. Peter Kay recalls the experience
"With the laughter ringing in my ears. I jumped off the stage and danced out into the audience. I had no idea why, or where I was going, I just knew that I was on to something good. I headed towards my family. "hello mum." I shouted and gave her a wave. By this time the place was rocking and the audience were in hysterics. They knew this wasn't in the script." (p46 "Sound of Laughter)
Yet despite Peter Kay's natural comic talent, for several years after leaving school, he worked his way through several part-time jobs. These included working in a factory, warehouse, a petrol station and a Bingo hall. All these early experiences gave him material for later tv performances. One of his early DVD's called the "Peter Kay Thing" featured several characters such as "The Oldest Newspaper" boy in Britain. This was based on a real-life character called Leonard. Leonard was an eternally cheerful, evangelical Christian who enjoyed buying stuff from charity shops. Peter Kay befriended this unusual and slightly weird character and one was one of four people who attended his funeral.
The big break for Peter Kay came when he auditioned for the North West Comedian of the Year competition in 1996. Peter was relatively new to stand up comedy, but against tough competition was voted the best act. Before the show, Peter admitted he was very nervous and just before he was due to go on, he changed his pre-rehearsed material and decided to talk about things spontaneously. He said in his autobiography about his performance.
"Other comedians talked about sex, drugs and drink, but I didn't drink. I'd never done drugs and if I talked about sex my Mum would have battered me senseless out of embarrassment. So I talked about what I knew best, myself, and it proved to be a breath of fresh air." (P. 267 autobiography – Peter Kay)
This easy going, honest style explains much of Peter Kay's enduring popularity as a comedian. He rarely swears on stage and most of his material could be classed as "family material". Often when performing his mother and aunts are in the audience, so if he is tempted to swear he makes a joke about his mother being in the audience so he has to be careful. Another appealing feature is that his performances are full of energy and enthusiasm; he seems to really enjoy what he is doing.
After winning the North West Comedian of the year award in 1997 Peter Kay's rise to the top of British comedy was meteoric. He soon branched into tv comedy with "the Peter Kay thing." This led to his first comedy series "Phoenix Nights". Peter Kay showed his comic versatility by playing both the disable nightclub owner Mr Potter and the doorman. These two series were awarded a BAFTA for best comedy. Other awards include the prestigious Rose d`Or award at the Montreux Television Festival and three awards from the Royal Television Society.
He has also featured in programmes as diverse as Doctor Who (playing out of character an evil scientist), Coronation Street, Wallace and Gromit: The Curse of the Were-Rabbit. He also featured in the hugely successful John Smiths' bitter campaign.
Despite his popularity, Peter has attracted criticism. This has included allegations that he uses other people's jokes. I think this rather misses the point. After all which comedian has never used jokes made up by other people? The nature of jokes is that it is hard if not impossible to ascertain the original source. To me, comedy is about the way jokes are told. In some respects, Peter Kay reminds me of Tommy Cooper. Tommy Cooper's material was pretty ordinary when you read it on a piece of paper. However, Tommy Coopers' comic persona meant he could crack up an audience just by him walking on to stage. In some respects Peter Kay is like that, as the old saying goes.
"Its the way you tell them."
Despite being one of the most popular comedians in the UK, Peter stills enjoys good music, hot baths and spending time with his family. He remains fond of his home town, Bolton. As Peter Kay once said:
"I might be collecting wheely bins in 12 months time but at least they'll be wheely bins outside back gates that I know, in a part of the country that I love. There's no place like home!" – Peter Kay
Sound of Laughter
Peter Kay published his autobiography in October 2006, it has become one of the best selling UK autobiographies of all time – The Sound of Laughter.
Comedy Tours
In 2009, after a long break from major entertainment events, Peter Kay began a one man stand up show entitled –  "The Tour that Doesn't Tour Tour" – It was based around the Manchester Arena so he could stay with his family. The tour was so successful that over the next few years, Kay began taking the one man show around the British Isles – playing to packed out audiences across the British Isles.
In Feb 2012, he received from Guinness an official world record stating he was most successful one man comedian, with 1.2 million people coming to see his 140 shows.
Throughout his comic career, Kay has been notable for coming up with new material. He says one reason he takes lengthy breaks between projects is that he needs time to find new material, which comes from daily real life experiences. Despite the new material, he is also noted for a few repeated catchphrases, which become part of his routine, such as.
Cheesecake?
Garlic bread?
'Ave it!
I'm not homophobic. I'm not scared of my house.
Put big light on.
You wanna gerron t'internet
Where you going on your holdays? T'Egypt.
Comic relief
Peter Kay has been a supporter of Comic Relief and Children in need since 1997. He has donated proceeds of his comic video movies, such as "Is this the way to Amarillo"
Peter Kay co-wrote and starred with Sian Gibson (playing character Kayleigh Kitson),  in Peter Kay's Car Share, a sitcom screened by the BBC for two series between 2015 and 2017.
In 2017, he announced dates for a new comedy tour, starting in 2018. However, in 2017, Peter Kay had to cancel for family reasons.  He also admitted to the fact he finds going on tour quite stressful due to the pressure of trying to make 14,000 laugh.
Citation: Pettinger, Tejvan. "Biography of Peter Kay", Oxford, www.biographyonline.net, 25/4/2006. Updated 24 Feb 2018.
Peter Kay Jokes
"I'm in Bolton, so I won't have to give me mum three rings to let her know I'm home safe. Do you do that? Give her three rings and after the second ring she picks it up. What's the point of that?"
From: Mum Wants A Bungalow Tour [2003]
"There used to be an old woman who lived next door to us. There was a power cut one night, so my mum went round to see if she was all right. She said, 'I thought there'd been a power cut – then a bus went past with its lights on . . .'"
I saw a woman wearing a sweatshirt with 'Guess' on it. I said, Thyroid problem?
"How does Bob Marley like his doughnuts? Wi' jam in!"
"Knock Knock. Who's there? Biggish. Biggish who? No, not today thanks."
I went to a restaurant that serves 'breakfast at any time'. So I ordered French Toast during the Renaissance.
Scene from Max and Paddy
Max and Paddy have been hired as hitmen to shoot a woman's husband. Sitting in a car, Max (Kay) pulls out the gun to show Paddy:
Paddy: Have you done us a packed lunch?
Max: Have I.
[Opens package to reveal a gun]
Paddy: What on earth is that?
Max: That my friend, is a German Broomhandle Mauser.
Paddy: I'm not using that…
Max: Why, what's wrong with it?
Paddy: It's an antique that's what it is.
Max: Hey. It's not an antique. There's nothing wrong with that. It was my granddad's. He shot a German with this.
Paddy: What? In the Second World War?
Max: No, it were in Benidorme. He had a row over a sun lounger.