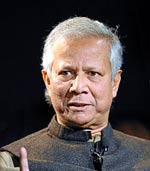 Muhammad Yunus is a Bangladeshi banker and recipient of the Nobel Peace Prize (2006). Yunus is credited with developing the concepts of microfinance and microcredit. These are schemes which offer small loans to the rural poor – to enable them to invest and lift themselves out of poverty.
"When we want to help the poor, we usually offer them charity. Most often we use charity to avoid recognizing the problem and finding the solution for it. Charity becomes a way to shrug off our responsibility. But charity is no solution to poverty.
— Muhammad Yunus, Banker to the Poor: Micro-Lending and the Battle Against World Poverty
Yunus worked for the Bangladesh Grameen Bank until March 2011 when he was removed by the government. He travels frequently around the world and serves on the United Nations Foundation, and the Yunus Social Business – Global Initiatives (YSB)
Early life Muhammad Yunus
Yunus was born on 28 June 1940 to a Muslim family in Hathazarai, Chittagong. In 1940, that was part of British-controlled India. But, after independence in 1947, became East Pakistan. (and later Bangladesh)
Yunus was an excellent student, becoming one of the best students in the year at Chittagong Collegiate School, and later Chittagong College. He completed a BA degree in economics at Dhaka University in 1960, and his MA in 1961.
After graduation, he taught economics at Chittagong College, and served as a research assistant under Nurul Islam. In 1965 he gained a Fulbright scholarship to study in the UN. Later in 1971, he gained a PhD in economics from the Vanderbilt University Graduate program in Economic development. He also worked as an assistant professor of economics at Middle Tennessee State University.
In 1970, he met Vera Forostenko a Russian immigrant to the US. They had one child, Monica Yunus, but Vera did not want to live in Bangladesh and the couple split. Yunus later married Afrozi Yunus, and they had one daughter Deena Afroz Yunus.
Policies to reduce poverty
In 1971, Bangladesh (East Pakistan) sought to gain independence from Pakistan. Yunus was an enthusiastic supporter of the independence movement and helped to run the Bangladesh Information Center in the US, which advocated Bangladesh independence. After the war, Yunus returned to Bangladesh where he became involved in researching policies to help in poverty reduction. He was appointed the head of the Economics department at Chittagong University. After the devastating famine of 1974, Yunus became more involved in developing programs to help poverty relief. He remembers how his knowledge of economic theory seemed inconsequential when faced with the reality of starving people in the capital.
"Nothing in the economic theories I taught reflected the life around me. How could I go on telling my students make believe stories in the name of economics? I needed to run away from these theories and from my textbooks and discover the real-life economics of a poor person's existence."
Muhammad Yunus at PBS
Yunus advocated a form of local village government (Gram Sarkar) to help poor agricultural areas. This policy was implemented by the Bangladesh government in the late 1970s; though, in 2005, these forms of government were declared unconstitutional.
During Yunus' research into rural poverty, he found that many poor labourers, especially women had no access to bank loans. Therefore they resorted to unofficial loan sharks, who charged excessive rates of interest. This meant poor entrepreneurs were either unable to get a loan or were stuck in paying off very high-interest charges. Yunus felt there was a gap in the market, and if poor entrepreneurs had access to finance at low-interest rates, it would help investment and wealth creation. Yunus believed that if loans were affordable, people would be able to pay back the loans and it would be self-financing.
"Poor people are bonsai people. There is nothing wrong in their seeds. Simply, society never gave them the base to grow on. All it needs to get the poor people out of poverty for us to create an enabling environment for them. Once the poor can unleash their energy and creativity, poverty will disappear very quickly."
M.Yunus – Creating a World without Poverty: Social Business and the Future of Capitalism (2007)
Microcredit and Microfinance
Yunus decided to lend some of his own money to 42 women in the village of Jobra, near Chittagong. It was only a total of US$27, and he was repaid with a profit of $0.02 on each loan. This convinced him microloans were a viable business model.
"People.. were poor not because they were stupid or lazy. They worked all day long, doing complex physical tasks. They were poor because the financial institution in the country did not help them widen their economic base."
– Muhammad Yunus, Banker to the Poor: Micro-Lending and the Battle Against World Poverty
In 1976, the Bangladeshi government agreed to support an expansion of this scheme, giving a loan to create the Janata Bank. The scheme grew and proved successful. In 1983, the bank was renamed the Grameen Bank ('Village Bank'). Its business model was quite simple, local people would group together and apply for a loan. The group of people would act as co-guarantors and help to support each other. Grameen state that 97% of loans are repaid. (Grameen Bank) Muhammad Yunus is credited with the creation of microfinance and microcredit along with Dr Akhtar Hameed Khan (founder of the Pakistan Academy for Rural Development)
A feature of the scheme is that it placed great emphasis on lending to women, who were more likely to be excluded from traditional financial systems. Yunus also states that women are used to making the most of their meagre resources and so make good clients. The Bank also requires people to prove that they own less than half an acre. The microlending became part of the Grameen Social Business Model, which offers various strategies to overcome rural poverty and empower previously economically disenfranchised people, especially women.
"So you see, you give people a chance, they bring out their own ability. So that's the message here,"
– Muhammad Yunus (at Forbes)
Microfinance did meet considerable local opposition. Muslim leaders argued the rate of interest contradicted Sharia law on lending with interest. Conservatives were critical of lending to women. There was also opposition from Communists, who saw it as a means of controlling people.
However, the concept of microcredit was deemed to be a success. It spawned related concepts such as Grameen Telecom, and Grameenphone Village phone – which offers mobile phone ownership to the rural poor.
Microcredit and microfinance also spread to over 100 countries, mainly in the developing world. President Obama stated:
"Professor Yunus was just trying to help a village, but he somehow managed to change the whole world." (Times of India)
Nobel Peae Prize
In 2006, Muhammad Yunus was awarded the Nobel Peace Prize. He was strongly recommended for the award by Bill Clinton. He has received numerous other awards, such as The Congressional Gold Medal and the Prince of Asturias Award; he has over 50 honorary doctorate awards.
In 2006, Yunus considered a move into politics. He formed an informal group of other non-politicians to campaign for more honesty and transparency in politics. Yunus toyed with creating a new political party (Citizen's Power) however, he eventually decided against a move into politics.
Since his abortive move into politics, Yunus has faced increased criticism from politicians in Bangladesh. In 2011, the Bangladeshi government announced an investigation into the Grameen Bank and warned Yunus to stay away. He was also criticised for staying as Chairman beyond the legal retirement age.
He has also been criticised by conservative Muslim groups who disagree with his public statements on homosexuality.
"Yunus has become an apostate for supporting homosexuality. He must publicly apologise, or we'll force him to leave the country like Taslima Nasreen,"
– Maolana Moniruzzaman Rabbani, an organiser of the anti-Yunus campaign. (Huffington Post)
In recent years, there has been increased scrutiny of microcredit schemes around the world. In countries, such as Mexico, there have been criticisms that microcredit is becoming more akin to loan sharking with firms using the term microcredit to make profit from poor people. Yunus has responded by saying he never intended microcredit to be a vehicle to make monopoly profits from poor people, and it seems unscrupulous businesses are using the good name of microcredit to hide their profit motives.
Prime Minister Sheikh Hasina of Bangladesh has launched a furious attack on Yunus claiming that Yunus is a "bloodsucker of poor people," The Friends of Grameen group, including the Clintons, and Mary Robinson allege that Prof Yunus had been subjected to "politically orchestrated" and "increasingly aggressive" attacks.
However, despite the criticism, Muhammad Yunus is confident that his work on microcredit and microfinance will stand the test of time and continue to help provide the framework for people to work their way out of poverty.
Citation: Pettinger, Tejvan. "Muhammad Yunus Biography", Oxford, UK. www.biographyonline.net Published 18/11/2013. Last updated 26 Dec. 2019.
Muhammad Yunus: Building Social Business
Muhammad Yunus: Building Social Business at Amazon
 Related pages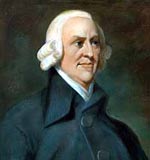 Economists – Famous economists from Adam Smith to Milton Friedman and Paul Krugman.

Great Thinkers – Influential and insightful thinkers, who have made significant contributions in fields of science, philosophy, literature and the humanities.

Entrepreneurs – Famous entrepreneurs who have set up and created successful businesses, including Henry Ford, Anita Roddick, Steve Jobs and Bill Gates.
External links