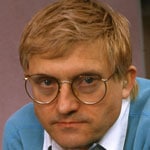 Born in Yorkshire, David Hockney became one of Britain's most celebrated artists. He became seen as a leading figure of the 'pop art' movement – though it was a title he was not keen on. Hockney's art has always stemmed from his own personal life, loves and attempt to communicate to those around him.
From an early age, he had a desire to be an artist. At the age of 11, he won a scholarship to Bradford Grammar School. In the first year, he purposefully came last in the form so that he would be able to study art – (reserved for non-academic boys)
At the age of 16, he was able to leave and devote himself to art. He studied at the Bradford School of Art for three years. Within a short space of time, he gained a reputation as an innovative and talented artist. For two years he had to serve in two hospitals for his national service. He chose to be a conscientious objector and not serve in the army.
After serving his time he spent three years at the Royal College of Art where he became involved in the modernist movement of artistic expression. In 1961 he moved to New York and travelled to many of the artistic centres around the world; he settled down in Los Angeles in 1978. His artistic reputation and talent enabled him to make a good living from selling his works.
"What an artist is trying to do for people is bring them closer to something, because of course art is about sharing: you wouldn't be an artist if you didn't want to share an experience, a thought."
– David Hockney
Art of David Hockney
Many of his works are autobiographical in nature. They are reflective and often abstract, quite different in style to the realist painters of the Old Masters.
He retained a close connection to his native in Yorkshire. In 1989, he painted a large scale piece 48″ * 120″ on Salts Mill, Saltaire, Yorkshire.
Religion
David Hockney was brought up a Methodist but says he himself is not particularly religious but is still interested in the subject. As a child, he spent his time in Sunday School drawing cartoons of Jesus, which was an example of his independent spirit.
Quotes of David Hockney
"If we are to change our world view, images have to change. The artist now has a very important job to do. He's not a little peripheral figure entertaining rich people, he's really needed." The Telegraph (22 September 2001)

"In the end nobody knows how it's done — how art is made. It can't be explained. Optical devices are just tools. Understanding a tool doesn't explain the magic of creation. Nothing can."

"I can get excitement watching rain on a puddle. And then I paint it. Now, I admit, there are not too many people who would find that exciting. But I would. And I want life thrilling and rich. And it is. I make sure it is." (28 July 2004)

"Any artist will tell you he's really only interested in the stuff he's doing now. He will, always. It's true, and it should be like that." (26 February 2006)

"All art is contemporary, if it's alive. And if it's not alive, what's the point of it?" (26 February 2006)

Related pages

Artists – A list of the great artists, including Leonardo da Vinci, Claude Monet, Vincent Van Gogh, Pablo Picasso, Michelangelo and Rembrandt.

Great Briton list – Top 100 famous Britons as voted by a BBC poll. Including Winston Churchill, William Shakespeare, Thomas Cromwell and Queen Elizabeth I.
Books on Hockney