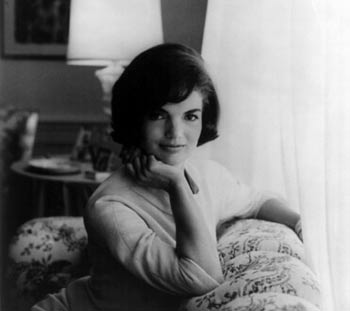 Jacqueline Lee Bouvier Kennedy (July 28, 1929 – May 19, 1994) was the wife of the 35th president of the United States, John F. Kennedy; she served as First Lady during his presidency from 1961 until his assassination in 1963.
She is remembered for her contributions to the art and refurbishment of the White House. During her husband's short-lived presidency, she was a great asset helping to gain the admiration of the press and public opinion.
Short Bio Jacqueline Kennedy Onassis
"We should all do something to right the wrongs that we see and not just complain about them."
– Jacqueline Kennedy
Jacqueline was born in New York to a wealth stockbroking family. Her family were wealthy, Catholic and Republican. Though, when she met her future husband John, she was willing to switch political allegiances, taking little interest in actual political ideologies.
She gained a degree in French Literature from the George Washington University, in Washington D.C. During her degree, she spent a year in France. After graduating, she was hired as a photojournalist for the Washington Times-Herald. She was also a leading light of the local social circles – attending many high profile social engagements. It was at such dinner parties that she met then Senator John F Kennedy. They shortly became engaged and married in 1953 in Newport, Rhode Island. Speaking about her husband, she said:
"He was, she says, kind, conciliatory, forgiving, a gentleman, a man of taste in people, furniture, books." (NY Times, 1964)
Shortly after her marriage, Jacqueline suffered a miscarriage and then her first daughter was born stillborn. She had another three children, the last of whom died aged just two years old. Her two children who survived childhood were Caroline Bouvier Kennedy and John Fitzgerald Kennedy.
In 1960, John F. Kennedy ran for the presidency with Lyndon Johnson as VP. Jacqueline did not play an active role in his campaign because she was pregnant during the election. But, she did support her husband from her home by answering letters and giving interviews for TV and newspapers.
After a hard-fought campaign, John F Kennedy won a small majority – narrowly defeating Richard Nixon, and becoming the youngest President of the modern era. Jacqueline was also the youngest first lady, and she helped bring a refreshing glamour to the White House. She became responsible for organising social events, and she took great interest in refurbishing the White House, trying to give a greater sense of history to the famous building.
In a highly popular TV programme, Jacqueline invited TV cameras for a guided tour of the White House. This proved a great public relations exercise and the video was sent to over one hundred countries boosting support for America in the cold war. Speaking about the positive reaction to the White House tour, she said:
"Suddenly, everything that'd been a liability before–your hair, that you spoke French, that you didn't just adore to campaign, and you didn't bake bread with flour up to your arms–you know, everybody thought I was a snob and hated politics. … I was so happy for Jack, especially now that it was only three years together that he could be proud of me then. Because it made him so happy–it made me so happy. So those were our happiest years." (NY Times interview, 1964)
Her social charm and grace endeared herself to the public and also visiting leaders. For example, when the Russian Premier, Khrushchev visited, he made a point of wanting to shake the hand of Jacqueline before her husband.
In 1961, the Kennedy's made a very popular visit to France. Jacqueline was in her element as she could speak French and her sense of fashion and charm (especially her pillbox hats) endeared her to the French public and the French leader Charles de Gaulle. At the end of his visit, John F. Kennedy wryly remarked:
"I do not think it altogether inappropriate to introduce myself to this audience. I am the man who accompanied Jacqueline Kennedy to Paris, and I have enjoyed it."
Jacqueline had stolen the show, but the visit was helpful for the overall image of the Kennedy presidency.
In the summer of 1963, the couple suffered the loss of another child – Patrick. He was born prematurely and died two days after birth. This was a devastating event which brought the couple closer together.
However, it was on November 22nd that Jacqueline's life was forever changed by the assassination of her husband, John F Kennedy during an open car tour of Dallas, Texas. Her stoicism and dignity in the light of the shocking tragedy was a defining image of this traumatic event in American history. She later said:
"He didn't even have the satisfaction of being killed for civil rights… it had to be some silly little Communist. "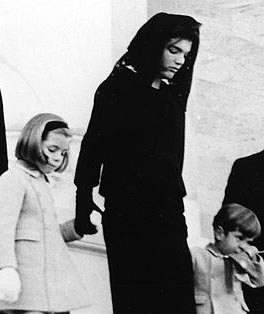 Following the assassination, she retreated from public view and tried to maintain a private life with her children. In 1968, John's brother Robert was assassinated. This was another traumatic event because she had been close to Robert helping his campaign. She also feared for the safety of her children in America. With this in mind, she decided to marry the wealthy Greek shipping magnate, Aristotle Onassis – despite Onassis being 20 years her senior.
The marriage was not greeted with much enthusiasm by the American press, who felt they were losing their Jacqueline to a foreign billionaire; Jacqueline endured a rare bout of public criticism. After the marriage, she was also hounded by paparazzi photographers which caused her much distress.
In 1975, Aristotle Onassis died, leaving Jacqueline, a widow for the second time. She spent some time working for a publisher. She also campaigned for the arts and preservation of American heritage. In the 1970s, she played a leading role in saving the Grand Central Terminal in New York from demolition.
In 1991, she met the Clintons and helped the campaign of Bill Clinton for the White House; she also advised Hilary Clinton on how to raise a child in the White House.
Jacqueline died in May 1994 from a form of cancer. She left an estate valued at $200, to her two children Caroline and John. She remains one of the most popular first ladies, a
Citation: Pettinger, Tejvan.  "Jacqueline Kennedy Onassis Biography", Oxford, UK. www.biographyonline.net. 11th Feb 2013. Updated 10th February 2017.
The Life of Jacqueline Kennedy Onassis
The Life of Jacqueline Kennedy Onassis at Amazon
Mrs. Kennedy and Me
Mrs. Kennedy and Me at Amazon
Related pages


Famous Americans – Great Americans from the Founding Fathers to modern civil rights activists. Including presidents, authors, musicians, entrepreneurs and businessmen. Featuring Thomas Jefferson, Abraham Lincoln, Madonna, Oprah Winfrey.

John F. Kennedy (1917 – 1963) US President. Elected in 1960, Kennedy was seen as a young, dynamic President who offered a new hope to the US and the world. He played a role in diffusing the Cuban missile crisis and the threat of nuclear war.

Women who changed the world – Famous women who changed the world. Features female Prime Ministers, scientists, cultural figures, authors and royalty. Includes; Princess Diana, Marie Curie, Queen Victoria, and Catherine the Great.