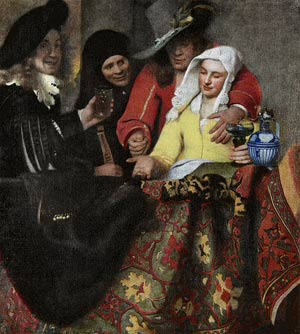 Jan or Johan Vermeer (1632-1675) was a Dutch Baroque painter from the 'Golden Age of Dutch Painting'. He was obscure during his lifetime; but in the Nineteenth Century, his work was brought to light, and he is now regarded as one of the greatest proponents of Baroque painting – with his focus on simple portraits and household scenes. He is admired for the capacity to illumine everyday objects with great dignity and light.
Early life Jan Vermeer
Vermeer was baptized on 31 October 1632, but apart from that, there is not much information about Jan Vermeer's early life. He didn't travel much outside Holland, and most of his paintings were bought by a local man.
His father was a merchant of paintings and also a local inn owner. When his father died in 1652, Jan took over the business of selling pictures and ownership of the inn. When his mother died in 1670, he also inherited her local tavern, and he often worked there at night selling alcohol to customers.
In 1653, Jan married a young Catholic girl, Catherina Bolnes. A condition of the marriage was that Jan had to convert to Catholicism from his Dutch Reformed upbringing. Together they had fourteen children, though four died before baptism. Jan did a significant portion of his painting within his large house. He liked to paint in his own studio, even though household life may have been noisy with 14 children and his mother-in-law, whom he often argued with.
Vermeer's paintings
Jan was a slow worker, producing only three paintings a year. This was partly due to his technique of granular painting. He built up layers of colour – a technique known as pointille. This enabled a depth of colour to shine through. He was meticulous in capturing the light and colour of his various subjects. Unusually for the time, Jan often focused on simple household scenes such as 'The Milkmaid' or the 'Music Lesson.' Many of his paintings were based on his own household items, such as wine pitchers, chairs, and his mother-in-law's big oak table.
One of the most striking features of Jan Vermeer's paintings is the radiance of light that illumines his pictures. Some art critics, such as David Hockney, have speculated that this was due to his use of a very primitive form of camera (Camera-obscura) which enabled a capture of light and exact placings. Whatever the technique, Vermeer's innovative use of light and shadows, give an ethereal touch to everyday objects.
Another important aspect of Vermeer's paintings were his portraits – often of women. The portraits capture a genre of reassuring calm, poise, dignity and contentment with everyday life. To Vermeer, they may have represented an idealised view of life and women, which did not always match reality.
Jan Vermeer suffered from the economic downturn which hit Holland around 1653, and in 1654, his city Delft suffered a bad explosion. Though one of his most famous paintings is of Delft – choosing the half of the city not damaged.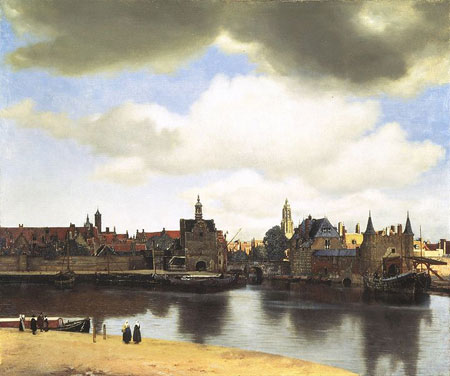 The City of Delft, 1660-61
In 1662 The Delft painters' guild made him their head, indicating he was increasingly appreciated within his home town, he was re-elected in 1670. In 1672, more difficulties arose for the city – after a severe economic depression hit – harming Jan's art business. Holland was also invaded by French and English forces leading to panic throughout the country. Jan's business was badly affected and he was forced to apply for a loan on behalf of his extended family. Perhaps as a result of the financial stress, he died in 1675, aged only 43.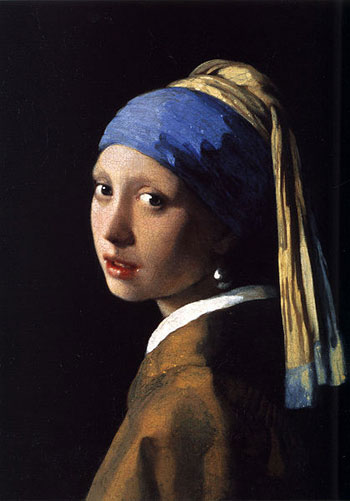 The Girl With A Pearl Earring
The Girl with a Pearl Earring circa 1665.
This is widely considered a Vermeer Masterpiece – after the most recent restoration work in 1994; the subtle colours of the portrait have been brought to light. It is also regarded as one of the greatest portrait pictures ever painted and is sometimes referred to as the "Mona Lisa" of the North.
Vermeer was a contemporary of fellow Delft resident the pioneer of microbiology – Antony Van Leeuwenhoek. They were born within four days of each other
Citation: Pettinger, Tejvan. "Biography of Jan Vermeer", Oxford, www.biographyonline.net, 20/12/2009. Last updated 5 February 2020.
Jan Vermeer complete works
Jan Vermeer complete works at Amazon
 Related Pages


Famous Artists – A list of the great artists, including Leonardo da Vinci, Claude Monet, Vincent Van Gogh, Pablo Picasso, Michelangelo and Rembrandt.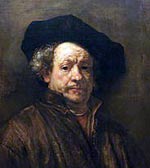 Famous Dutch People – A list of famous people from the Netherlands. Includes; great Dutch painters, such as Rembrandt and Vincent Van Gogh; philosophers Spinoza and Erasmus. Also Dutch sports stars, such as Johan Cruyff.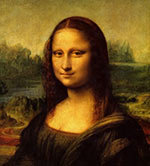 Greatest paintings of all time. Including the Mona Lisa by Leonardo da Vinci; Creation of Adam – Sistine Chapel by Michelangelo; and Poppies in a Field – Claude Monet
Related