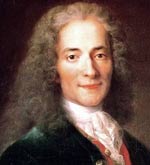 Voltaire (21 November 1694 – 30 May 1778) was a French writer, essayist, and philosopher – he was known for his wit, satire, and defence of civil liberties. He sought to defend freedom of religious and political thought and played a major role in the Enlightenment period of the eighteenth century.
"Love truth, but pardon error."
– Voltaire
Voltaire was a prolific writer, producing more than 20,000 letters and over 2,000 books and pamphlets. Despite strict censorship laws, he frequently risked large penalties by breaking them and questioning the establishment.
Short Biography of Voltaire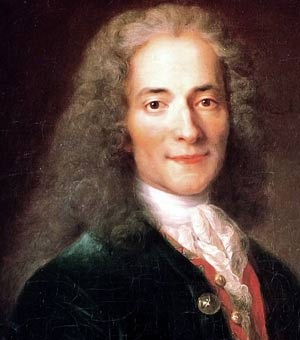 Voltaire was born François-Marie Arouet, in Paris. He was educated by Jesuits at the Collège Louis-le-Grand (1704–1711), becoming fluent in Greek, Latin and the major European languages.
His father tried to encourage Voltaire to become a lawyer, but Voltaire was more interested in becoming a writer. Instead of studying to be a lawyer, he began writing poetry and mild criticisms of the church and state. His humorous, satirical writing made him popular with sections of Paris society, though they also started attracting the attention of the censors.
In 1726, he was exiled to England after being involved in a scuffle with a French nobleman. The nobleman used his wealth to have him arrested, and this would cause Voltaire to try and reform the French judicial system. After this first imprisonment in the Bastilles, he changed his name to Voltaire – signifying his departure from his past. He also used numerous other pen names throughout the course of his life, in a bid to escape censorship.
Voltaire spent three years in England, where he was influenced by British writers, such as William Shakespeare and also the different political system, which saw a constitutional monarchy rather than an absolute monarchy as in France. He also learnt from great scientists, such as Sir Isaac Newton. Voltaire was particularly impressed by the Scottish Enlightenment thinkers, such as Adam Smith and David Hume, saying once:
"We look to Scotland for all our ideas of civilisation"
Although he had much in common with fellow French Enlightenment philosopher Jean Jacques Rousseau, the pair often disagreed and had a prickly relationship. However, after Rousseau wrote Emile / Vicaire Savoyard, Voltaire offered Rousseau a safe haven because he appreciated Rousseau's attack on religious hypocrisy. Rousseau regretted not replying to Voltaire's offer.
On returning to France, he wrote letters praising the British system of government and their greater respect for freedom of speech. This enraged the French establishment, and again he was forced to flee Paris.
Seeking a safe place, Voltaire began a collaboration with Marquise du Chatelet. During this time, Voltaire wrote on Newton's scientific theories and helped to make Newton's ideas accessible to a much wider section of European society. He also began attacking the church's relationship with the state. Voltaire argued for the separation of religion and state and also allowing freedom of belief and religious tolerance. Voltaire had a mixed opinion of the Bible and was willing to criticise it. Though not professing a religion, he believed in God, as a matter of reason.
"What is faith? Is it to believe that which is evident? No. It is perfectly evident to my mind that there exists a necessary, eternal, supreme, and intelligent being. This is no matter of faith, but of reason." On Catholicism
In a letter to Frederick II, King of Prussia, (5 January 1767) he once wrote:
"Ours [religion] is without a doubt the most ridiculous, the most absurd, and the most blood-thirsty ever to infect the world."
In 1744, Voltaire returned to Paris, where he began a relationship with his niece, Marie Louise Mignot. They remained together until his death.
For a brief time, he was invited by Frederick the Great, to Potsdam. Here, Voltaire wrote more articles of a scientific nature, but later incurred the displeasure of the king as he started satirising the abuses of power within the state.
In 1759, he wrote his best-known work – Candide, ou l'Optimisme (Candide, or Optimism) This was a satire on the philosophy of Leibniz. After a brief stay in Geneva, he settled for 20 years in Ferny on the French border.
In his later life, Voltaire continued to write and also to support persecuted religious minorities. He was visited by some of the leading European intellectuals of the day – such as James Boswell and Adam Smith.
In 1778, he died after shortly returning to Paris. Some of his enemies claimed he made a deathbed conversion to Catholicism, but this is disputed.
In February of that year, fearing he would die, he wrote:
"I die adoring God, loving my friends, not hating my enemies, and detesting superstition."
Voltaire was secretly buried before a pronouncement could be made public.
Three years after his death, on 11 July 1791, he was brought back to Paris to be enshrined in the Pantheon. It is said up to a million people came to see Voltaire – now considered a French hero and fore-runner of the French revolution.
Influence of Voltaire
Voltaire revolutionised the art of history. He sought to avoid bias and included discussion of social and economic issues, moving away from dry military accounts.
Voltaire argued for an extension of education, hoping greater literacy would free society from ignorance.
Voltaire wrote poems and plays, including two epics. Voltaire politicised writing by showing that even poetry and romance could be laced with satire and political polemic. Often it was indirect criticism that was most effective.
Voltaire was a passionate and persistent critic of those in power who misused their position. By attacking the abuses of the absolute monarchy and church, he paved the way for a less deferential attitude which was a significant underlying cause of the French revolution.
At a time of religious persecution, Voltaire illustrated how religious dogmas were created by human ignorance and led to needless bloodshed and suffering.
Voltaire was a key figure of the enlightenment which sought to use a range of scientific and literary books to explain the underlying nature of life. Voltaire believed no one book or dogma could explain everything. But, true understanding required the use of reason and an open mind.
Citation: Pettinger, Tejvan. "Biography of Voltaire", Oxford, www.biographyonline.net – 3 February 2013. Last updated 7 February 2018.
Voltaire Quotes
"It does not require great art, or magnificently trained eloquence, to prove that Christians should tolerate each other. I, however, am going further: I say that we should regard all men as our brothers. What? The Turk my brother? The Chinaman my brother? The Jew? The Siam? Yes, without doubt; are we not all children of the same father and creatures of the same God?"
– Voltaire A Treatise on Toleration (1763)
Candide – Voltaire
Candide – Voltaire at Amazon
The Portable Voltaire
The Portable Voltaire at Amazon
Related

People who changed the world – Famous people who changed the course of history including Socrates, Newton, Jesus Christ, Muhammad, Queen Victoria, Catherine the Great, Einstein and Gandhi.
Writers and authors

 – Famous authors such as J.R.R. Tolkien, William Shakespeare, J.K. Rowling, Jane Austen, Leo Tolstoy, John Steinbeck and Ernest Hemingway.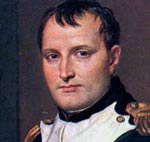 Famous French – A list of famous French men and women. Includes politicians, generals, artists, sportsmen and cultural figures, such as Napoleon, Marie Antionette, De Gaulle, Claude Monet, and Coco Chanel.