Olaudah Equiano (1745 – 1797) was an 18th-century African writer and anti-slavery campaigner. From an early age, Olaudah Equiano experienced the horrors of slavery first hand. But, eventually one of his Master gave him his freedom. This enabled him to become a British citizen and he began writing about his experiences. His autobiography 'The Interesting Narrative of the Life of Olaudah Equiano' played a pivotal role in turning public opinion in Britain against slavery. His accounts of slavery and its human suffering were a factor in the enactment of the Slave Trade Act of 1807.
Early life and experience as a slave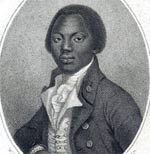 Olaudah Equiano writes that he was born in Nigeria in the year 1745 – a member of the Igbo tribe. Aged 11, he was kidnapped, along with sisters, by native slave-holders; after being sold to European slave traders, he was then packed into a slave ship and transferred across the Atlantic to Barbados. Equiano eventually ended up the British colony of Virginia. As a slave, he was given different names, including Gustavus Vassa.
Equiano later wrote about the mistreatment of slaves on the Virginia plantations. His vivid descriptions of the various punishments and humiliations that slaves had to endure were the first published account of an autobiography of a slave. Speaking of the Virginia overseers.
"These overseers are indeed for the most part persons of the worst character of any denomination of men in the West Indies. Unfortunately, many humane gentlemen, by not residing on their estates, are obliged to leave the management of them in the hands of these human butchers, who cut and mangle the slaves in a shocking manner on the most trifling occasions, and altogether treat them in every respect like brutes." – p.105 'The Interesting Narrative of the Life of Olaudah Equiano'
Equiano wrote that he was so shocked by his experience that he tried to wash the colour out of his face in an attempt to escape his position as a slave.
Equiano was bought by Michael Pascal a sailor in the Royal Navy; therefore Equiano was taught the art of seamanship and had to follow his master into battle during Britain's Seven Years War with France. Equiano served during battles bringing gunpowder into position.
Equiano gained a certain respect from his master and after travelling extensively, he was sent to England where he gained a basic education. Pascal later wrote that Equiano was 'a very deserving boy.' During this time, in 1759, he also converted to Christianity. His Christian beliefs were increasingly important in his life. He used the Christian message of the Golden Rule 'do unto others, as you would have done to you' as a way to shape attitudes on slavery. However, he was still denied the freedom that Pascal had once promised. Instead, he was sold on to Captain James Doran in the Caribbean and then onto Robert King, a Quaker merchant from Philadelphia.
A Free man
Doran furthered the education of Equiano and taught Equiano to assist him in trading. In his early 20s, Doran helped Equiano to purchase his freedom. Writing of the moment he gained his freedom, Equiano wrote:
"Accordingly he signed the manumission that day; so that, before night, I who had been a slave in the morning, trembling at the will of another, was became [sic] my own master, and completely free. I thought this was the happiest day I had ever experienced"… p.177
Initially, he stayed in America to assist Doran as a business partner. But, shortly after buying his freedom, slaveholders attempted to kidnap Equaino and return him to slavery. He only escaped by being able to prove his education. Equiano later pointed out the position of free slaves was little better than slaves because of the dreadful treatment, black men received.
"Hitherto I had thought only slavery dreadful; but the state of a free negro appeared to me now equally so at least, and in some respects even worse, for they live in constant alarm for their liberty; and even this is but nominal, for they are universally insulted and plundered without the possibility of redress; for such is the equity of the West Indian laws, that no free negro's evidence will be admitted in their courts of justice." p.122
Feeling unsafe in the Caribbean, he returned to Britain.
Anti – Slavery movement
Back in England, he was befriended by many who supported the abolition of the slave trade. Many abolitionists were Quakers, but in the late Eighteenth Century, the movement was spreading to other denominations. Equiano was able to give a first-hand testament about life as a slave. This information was useful for those who were hoping to change the law and outlaw slavery. His friends encouraged him to write down a book about his experiences. First published in 1789, the account was eagerly received by many people in Britain. It sold well and went through many editions. Many people who read about the suffering of slaves were more inclined to support the abolitionist cause. The book received good reviews, and many were surprised and moved by the quality of writing and his ability to depict life as a slave.
The book made Equiano a prominent figure in literary circles. In 1788, Equiano was able to personally petition the king for the end of slavery. The book also helped to demystify many of the current misconceptions about African people – this personal account and personality of Equiano was very influential in displaying the obvious humanity of black Africans.
The revenue from book sales enabled Equiano to live independently of philanthropic backers and he could devote more time to campaigning against slavery. He also served as a leader for the poor black community of London. These were often freed slaves and their descendants but struggled to survive economically. Equiano also campaigned for the extension of the vote to working men. He was an active member of the Corresponding Society. He also supported the London Missionary society – a Christian organisation committed to spreading education and Christianity overseas.
In 1792, Equiano married Susan Cullen, a local girl from Soham in Cambridgeshire. They had two daughters. He died in 1797 in London.
Legacy of Equiano
Although there is some controversy about the exact birthplace of Equiano – some historians believe he may have been born in North America rather than Africa, there is no doubt that Equiano played a pivotal figure in the anti-slavery movement. His writing and speeches helped show people that there was a strong sense of shared humanity. He made a passionate appeal to the higher ideals of British lawmakers – hoping this would affect change.
"I hope to have the satisfaction of seeing the renovation of liberty and justice resting on the British government, to vindicate the honour of our common nature."
After reading about the suffering of fellow humans, there was a growing support for the abolitionist cause. Equiano's biography became an important instrument of abolitionist propaganda.
Citation: Pettinger, Tejvan. "Olaudah Equiano Biography", Oxford, www.biographyonline.net, 11/08/2013. Last updated 11 March 2018.
Quotes are taken from
The Interesting Narrative of the Life of Olaudah Equiano
The Interesting Narrative of the Life of Olaudah Equiano at Amazon
Related pages
People who fought for human/civil rights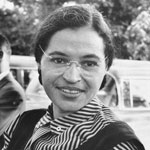 – People who campaigned for equality, civil rights and civil justice. Includes Abraham Lincoln, Harriet Tubman, Martin Luther King and Rosa Parks.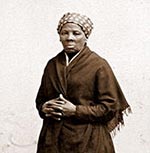 People in the anti-slavery movement – Men and women who campaigned for the end of slavery. This includes former slaves such as Harriet Tubman and Frederick Douglass, and political campaigners, such as William Wilberforce and Abraham Lincoln.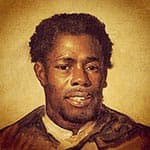 Famous slaves – People who became well-known despite being kept in slavery. Including Moses, St Patrick, Spartacus and Nat Turner.
External Links