(Barbara Cartland 9 July 1901 – 21 May 2000)
Dame Barbara Cartland was a prolific and popular writer of Romantic novels. Using a tried and tested formula, she tapped into a populist demand for romantic novels, usually with women ending up happily married to some chivalrous man. Outside of writing, she was a vivacious and outgoing personality, rarely short of an opinion on any subject. She was also noted for her dress sense, which was nothing if not colourful.
She was born in Edgbaston, Birmingham in 1901. Her father died during the First World War, leaving the family in difficult circumstances. However, with her natural charm, beauty and energy, she became a feature on the 1920s social circle. She attracted many proposals of marriage (said to be 49) before finally accepting. Ironically, her first marriage was not a success, ending in divorce 6 years later. However, her second marriage to Alexander McCorquodale was successful and she had two children through this marriage.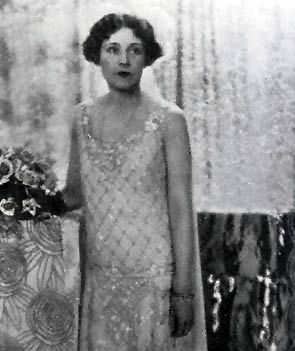 In the 1920s, Barbara Cartland became friendly with Lord Beaverbrook (though she refused to be his mistress). This led to a position at the Daily Mail where she gained a column to write on issues of the day. In 1923, she wrote her first novel Jigsaw. The success of this book led greater demand from publishers. She had found a formula for writing and could dictate a new novel in one fortnight at the peak of her writing efficiency. By the end of her life, she had written an estimated 723 books.
Apart from a few, the majority of books were based on an old-fashioned romantic vision of love. Her women were models of virtue and her men had the old-fashioned virtues of chivalry. Her writing hardly endeared herself to feminists or literary critics.
"A woman asking "Am I good? Am I satisfied?" is extremely selfish. The less women fuss about themselves, the less they talk to other women, the more they try to please their husbands, the happier the marriage is going to be."
But, the popularity of the books could not be denied.
She was a colourful personality and during the Royal Wedding of Charles and Diana in 1981, it was feared she would upstage the young couple, through her relationship with Lady Diana. However, she avoided attending the wedding to avoid taking the spotlight.
She was also a defender of old-fashioned beliefs; she believed that women should remain chaste until marriage.
"To sleep around is absolutely wrong for a woman; it's degrading and it completely ruins her personality. Sooner or later it will destroy all that is feminine and beautiful and idealistic in her."
– Barbara Cartland
Though paradoxically, she believed men should have experience (when asked how this was possible she replied men could visit brothels to get the necessary experience.)
Yet, life wasn't all idealised romantic fantasies. She suffered a great personal loss in both the First and Second World Wars. After helping her brother Ronald Cartland to become an MP, he became the first MP to die during the conflict at the battle of Dunkirk. Later her elder brother died. After this, she temporarily retired to Canada, but felt she should return to England to take part in the war effort. She joined the women's voluntary service and worked for several years for St Johns Ambulance.
Dame Barbara Cartland became a national treasure. To some, maybe a caricature of previous times – even a figure of fun. But, in becoming one of the top 10 best selling authors of all time, she made sure she was having the last laugh.
Citation: Pettinger, Tejvan. "Biography of Barbara Cartland", Oxford, UK. www.biographyonline.net, Published 1st Feb 2009. Last updated 30th January 2018.
Related
Writers and authors

 – Famous authors such as J.R.R. Tolkien, William Shakespeare, J.K. Rowling, Jane Austen, Leo Tolstoy, John Steinbeck and Ernest Hemingway.

Great Briton list – Top 100 famous Britons as voted by a BBC poll. Including Winston Churchill, William Shakespeare, Thomas Cromwell and Queen Elizabeth I.

Female biographies – A list of 100 famous women from Sappho and Cleopatra to Marilyn Monroe and Angela Merkel.