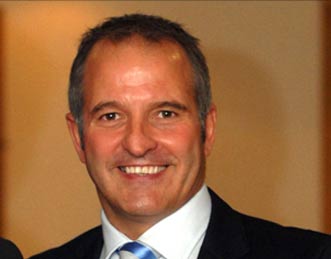 "Turner swoops for two" read the back page headline of the Black Country Express and Star on Thursday November 20, 1986. This particular headline was met with scepticism and an air of confusion from fans of Wolverhampton Wanderers; the two in question were West Bromwich Albion, full back Andy Thompson and a young striker named Steve Bull. "It's a big investment but we'll get a long term return" said Graham Turner on the day of the signing and despite local journalist' and supporters questioning the wisdom of signing two untried, untested reserve players from their bitterest rivals. Not even a confident Turner himself could have predicted the success of the Tipton born Bull.
At the time of signing, Wolves remained slumped in Division Four mediocrity and seemed to be staring innocuously at the concept of non-league football. Their loyal fans left bitter and betrayed by the clubs rapid fall from grace.
With such a prestigious history, laden with household names such as Dougan, Richards and Wright, the ancient and overused clique "sleeping giant" truly fitted in the case of the Molineux club. Wolves had fallen foul of poor investment decisions over priced signings and a mindset which has cloaked the clubs history with negativity, the mindset that Wolves are a big club and have a divine right to remain one.
As Wolves lay at an all time low they were provided with new investment in the form of Jack Harris and his consortium. This coupled with, the signing of Steve Bull amongst others, seemed to provide the catalyst for Wolves' potential rise back to there inaugural home top flight football.
Steven George Bull was born on the 28th March 1965, at Lea Brook Road, Wednesbury, into a working class family. At the age of 3 Bull and his family moved to the hardened town of Tipton, Sandwell, one of the most industrialised towns in the whole of the Black Country. Strictly a working class area, Bull was born into morals of honesty, integrity and grit, (reflected by his performances on the pitch).
Bull revealed how during his youth he had gained his footballing education on the "Traffic Island outside me house". An image, which reflects Bull's tenacity and appetite for the game, throughout each tier of football. Following a less than successful time in education Bull went on to play for local side Tipton town and after scoring regularly in local leagues he was signed by West Bromwich Albion.
Bull was a goalscorer, nothing more nothing less; his image almost perfectly fitted his footballing style. Cropped hair, strong physique and an unshakable Sandwell accent, he filled every Wolves fan with a sense of empathy, this sense of understanding portrayed through his work ethic whilst at West Bromwich Albion "he was training Thursday, Working Fridays for Vono and then playing Saturday and Sunday" revealed former Albion Coach Nobby Stiles.
A fond memory which maybe portrays Steve Bull best was a goal (undoubtedly) away at Southend on a cold Tuesday night, Bull received the ball at his feet, his first touch seemingly had let him down and was met with a sigh from travelling fans. Spinning the ball away from him at an unlikely and, it appeared unfeasible angle. Bull managed to turn away from his marker and, seconds later, through a flurry of legs and arms the ball was nestled in the corner of the net, with the scorer having already turned away, index finger in the air.
The coincidence of the celebration was not intentional on Bull's part however many drew parallels between Bull and Newcastle legend Alan Shearer. Although rather less refined and sophisticated than the former England captain, Bull did possess the same willingness to meet crosses, poach rebounds and chase every lost cause just as Shearer did throughout his career.
Sid Day the West Bromwich Albion scout who discovered Bull recalled the moment he first saw the young man "I noticed him, the smallest player on the pitch, buzzing around, he had a rocket shot and he wasn't afraid to miss". "He can't play for toffee but he scores goals" he told the Albion management staff.
Bull was allowed to leave the Hawthorns by Ron Saunders because his lack of guile and ultimately his ability to control a football. But Bull made the most of his limitations by playing as if they didn't exist. He had a lightning turn of pace, a thunderous right foot and a bravery that bordered upon being reckless.
"People Say his first touch isn't great but he usually scores with his second!" stated Graham Turner the man credited with unearthing the gem that was Steve Bull "I'm his biggest fan" he went on to say.
Bull's first Wolves goal came in the Freight Rover Trophy a trip to South Wales saw Wolves play Cardiff, There seemed nothing on as Bull challenged Cardiff skipper Terry Boyle in the air but the Welshman fell to his knees clutching his face and the ball fell invitingly for Bull who gladly accepted the chance smashing the ball past Cardiff keeper Graham Moseley.
Although a completely innocuous game in the footballing world this match may well be described as pivotal in the history Wolverhampton Wanderers. Bull scored the winner and went on to become the most prolific goalscorer in the history of the club propelling them up the divisions.
Perhaps Bull's finest hour was his performance at St James' Park on New Years day 1990 in a game which Wanderers were expected to lose. Bull inspired them to .a 4-0 victory netting all four goals. "That was down to a sole man" said Albert Bates the Chairman of the Official Supporters Club "Many of us were sceptics at first we didn't think he was as good as the old school, but you've got to bow down to the lad, he has put Wolverhampton back on the map".
Bull did effectively drag Wolves out of lower league mediocrity to the brink of top flight competition helping them win the Sherpa Van Trophy along the way.
Bull's continual knack of scoring goals earnt him a surprise place in the England squad to face Scotland in 1989. The decision was widely vilified in the press, Bull's ability to score goals at the highest level constantly in question. But he silenced the Hampden Park crowd by scoring on his debut. A typical poacher's finish, Bull pounced upon a missed header from Scotland defender Dave McPherson and drilled the ball home emphatically. Bull then scored 2 goals in a friendly against Czechoslovakia earning him a place in Bobby Robson's World Cup Squad in 1990. He made three appearances from the substitute's bench at the 1990 World Cup, where, amongst other things, he hit the post against the Netherlands in their second group match.
Following the World Cup, Bull's place in the England squad came under serious scrutiny from the press and amongst others Sir Alf Ramsey. Many pointed to Bull's lack of footballing sophistication, and the difference between the guile of players such as Robson, Waddle and Lineker and an old school Division 3 striker with a broad Black Country accent and an awful first touch.
It was a game against Poland which proved to be Bull's darkest hour; tense and uptight Bull bowed down to media criticisms and was largely disappointing throughout the game. "He looked uptight and didn't give a good account of himself" said boss Graham Turner. It was former Aston Villa manager Graham Taylor who then took over the reigns of the "Impossible Job" and Bull was eventually frozen out of the England side and soon returned to the England 'B' team, where he went on to make a total of twenty-three appearances, scoring a further nine goals.
Following his controversial England departure in 1994 Taylor was reunited with Bull as he took over the reigns as Wolves manager however following a disastrous start to the season Taylor was controversially sacked. Although Wolves' slump in form was indicated as the sole reason for his departure many believed the tension between Taylor and Wolves legend Bull was also a prominently key factor. Rumours arose that Taylor didn't rate Bull and that he had accepted a substantial offer for him from Premier League club Coventry City, Bull apparently rejected the move.
Bull's last few seasons at Wolves were constantly hampered by injury and he eventually left in 1999 after scoring an incredible 306 goals, to join former boss Turner in an unsuccessful role as player-coach as Hereford.
Following his playing career Bull gained his UEFA B Licence and took over the vacant role of manager at Conference side Stafford Rangers in February 2008. Stafford had been promoted to the Conference in 2006, and their survival the following season had been a considerable surprise. However, they were anchored in the relegation positions when he took over and was unable to keep them up. He was then forced to leave for financial reasons.
His loyalty to Wolves, goal scoring exploits and charity work contributed to Bully, being awarded the MBE in the Millennium New Year's honours list.
Bull was also honoured in 2003 through a testimonial game in which Wolves played rivals Aston Villa. Bull playing the first 5 minutes of the game.
His managerial career may not have reached the heights of his coveted playing career but Bull will be ultimately remembered for his goal scoring "Goal scorers are born" said former Wolves scout Ron Jukes " I learnt that if the ball goes I off the back of there head, shin or whatever, you must respect them for that"
Wolves' current crop of players gained promotion into the Premier League (something the legendary Bull never managed) the jewel in the current sides crown must be former Manchester United youth player Sylvan Ebanks Blake. As I drove past the local off-license at the end of last season the Express and Star boarding's read, "Blake vows to emulate Bull". Blake is full of raw footballing ability he possesses the same hunger to score goals as the celebrated Bull, "I'd like to play as many games as Bully and score as many goals for the club but who knows". Despite many drawing parallels between Blake and Bull in their muscular physiques, work ethic and goal scoring ability the main difference between the two is the fact that Sylvan Ebanks Blake: is playing in the top flight. As so many players today his aim will ultimately to remain in the Premier League, even if Wolves are relegated this year, pundits and fans alike have accepted the mindset of current players.
Bull however may have been the last of the old school, the "one club men". In an age when stars such as Cristiano Ronaldo's summer contract talks have become long winded pantomime like dramas, spun and manipulated by his agents. Bull remained loyal and held working class beliefs of credit and respect.
Former Chief Executive Jack Harris revealed the swiftness of Bull contract renewals in the mid 90's "Both meetings took 15 minutes; the boy has always said he wants to stay here". His immense loyalty and honesty to Wolverhampton Wanderers may have cost Bull becoming a household name in international football. Often linked with footballing giants such as Real Madrid, Juventus and even Manchester United, to resist the temptation of such prestigious clubs having tasted international football at the Highest stage is testament to Bull's honour and loyalty. Bull's amazing feats were partly repaid in 2003 when the John Ireland stand was renamed to honour the former striker.
Although Bull scored an amazing 306 goals for the Black Country outfit there is a different reason for why the words "Ooh Bully, Bully" still ring around Molineux a decade on from his retirement, Steve Bull portrayed an allegiance and devotion to his club that in truth, may never ever be seen again in our beautiful game.
By: Ioannis Makarounas
08002838
SJW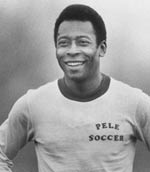 100 Famous sporting personalities – 100 Famous sporting personalities, including Muhammad Ali, Nadia Comaneci, Pele and Jesse Owens.