Lionel Messi is widely regarded as the greatest footballer of all time.
Messi has been awarded the best international footballer – Ballon d'Or award five times. (joint equal with Cristiano Ronaldo)
His goal ratio (0.92) at Barcelona is just under one per game (452 Apps, 419 Goals)
His goal ratio for Argentina is 0.51 (133 App, 68 goals). It makes him Argentina's leading goal scorer – more than double Maradona.
Weight: 10st 5lb (65.76kg)
Height: 5ft 6in (1.68m)
Messi's early life
He was born

24 June 1987

in Rosario, Argentina – the same town as Che Guevera.
Aged 10, he was diagnosed with a growth hormone deficiency, Barcelona paid for his treatment.
His father Jorge was a steelworker of Italian descent.
Messi's first football club was Newell's Old Boys, in Rosario, Argentina.
Messi is a one club footballer, having joined Barcelona as a youth in 2001, aged 13.
First team director, Charly Rexach got Messi's contract on a paper napkin, which was close to hand. Rexach was so keen to sign Messi; he didn't wait to find paper.
Initially, the Barcelona FC directors were reluctant to sign Messi because he was much younger than usual.
Two major clubs tried to sign Messi. Arsenal (Arsene Wenger) and Fabio Capello for Juventus. Capello was so impressed with Messi when he saw him play for the first time in 2005.
In 2006, when Maradona saw Messi aged 18, he declared "I have seen the player who will inherit my place in Argentinian football and his name is Messi."
When young, Messi received the nickname 'The Flea' due to his diminutive height.
Senior Career
He plays for Argentina national team and Barcelona FC.
Messi holds both an Argentinian passport and Spanish passport. But says he always feels that his true national identity is Argentinian. He once turned down an opportunity to play for the Spanish national team.
With Barcelona, he has won 34 trophies

10 La Liga  titles,
4 UEFA European Championships
6 Copas del Rey
3 UEFA Super Cups
3 FIFA World Club Championships

In 2008, he inherited the number 10 shirt from Brazilian 2008, Ronaldinho.
He won an Olympic gold medal at the 2008 Beijing games.
With Argentina, he won the under-20 World Cup.
On 27 June 2016, he retired from international football, but reversed the decision and went on to lead Argentina in the 2018 World Cup.
Messi is known for fair play, with a reputation for not diving, despite it being prevalent in the game. However, on his international debut, he received a red card within the first minute of coming on as a substitute.
Income and wealth
In 2018, Messi's combined income from all sources was €126m. This made him the highest paid sports star – according to Forbes.
From 2018, his weekly salary from Barcelona is $667,000 per week.
In 2017, he turned down an offer from the Chinese super league of a salary estimated at €100 a year. (€1.7million a week)
Football statistics
In 2012, Messi broke a 40-year-old record held by German Gerd Muller – for the most goals in a calendar year – 91.
During 2012-13 Messi scored in 21 games in a row in La Liga.
Top goalscorer in the UEFA Champions League: 108 goals
Messi is unrivalled in taking free-kicks, with an average of 15% conversion in La Liga. However, sometimes his penalty taking ratio has been less than average. In the 2015-2016, his penalty rate was 50% (Messi good at free-kicks bad at penalties)
Personal life
Since 2010, Messi has served as a Goodwill Ambassador for UNICEF.
Messi has taken part in campaigns to raise awareness of the challenges faced by disabled children.
In 2007, he founded the Lionel Messi foundation to improve access to education and health care for children.
He has over 110 million followers on Instagram.
In July 2016, he was found guilty of tax fraud and handed a 21-month suspended sentence.
Messi is a Roman Catholic. He met Pope Francis in 2013, saying  "Without a doubt, today was one of the most special days of my life. We have to excel on and off the field,"
Messi is known for his shyness. When he first arrived in Barcelona, he spoke so little; people wondered if he was mute.
Messi does not like to watch highlights of himself.
Messi hates losing and after defeat, becomes withdrawn and quiet until he gets over the disappointment. After losing to Liverpool FC in the 2019 Semi Final of the European Cup, he was particularly critical of his team for failing a second time in succession – after throwing away a 3-0 lead from the first leg.
In June 2017, Messi married Antonella Roccuzzo. An Argentinian girl he had known since the age of five. They have three children.
He is quite a good piano player.
The Amazing Story of Leo Messi
The Amazing Story of Leo Messi at Amazon
Related pages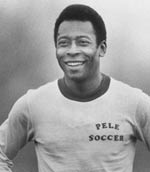 100 Famous sporting personalities – 100 Famous sporting personalities, including Muhammad Ali, Nadia Comaneci, Pele and Jesse Owens.