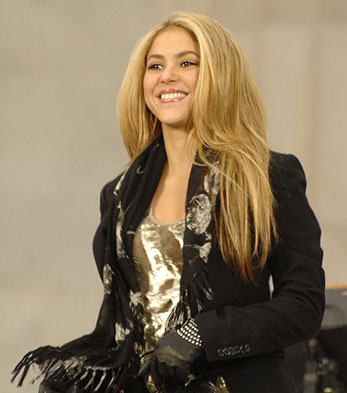 Shakira – Colombian singer, songwriter, dancer, businesswoman, and philanthropist.
Born in Colombia in 1997, Shakira Isabel Mebarak Ripoll, displayed a prodigious musical talent from an early age. Her father encouraged her to write and create song lyrics. Even by the age of seven, she showed remarkable talent in both singing and dancing. It was in her grandmother's Lebanese restaurant where she learnt and developed dancing routines. Although born in Colombia, her father was Lebanese.
As a child her voice was very powerful and some criticised it for being 'too powerful' But, Shakira caught the eye of music producers and she started recording her own albums.
In 1995, she released Pies Descalzos', which gained her much popularity in Latin America and Spain
Her 1998 album "Dónde Están Los Ladrones?" was very influential and moved her from a local star to a global fan base and international appeal. By the early 2000s, she had broken into the market for English speaking music. She learnt English and wrote and recorded her own songs, producing albums in both Spanish and English.
She has set numerous records for her albums, downloads and has become easily the best selling Colombian artist of all time.
As well as music, she is involved in humanitarian projects, especially in her native Colombia which is struggling to recover from long periods of civil war. Shakira has offered money for her educational charities (Bare Feet Foundation, named after her first hit album), but, equally important she has offered her public presence which often galvanises politicians into promising to do more. When asked why she spends considerable time on humanitarian projects she replied that she felt it was important after having grown up in a developing country and being aware of the huge gap between rich and poor.
She is one of the top five best selling artists of the 2000s.
Shakira also performed at Barack Obama's inaugural ceremony in 2009. Obama also asked her to take part in the Commission on Educational Excellence for Hispanics – an advisory group that advised the president and Education Secretary.
In her personal life, she has two children through her relationship football player Milan Piqué Mebarak. She gave birth to her first son on 22 January 2013 and a second son on 29 January 2015. The couple lives in Barcelona, Spain.
Shakira – El Dorado
Shakira – El Dorado at Amazon
Related pages

Musicians – Famous musicians from classical music to popular music. Including Mozart, Beethoven, Bach and John Lennon.

Female biographies – A list of 100 famous women from Sappho and Cleopatra to Marilyn Monroe and Angela Merkel.