Biography of Audrey Hepburn (1929-1993)
Audrey was born Audrey Kathleen Ruston; 4 May 1929 in Brussels, Belgium
Her mother Baroness Ella van Heemstra was a Dutch Aristocrat, though she had British nationality because of her father.
During the 1930s, her parents were members of the British Union of Fascists, during the Second World War, the young Audrey suffered under the brutal Nazi occupation of the Netherlands.
In 1940, after the fall of Holland, she adopted the pseudonym Edda van Heemstra to avoid using an English sounding name.
She learnt to be a ballerina and used to perform to raise money the Dutch Resistance.
After the liberation of the Netherlands, she was so malnourished she fell ill after eating some sugar and a can of condensed milk – she was so unused to proper quantities of food. This experience of hunger led to a lifelong support to the charity UNICEF.
Her malnutrition during the war was one reason she decided to drop a career as a professional ballerina.
Film
Her first significant film role was The Secret People (1952), where she played a ballerina
Her favourite role was said to be in Roman Holiday (1953) with Gregory Peck, where she plays the role of a European Princess living incognito.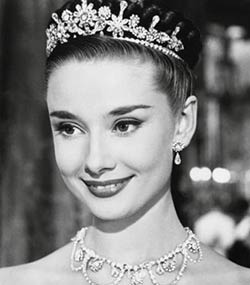 The director had initially wanted Elizabeth Taylor for the role but found "She (Audrey Hepburn) had everything I was looking for: charm, innocence and talent. She also was very funny."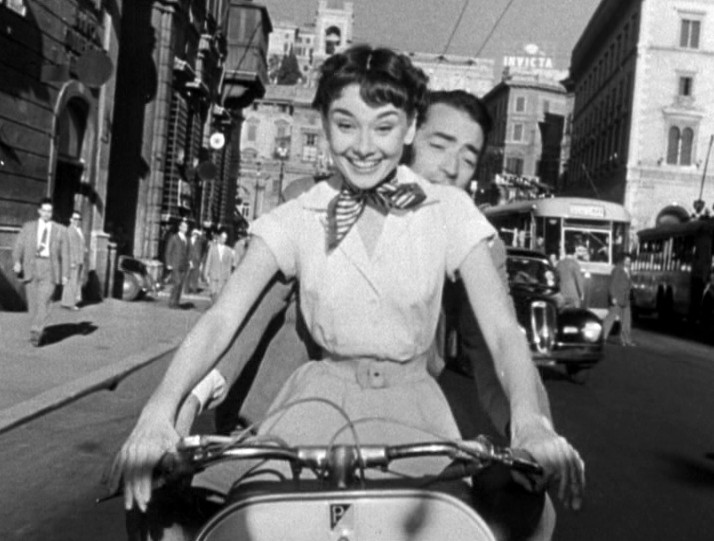 Audrey Hepburn with Gregory Peck in Rome.
Her most iconic film was perhaps 'Breakfast at Tiffany's'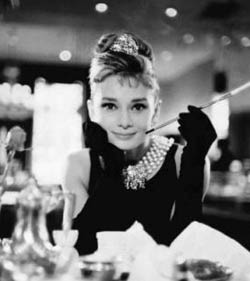 Initially, the plot involved playing a New York hooker, but Audrey Hepburn said she couldn't play the role of a hooker, so the film was very different to the original book.
The little black dress worn by Hepburn at the beginning of the film is cited as one of the most iconic items of clothing in cinema.
French couturier Hubert de Givenchy helped create the 'Hepburn look', through is costumes for the film 'Sabrina'.
Her last film was directed by Steven Speilberg and was called 'Always' It was made in 1989. She played the role of an angel.
Humanitarian Work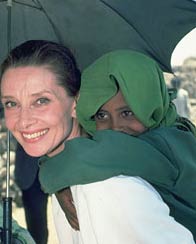 She was awarded the Presidential Medal of Freedom in recognition of her work with UNICEF.
After visiting starving children in Ethiopia, she commented: "The 'Third World' is a term I don't like very much because we're all one world. I want people to know that the largest part of humanity is suffering"
Family Life
She had two sons. Sean was born on July 17, 1960, and Luca was born on February 8, 1970.
She married twice to Mel Ferrer and Andrea Mario Dotti.
She died of cancer at the age of 63

Recommended Books on Audrey Hepburn
Audrey Style at Amazon
Audrey Hepburn Treasures at Amazon.
In this illustrated biography, Audrey's own words are given centre stage to create a unique personal narrative. Highly Recommended
Related

Women who changed the world – Famous women who changed the world. Features female Prime Ministers, scientists, cultural figures, authors and royalty. Includes; Cleopatra, Princess Diana, Marie Curie, Queen Victoria, and Joan of Arc.

Actors – Famous actors, including Alec Guinness,  Michael Caine, Katherine Hepburn, Audrey Hepburn and Grace Kelly.