Robert Maxwell – publisher, businessman, MP and Chairman of Oxford United. Once considered on the richest men in the world, Robert Maxwell built up one of the largest publishing empires only to have it dissolve in bankruptcy following his death.
Early life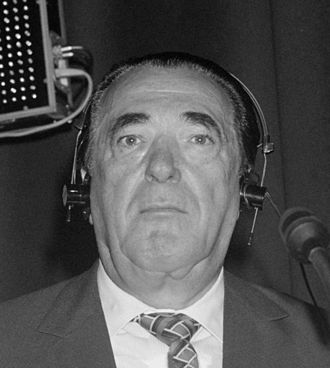 Robert Maxwell was born 10 June 1923 in Slatinske in the east of Czechoslovakia. His Jewish family were very poor and he remembered never owning a pair of shoes until he was four years old. He later claimed he was self-educated and he was fluent in several languages. In 1940, his region of Czechoslovakia was absorbed into Hungary. But, Maxwell left his country wanting to fight against the Nazi's who were persecuting Jewish civilians. He fled to Paris and then London, and on arriving in London, Maxwell joined the British army.  In 1944 his families region was occupied by Nazi Germany and most of his family members were gassed in Auschwitz that same year. He was involved in the allied invasion of Normandy in 1944 and fought his way across Europe to Berlin. By the end of the war he had been promoted to captain, and in 1945, he was awarded the Military Cross for bravery in action. Though in the weeks prior to his death, he was being investigated by Scotland Yard's war crimes unit for allegedly killed unarmed German civilians in 1945.
In 1945, he married Elisabeth Meynard and together they had five children, some of whom would later work for Maxwell's company. After the war, he managed to use his army contacts to establish his first business – a publisher of scientific works. This grew rapidly, and through buying Pergamon Press, he was able to build his own successful publishing company.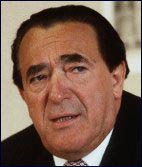 In 1964, he was elected Labour MP to the House of Commons. He was re-elected in 1968 and served as MP until 1970 when he was defeated by a Conservative candidate. Maxwell gained a reputation as a colourful MP – a powerful speaker with strong opinions. He gained a reputation as someone who could get things done but also annoyed many with his abrupt and arrogant behaviour. His control over parts of the media made even Labour members reluctant to criticise him.
In the 1980s, he acquired BPCC – British Printing and Communications Corporation which was later sold as a management buyout. In the 1980s, Maxwell also became interested in acquiring Mirror group newspapers which gave him more influence in the popular press. Maxwell also became well known for his chairmanship of Oxford United. He bought the club when they were in the lower leagues and near bankruptcy. His money helped lead the club to a rare national trophy – the League Cup in 1986. However, the success story later turned sour as money dried up and the club slid back down the league tables. For the last three decades of his life, he lived in Headington Hall, Oxford – an old stately home.
Maxwell was a controversial figure in both politics and business. He was known for his tough, uncompromising attitude. He was often perceived as arrogant and demanding, but also as a person who could get much done. He was also fiercely defensive of his reputation and through his lawyers sued (and often successfully) publishers who lampooned him. In one case Private Eye lost nearly a quarter of a million pounds in a libel suit by Robert Maxwell. His success in the libel courts made people reluctant to cross swords with Maxwell.
His business ambition never diminished and in the late 80s and nineties, he purchased MacMillan publishing for $2.6 billion and also launched an ambitious pan European newspaper – which soon folded. He ran a long-standing rivalry with fellow media tycoon Rupert Murdoch. In the late 1960s, he wished to purchase the News of the World, but the owners refused to sell to Maxwell because of his Czech origins and left-wing views. They sold it instead to Australian Rupert Murdoch.
Because of his ambition to expand, his business became increasingly burdened with debt.  But, unknown to others during his lifetime, he started taking money from his companies pension funds to keep his business afloat. After his death, it soon became apparent he had left a huge hole in his companies pension funds. Though the government injected some money, many pensioners were left with only a fraction of their pension entitlement.
Death
Maxwell died in unexpected circumstance on 5 November 1991, at the age of 68, when he fell overboard from his luxury yacht. Because of the nature of his business debts, some have speculated his death was suicide or staged to avoid an impending investigation – though this has never been proved.
Shortly before his death, a former Mossad agent claimed that Maxwell also worked for the Israeli secret service agency. His depth of involvement remains somewhat unclear. Though he was buried with great honour in Israel.
After his death, the Maxwell companies filed for bankruptcy protection and his son, Kevin Maxwell was declared bankrupt with debts of £400m. His sons went on trial for conspiracy to defraud but were acquitted in 1996.
Citation: Pettinger, Tejvan. "Biography of Robert Maxwell", Oxford, UK.  www.biographyonline.net. Published 05 February 2010. Last updated 11 March 2020.
Related pages

Business people – Famous businessmen and women. Including Bill Gates, Richard Branson, Donald Trump, Oprah Winfrey, Henry Ford and Steve Jobs.