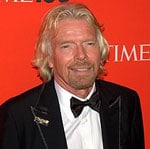 Richard Branson is an entrepreneur and businessman, who founded the Virgin group of more than 400 companies. The Virgin group grew from a small record shop he founded in 1972, to become a major multinational company including interests in transport, media, and entertainment. Richard Branson is also a flamboyant character and has taken part in a number of gruelling adventure challenges, such as sailing across the Atlantic and taking part in around the world hot air balloon journeys.
"My general attitude to life is to enjoy every minute of every day. I never do anything with a feeling of, "Oh God, I've got to do this today."
Richard Branson, The Guardian newspaper, 20th September 2008
Short Biography Richard Branson
Richard Branson was born in Blackheath, London 18 July 1950. His father was a barrister. Branson attended Scaitcliffe School and later Stowe school. Suffering from dyslexia, Branson did not excel at studies; he was more interested in extracurricular activities, such as football and cricket. At the age of 15, he had started to try his first business ventures, which included trying to grow trees and another raising budgerigars.
On one occasion, he was caught leaving the bedroom of the headmaster's daughter, and Branson was expelled from school. This left him devastated and he wrote a suicide note, suggesting he couldn't cope. When the note was discovered, he was forgiven; but failing at his studies, Branson left school at 16 – an early high school drop out.
Virgin Records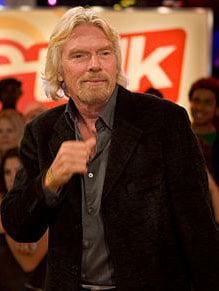 After quitting school, he moved back to London where he began his first successful business. He started a magazine about youth culture, called The Student. It was produced by students, for students and was launched in 1966. Branson was able to attract significant advertisement from firms wishing to tap the student market; this enabled him to distribute the first 50,000 copies for free.
The 1960s in London was known as the 'swinging sixties' – Branson admits he was living the life of a hippy, in a London commune – a large shared house, surrounded by the music and drugs of the age. However, although he may have been a hippie, Branson also had a keen business sense, and he set up a mail-order record company called Virgin to complement the student magazine. The Virgin name was suggested by one of Branson's workers – who suggested the idea because they were all new at business. Branson later said he got into business out of accident – not to make money, but out of frustration things weren't better.
"I became an entrepreneur by mistake. Ever since then I've gone into business, not to make money, but because I think I can do it better than it's been done elsewhere. And, quite often, just out of personal frustration about the way it's been done by other people.: (interview with Martyn Lewis in his book, Reflections on Success (1997)
With modest profits from his magazine and mail order business, he was able to get a record shop on Oxford Street, London. Undercutting other High Street retailers, Virgin Records experienced good growth. Though, on one occasion, due to an unpaid tax bill Branson's mother Eve had to re-mortgage her house to help Branson stay afloat.
As the record business expanded, Branson created his own record label with Nik Powell – Virgin Music in 1972. Within a year, Branson had a great stroke of luck. His first artist, Mike Oldfield, recorded the album 'Tubular Bells' and this proved a smash hit, staying in the charts for over four years. This high profile and earnings helped Branson to sign up some of the top bands of the era, including Culture Club, the Rolling Stones, Genesis, and controversial bands such as the Sex Pistols.
In 1984, Branson branched out into his biggest business venture – forming Virgin Atlantic Airways, and he started competing in a market dominated by big national carriers, such as British Airways. At times this rivalry was intense, with Virgin accusing British Airways of dirty tricks in poaching customers. As the 'dirty tricks' was taken to court, British Airways eventually agreed to settle out of court. However, in 1992, Branson had to sell Virgin Records to EMI for £500m to help keep a struggling Virgin Atlantic afloat.
Other big business ventures of the Virgin group include – Virgin Mobile in 1999 and entering into British railways with Virgin Trains in 1993. In 2007, he created Virgin Money. Less successful ventures included Virgin Cola and Virgin vodka. He also failed to win a contract to run the National Lottery – even though he offered to do it for zero profit.
"My philosophy is that if I have any money I invest it in new ventures and not have it sitting around." (Interview, Sunday Times, 16th January, 2000
Richard Branson has sought to cultivate a different approach to running a business. He says the ethos of his businesses is to build from the bottom up – taking into account the feedback from all staff, and not just top-down hierarchy.
"As much as you need a strong personality to build a business from scratch, you also must understand the art of delegation. I have to be good at helping people run the individual businesses, and I have to be willing to step back. The company must be set up so it can continue without me." (Virgin Quotes)
He has also been willing to take risks, setting up unconventional business plans. In his autobiography, he also says that having fun is an important element of his approach to life and business:
"Fun is at the core of the way I like to do business and it has been key to everything I've done from the outset. More than any other element, fun is the secret of Virgin's success. I am aware that the ideas of business as being fun and creative goes right against the grain of convention, and it's certainly not how the they teach it at some of those business schools, where business means hard grind and lots of 'discounted cash flows' and net' present values'."
Richard Branson, Losing My Virginity: How I've Survived, Had Fun, and Made a Fortune Doing Business My Way
Branson is also a fan of informal clothing and believes wearing a tie is a misplaced custom. He encourages his executives to ditch the tie.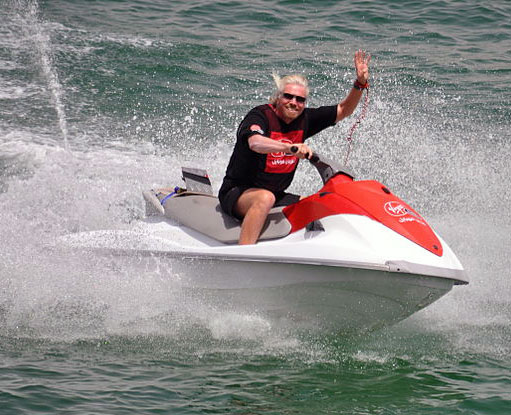 Environment
Branson states that after meeting Al Gore, he became concerned about the issue of global warming. He has founded Virgin fuels to promote an alternative to fossil fuels. He has also promised to use profits from his transport business to develop more environmentally friendly fuels. In 2007, he set up the Virgin Earth Challenge which offers a reward of $25 million to the best commercially viable design for removing greenhouse gases from the atmosphere, without negative effects.
World Record Attempts
Richard Branson has undertaken many endurance world record attempts. He set the fastest transatlantic sailing record in 1986. He also made several record attempts in hot air balloons. In 1998, he failed in a bid to make a global flight in a hot air balloon.
Charity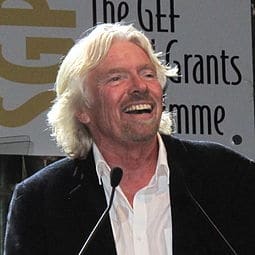 With Nelson Mandela and Peter Gabriel, Branson formed a new group 'The Elders', which seeks to find peaceful resolutions to long standing conflicts and global problems. Other members included Desmond Tutu, Kofi Annan, Jimmy Carter and Mohammed Yunus. Branson is also involved in a variety of other charities, such as education in Kenya, Soldiers for Peace and has served on the global commission on drug policy.
Wealth
The Sunday Times estimates the wealth of Richard Branson at £3,065 billion, making him the fourth richest person in the UK. Much of this is invested in off-shore havens, and he has been criticised for avoiding paying UK tax. He responds that he prefers to live on  Necker Island, a 74-acre (30 ha) island owned by Branson in the British Virgin Islands, for health reasons.
He married Kristen Tomassi in 1972 but divorced in 1979. He married for a second time – Joan Templeman in 1989.  He has three children.
Richard Branson was knighted in 2000.
Citation: Pettinger, Tejvan. "Biography of Richard Branson", Oxford, www.biographyonline.net. 5th Feb. 2013. Last updated 1 February 2019.
Losing My Virginity: Richard Branson Autobiography
 Related pages


Famous Entrepreneurs – Famous entrepreneurs who have set up and created successful businesses, including Henry Ford, Anita Roddick, Steve Jobs and Bill Gates.
Famous

English people – Famous English men and women. From Anne Boleyn and Queen Elizabeth I to Henry VIII and Winston Churchill. Includes the great poets – William Shakespeare, William Blake and William Wordsworth.

Great Briton list – Top 100 famous Britons as voted by a BBC poll. Including Winston Churchill, William Shakespeare, Thomas Cromwell and Queen Elizabeth I.