Guinness was one of the most formidable and versatile actors of the post-war period. Appearing in roles as diverse as Fagan in Oliver Twist, to the greatest Ealing comedies, and to Ben Obi-Wan Kenobi in Star Wars, Alec Guinness was much loved for his commanding performances – rich in diversity and depth of character.
""Essentially, I'm a small-part actor who's been lucky enough to play leading roles for most of his life"."
– Alec Guinness
Alec's childhood was far from happy. He was born, 2 April 1914; no father was mentioned on his birth certificate. His mother and stepfather displayed little love or concern and his schooling was nondescript. When Alec reached adulthood, he cut off connections with his mother.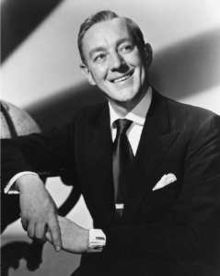 In 1934, with the help of John Gielgud, Alec Guinness was given his first significant stage performance in Hamlet. In this interwar period, he gained a good reputation for performances in various stage plays. He also married Merula Salaman; they were to be happily married for 60 years – a rarity for the showbiz environment. At the outbreak of war, Alec applied to join the navy; after initially failing, he was eventually accepted and ended up leading a landing craft in the Mediterranean theatre of war.
After the war, Alec's big breakthrough came with his role in two David Leon film's – Great Expectations and as Fagan in Oliver Twist. It was this that made him a star on the big screen and a household name, overshadowing his stage career.
This led Alec Guinness to star in the best of the Ealing comedies during its golden years. His first virtuoso performance was in Kind Hearts and Coronets, where Alec Guinness starred as all eight members of the D'Ascoyne family who were killed by Dennis Price. Though Alec later was somewhat dismissive of the importance of the film, it was widely hailed as a great performance. His marvellous comic touch with a hint of darkness was further explored in other Ealing comedies such as the brilliant – Lady Killers, The Lavender Hill Mob and The Man in the White Suit.
Guinness went on to star in some of the most successful films of his generation, including Lawrence of Arabia, Dr Zhivago and A Passage to India. In 1977, he starred in George Lucas' box office smash – The Star Wars trilogy. Cast as Obi-Wan Kenobi, Alec Guinness was perfect as the wise and intriguing father figure to Luke Sky Walker. The film made Alec Guinness rich as he gained a 2% royalty from the film revenue. However, he later admitted he disliked the cult status that the film brought him. He never wished to be typecast and later said that he had got fed up with the character.
"What I didn't tell Lucas was that I just couldn't go on speaking those bloody awful, banal lines. I'd had enough of the mumbo jumbo."
By the end of the 1980s, Alec had disappeared into virtual retirement. He had little taste for cameo roles or TV appearances. He valued his privacy and close family life.
"Nothing is desperately important and the joy of life is just looking at it."
A Positively Final Appearance (Penguin, 1999
During his career, he had few if any real failures. His commanding performances were easily remembered – his versatility and ability to inject a marvellous sense of both intrigue and a character that jumped up from the screen leaving a lasting impression. Guinness delivered his lines with great poise – almost deliberate slowness for dramatic effect. He said of this:
"I am always ashamed of the slowness of my reading. I think it stems from the fact that when I come across dialogue in a novel, I can`t resist treating it as the text of a play and acting it out, with significant pauses and all."
Unlike some actors, Alec Guinness was a master of disguise. He could fit into different characters so well, one felt one was watching a particular character – rather than watching the famous actor – Alec Guinness.
He was knighted in 1959 and died 5 August 2000, aged 86. He was survived by his wife and one son.
Religion
Alec Guinness was a practising Christian and converted to Catholicism shortly after his role as Obi Wan Kenobi. Writing in his autobiography, he writes of an experience where he felt a religious experience.
"I was walking up Kingsway in the middle of an afternoon when an impulse compelled me to start running. With joy in my heart, and in a state of almost sexual excitement, I ran until I reached the little Catholic church there … which I had never entered before; I knelt; caught my breath, and for 10 minutes was lost to the world."

– Alec Guinness
Citation: Pettinger, Tejvan. "Biography of Alec Guinness", Oxford, UK. www.biographyonline.net, 26th Feb. 2010. Last updated 1 November 2019.
Books on Alec Guinness
Related pages

Actors – Famous actors, including Alec Guinness,  Michael Caine, Katherine Hepburn, Audrey Hepburn and Grace Kelly.
Famous 

English people – Famous English men and women. From Anne Boleyn and Queen Elizabeth I to Henry VIII and Winston Churchill. Includes the great poets – William Shakespeare, William Blake and William Wordsworth.
Alec Guinness List of Films
1934 Evensong
1946 Great Expectations
1948 Oliver Twist
1949 Kind Hearts and Coronets
1949 A Run for Your Money
1950 Last Holiday
1950 The Mudlark
1951 The Man in the White Suit
1951 The Lavender Hill Mob
1952 The Card
1953 The Captain's Paradise
1953 The Malta Story
1954 Father Brown
1955 To Paris With Love
1955 The Prisoner
1955 The Ladykillers
1956 The Swan
1957 Barnacle Bill
1957 The Bridge on the River Kwai
1958 The Scapegoat
1958 The Horse's Mouth
1959 Our Man in Havana
1960 Tunes of Glory
1961 A Majority of One
1962 HMS Defiant
1962 Lawrence of Arabia
1963 The Fall of the Roman Empire
1965 Situation Hopeless but not Serious
1965 Dr. Zhivago
1966 The Quiller Memorandum
1966 Hotel Paradiso
1967 The Comedians
1970 Scrooge
1970 Cromwell
1972 Brother Sun, Sister Moon
1973 Hitler, the Last Ten Days
1976 Murder by Death
1977 Star Wars
1977 To See Such Fun
1980 The Empire Strikes Back
1980 Raise the Titanic
1983 Return of the Jedi
1983 Lovesick
1984 A Passage to India
1988 Little Dorrit
1988 A Handful of Dust
1991 Kafka
1993 A Foreign Field