Philippa Charlotte "Pippa" Middleton (born 6 September 1983) is the only sister of Catherine, Duchess of Cambridge. A party organiser, she is known because of her sister and through the reporting of society news. She was the maid of honour at her sister's Royal Wedding on 29 April 2011.
Family background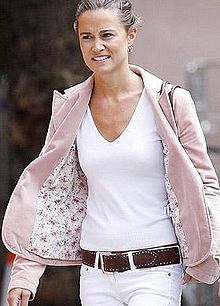 Born in 1983, Middleton is the second of the three children of Michael Middleton and Carole Goldsmith, a former flight attendant. Her father's family came from Leeds, in Yorkshire, and were middle class businessmen. Her mother's family, (nee, Carole Middleton) were labourers and miners from County Durham.
In the mid 1980s, her mother set up a company delivering items for parties. The business flourished and they expanded the business becoming millionaires.
In 1995, the Middletons moved to Bucklebury, Berkshire. Pippa was educated at St Andrew's School, Pangbourne, at a girl's boarding school in Cold Ash, and finally Marlborough College. She studied English Literature at the University of Edinburgh, sharing a house with Lord Edward Innes-Ker.
After university, she gained employed for a company specialising in events and parties. With her sister Kate's relationship with, the future king, Prince William, she became a leading socialite in London circles. She has received widespread press coverage for both her lifestyle, social life and the way she dresses.
In 2009, Middleton took up tobogganing on the Cresta Run at St Moritz, with the multi-millionaire Trevor Baines as her instructor. She is also a good shot and in 2008 shot twenty-three game birds in a day in Scotland. For several years on Burns Night, accompanied by bagpipes, Middleton has carried the haggis into a pub called the Old Boot Inn at Stanford Dingley in Berkshire.
The Daily Telegraph reported in 2010 that Middleton's parents had ambitious plans to expand their company, Party Pieces, and wanted their daughter Pippa to take an increasingly prominent role.
Following the official announcement of her sister's engagement to Prince William on 23 November 2010, the Daily Mail commented "Ironically, family friends of the Middletons say that everyone always thought that the sparkly Pippa rather than the quieter and less glossy Kate would be the one most likely to make a spectacular marriage."
Pippa was given the rold of maid of honour for the wedding, which drew record global audiences. At the Royal wedding, Pippa's white figure-hugging dress received substantial attention and praise.
In 2012, she split up with her long-term boyfriend Alex Loudon. She was also involved in controversy when she was pictured along with a man carrying a gun and pointing it at photographers in Paris. Owing a gun in France can be a serious crime, though the police declined to press charges. The incident raised memories of Princess Diana being chased through the streets of Paris by paparazzi.
In 2012, she authored a book – Celebrate – a guide to throwing a party. Pippa was paid a reported £400,000 advance for the book. However, it received little critical acclaim, and only sold just over 2,000 copies during the bumper Christmas market. She also did only limited marketing to avoid drawing attention to her sister, Kate. Plans for a further two books were dropped.
Related pages
Some text incorporated from wikipedia