Gary Linekar is one England's top scorers in international football, winning the golden boot at the 1986 World Cup final. Since retiring from the game, Linekar has become a celebrated media pundit, acting as anchorman for BBC's match of the day.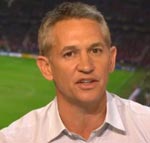 Linekar was born in Leicester, where he went to the City of Leicester Boys' Grammar school. As a youth, he was equally talented at both cricket and football. For several seasons he captained Leicestershire youth cricket teams. At one point, he thought he might try to specialise in cricket, but in 1976 joined his home team Leicester City youth team and made steady progress through the ranks. In 1980, he made several appearances in helping Leicester City to gain promotion to the first division. But, it was only in 1981 that he became a first team regular. His scoring rate at Leicester attracted the attention of bigger clubs, and in 1985 he was sold to Everton for £800,000. His short period at Everton was very successful with 40 goals from only 57 games. Despite Linekar's goals, Everton just missed out on winning the First League title and also lost the F.A. cup final to Merseyside rivals Liverpool F.C.
At the 1986 World Cup finals, Linekar became a household name in one of England's most memorable world cup campaigns in Mexico. After the first game of the group round, England were facing an ignominious exit. But, when England played Poland, Linekar helped England's progress with a hat-trick – this was despite playing with a light cast from a broken arm. In the second round, Linekar scored another two goals to help England defeat Paraguay. This left England facing their old adversary, Argentina, who were heavily fancied to win the tournament. It turned out to be a famous game, with Diego Maradona stealing the show. Firstly with the infamous 'hand of God' goal, and then secondly for a moment of individual brilliance as Maradona scythed through the English defence. Linekar got one goal back for England, but it wasn't enough and England went out of the competition. Linekar's golden boot for being the top scorer of the competition was scant consolation.
After being one of the players of the tournament, Linekar signed for Barcelona. He scored 21 goals from 41 games in his first season, but the remainder of his Barcelona career was not as successful.
In 1989, he made a return to English football becoming a player for Tottenham Hotspur, turning down the opportunity to play for Manchester United. Linekar regularly finished in the top of the goal scoring performances and won his first piece of English silverware in the 1991 FA cup final against Nottingham Forest.
In the 1990 World Cup, Linekar was again instrumental in leading England to the semi-finals – their best performance since 1966. After a tense game against Germany, in which Linekar equalised to make the score 1-1 England lost out on penalties. This led Linekar to later famously quip
"Football is a simple game; 22 men chase a ball for 90 minutes and at the end, the Germans always win."
He finished his international career with one of the best scoring rates of any strikers. From 80 caps he scored 48 goals.
He finished his club career in Japan, playing for Nagoya Grampus Eight. He also achieved a rare feat of finishing his playing career without ever receiving a red or yellow card in any game.
In the 1990 finals, England progressed to the semi-finals before losing to Germany on penalties. It was another near miss for England.
After retiring from playing football, Gary Linekar has become a high profile media personality. He has made adverts with Walkers crisps, a brand of crisps were even temporarily renamed 'Salt & Linekar' after his favourite variety.
Gary Lineker's – Football: it's Unbelievable!
Related pages